Associate of Arts Overview
Designed for those new to higher education, the online Associate of Arts degree provides you with the academic foundation you need to build your knowledge base and advance your career.
A comprehensive curriculum ensures that those just starting their college experience are well prepared to do so. Most students begin the online Associate of Arts program with our Introduction to College Semester. During this time, you'll build skills crucial to further academic success. Following this, you'll take classes through a rotation of theme-based semesters, and gain a well-rounded understanding of a wide range of subject areas, including mathematics, history, foreign language, humanities, and more. You will also gain skill mastery in writing, speaking, problem solving, and critical thinking— proficiencies always in high demand. The Associate of Arts can stand alone, or be a step towards earning a bachelor's degree.
Because the program is offered fully online, you'll have the opportunity to earn a degree in a format designed to fit around your busy life. Balance your work and life commitments while attending class on a schedule that works for you. The degree can be completed in 20 months.
The Associate of Arts Degree is Designed For…
Those who want to explore potential academic areas of interest
Nontraditional students looking to begin their college education
Individuals seeking to inexpensively earn the general education credits required for a four year degree
Courses and Requirements
For the online Associate of Arts, students must take 12 semester hours in the introduction tier (usually our "Introduction to College Semester"), and 48 semester hours in a rotation of courses grouped by theme. Each of these groups contains three to four courses for a total of 12 semester hours each. These semesters are offered in strict rotation, but incoming students may begin their AA courses in any of the four semesters. Courses indicated with an asterisk (*) must be taken at King.
Admission Requirements
Students applying for the online associate degree program must meet the following requirements:
Minimum cumulative GPA of 2.6 on a 4.0 scale
Students with less than a 2.6 high school GPA may be considered and accepted on a conditional basis provided they are able to demonstrate their plans to succeed in the program.
General Admission Requirements
General requirements for admission to King University include graduation from an accredited or recognized high school, GED, or secondary institution with a minimum of 16 academic units, distributed as follows:
Four units of English
Two units of algebra (Algebra I and II)
One unit of geometry
Two units of foreign language
Two units from history and social studies
One unit of natural science
Four units of other academic electives
Students educated at home should follow the same procedures as any other candidate for the freshman class.
Students should present a high school transcript and documentation, and a high school diploma or its equivalency.
How to Apply
Students applying for the online AA degree program must submit the following materials:
A completed online application
An official transcript request form. A scanned copy may be emailed to your Enrollment Counselor.
Have questions about this program or the admissions process? Request information and get connected to one of our knowledgeable enrollment counselors.
Career Outcomes
Those with an Associate of Arts degree can use it to continue their studies. They may also find careers in any number of fields, such as:
Healthcare
Information technology
Sales & marketing
Administrative services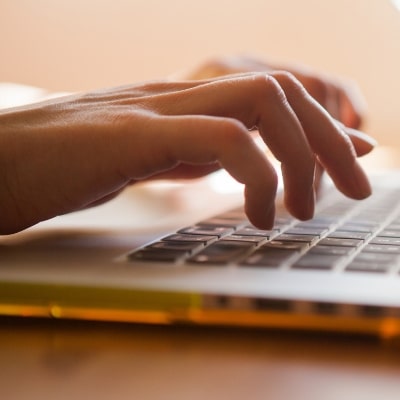 Benefits of Online Learning
Studying online prepares you for a successful future. Discover a learning format that offers:
Flexibility and Convenience
Personalized Academics
Equal Excellence
Opportunity for Self Insight