BSW Program Overview
Make a difference in the lives of others with the online Bachelor of Social Work program at King University.
The online CSWE-accredited BSW at King trains you in the advocacy and intervention strategies necessary to support individuals, families, groups, communities, and organizations. You'll study key topics like:
Research and evaluation
Modern issues in the field
Ethics
Human behavior and the social environment
Family practice
Working with communities and organizations
Field-specific writing
Policy
Integrative practice
You'll also receive hands-on training, giving you the chance to immediately practice what you've learned. We boast more than 60 employment and field practicum partners, located regionally, nationwide, and internationally. With a required 400 hours of field practicum education, you'll gain extensive experience in the field while still completing your requirements far earlier than other BSW programs of this type.
Our program features nationally and internationally recognized faculty dedicated to your professional success. Because the BSW coursework is offered fully online, you'll also have ultimate flexibility when it comes to your degree. Online learning means the ability to attend class when and where it's right for you, and to maintain your work and life commitments while advancing your career.
After graduation, you'll be well prepared for any number of social work related careers, as well as further study in graduate school. Graduates may work in mental healthcare, medical social work, child protection, advocacy, child and adult protection services, foster care and adoption, school social work, substance abuse counseling, case management, policy analysis, and a range of other career paths within the profession. Major coursework can be completed in 16 months.
The Bachelor of Social Work Degree is Designed for…
Working adults seeking to finish their bachelor's degree
Individuals who want generalist training in the social work field
Those who want to build a career helping others
Courses and Requirements
Our online BSW program requires 52 semester hours (11 courses) of major coursework. To graduate from King University, students must complete a total of 124 semester hours, which includes a mixture of major courses, general education courses, and additional courses which may come from credit transfers or electives.
Course of Study
To graduate from King University with a baccalaureate degree, all students must have earned 30 semester hours of common experience and general education courses. These courses include Foundations of Christian Thought and Practice, Citizenship, English Composition, Human Creative Products, Quantitative Literacy, Science, and additional credit hours from general education courses.
Students must earn a total of 34 semester hours of general electives.
| Course # | Title | Description | Credits |
| --- | --- | --- | --- |
| SOWK 3180 | Social Work Research | This course focuses on practice and evidence-based social work research. Students will learn basic quantitative and qualitative research methodologies, including elements of designing a research study, along with various forms of evaluation of programs, policies, and studies. An emphasis will be placed on the importance of informed consent; social, restorative, and economic justice; professional values and ethics; and ethical reasoning when conducting research using human subjects. | 4 |
| SOWK 3410 | Social Work Foundations | This course provides a broad overview of the social work profession from its European roots to contemporary generalist practice, including fields of practice, general systems theory, professional development of the self, and special populations. Students are introduced to historical information regarding the formation of social work, as well as knowledge, skills, and values required for competent social work practice. | 4 |
| SOWK 3420 | Human Diversity and Ethical Issues | This course provides an in-depth exploration of social work-related aspects representing a broad spectrum of human diversity (socio-demographic, cultural, worldview, political, religious, sexual orientation and expression, life experiences, economic heritages, etc.). The ethical issues of social, restorative, and economic justice as they relate to diverse populations are explored with an emphasis on the impact of discrimination and oppression on various populations-at-risk and understanding the concepts of prejudice and discrimination. Understanding and valuing individual differences is emphasized, while developing introspective capacities related to racial and ethnic self-identities. | 4 |
| SOWK 3610 | Human Behavior and the Social Environment: Person in Environment Perspective | This course is the first of two courses in a sequence on Human Behavior and the Social Environment. HBSE-PIE provides a multidimensional perspective on social work's person-in-environment focus. It critically examines contemporary theory and research on the biological, psychological, psychosocial, and spiritual dimensions of the person, and eight dimensions of environment: the physical environment, social institutions and social structure, culture, formal organizations, communities, social movements, small groups, and families. | 4 |
| SOWK 3620 | Human Behavior and the Social Environment: Life Course Perspective | This course is a continuation of SOWK 3610: Human Behavior and the Social Environment: Person in Environment Perspective, which explores life span development from conception to death. Principles of human diversity, oppression, social and economic injustices, and the impacts of such on the individual are studied within the context of life span development, while utilizing a multidimensional perspective. The course will explore developmental processes with special attention paid to the impact of social class, gender, race, ethnicity, sexual orientation and expression, social support systems, and disability. | 4 |
| SOWK 3810 | Generalist Practice | This course provides a study of generalist skills and knowledge that can be applied to all social work practices. This course will focus on the application of knowledge, values, and skills required for entry-level social work practice with individuals and families. | 4 |
| SOWK 3820 | Family and Group Practice | This course focuses on theory and interventions with families and groups, utilizing basic social work practice methods. | 4 |
| SOWK 3830 | Community and Organizations Practice | This course focuses on transferring micro- and mezzo-level generalist skills to the macro level of social work practice, emphasizing the building of skills with communities and organizations. | 4 |
| SOWK 3840 | Writing for Social Workers | This course prepares BSW students to successfully complete scholarly writing/presentation construction tasks, as well as preparation for writing documentations within the social work profession. Topics addressed include expectations and standards for scholarly writing, conducting searches of professional literature, using effective paraphrasing and summarization skills, writing logically and coherently, and appropriately citing references and formatting written assignments adhering to both the BSW program requirements for written assignments and presentations, as well as following the standards for the current edition of the Publication Manual of the American Psychological Association (APA). The course is intended to support students' efforts on writing/presentation construction tasks assigned in current and future social work courses, and in professional social work practice. | 4 |
| SOWK 4410 | Social Welfare Policy | The focus of the course is on understanding U.S. history through the lens of social welfare advocacy, how to critically analyze social welfare policies and programs, the role of social workers in social welfare programs and policies, and how to assist clients through policy advocacy toward social, restorative, and economic justice. This content provides students with conceptual frameworks to endow them with the knowledge and skills to understand, evaluate, and assess major policies that form the foundation for social welfare policy in the United States | 4 |
| SOWK 4800 | Integrative Practice | This course is the signature pedagogy of the BSW Program. It is an integration of the social work field practicum and the final social work practice methods course, specifically geared toward preparing students for entry-level generalist social work practice. Emphasis is placed on the acquisition of the ten-core competencies and the integration of generalist knowledge, skills, abilities, and values that are transferable to a variety of practice settings or client populations. Students engage in a 400-hour field practicum supervised by a bachelor's or master's level social worker with a minimum of two years of social work field experience. Student's practicum placements are completed in a professional social work setting in their community. Practice skills, personal growth, and professionalism are developed during this course. This course is open to social work majors only. | 12 |
Admission Requirements
Students applying for the online Bachelor of Social Work program must meet the following requirements:
Minimum cumulative GPA of 2.2 on a 4.0 scale
Students with a 2.0–2.19 GPA may be considered and accepted on a conditional basis provided they are able to demonstrate their plans to succeed in the program.
General Admission Requirements
General requirements for admission to King University include graduation from an accredited or recognized high school, GED, or secondary institution with a minimum of 16 academic units, distributed as follows:
Four units of English
Two units of algebra (Algebra I and II)
One unit of geometry
Two units of foreign language
Two units from history and social studies
One unit of natural science
Four units of other academic electives
Students educated at home should follow the same procedures as other candidates.
Students should present a high school transcript and documentation, or its equivalent.
Applying is Quick and Easy
We've made the application process for the CSWE-accredited online BSW as simple as possible. Plus, after earning your BSW at King, you'll qualify for guaranteed admission to our MSW – Advanced Standing program. Learn more about our admissions requirements and start your application today.
Outcomes
All Council on Social Work Education programs measure and report student learning outcomes. Students are assessed on their mastery of the competencies that comprise the accreditation standards of the Council on Social Work Education. These competencies are dimensions of social work practice that all social workers are expected to master during their professional training. A measurement benchmark is set by the social work programs for each competency. An assessment score at or above that benchmark is considered by the program to represent mastery of that particular competency.
| COMPETENCY | COMPETENCY BENCHMARK | PERCENTAGE OF STUDENTS ACHIEVING BENCHMARK |
| --- | --- | --- |
| Identify as a professional social worker | 75% of students will demonstrate this competency | 100% |
| Apply ethical principles | 75% of students will demonstrate this competency | 96% |
| Apply critical thinking | 75% of students will demonstrate this competency | 96% |
| Engage diversity in practice | 75% of students will demonstrate this competency | 99% |
| Advance human rights, social justice, and economic justice | 75% of students will demonstrate this competency | 98% |
| Engage research-informed practice and practice-informed research | 75% of students will demonstrate this competency | 90% |
| Apply human behavior knowledge | 75% of students will demonstrate this competency | 96% |
| Engage policy practice to advance well-being and deliver services | 75% of students will demonstrate this competency | 92% |
| Respond to practice contexts | 75% of students will demonstrate this competency | 96% |
| Practice engagement | 75% of students will demonstrate this competency | 99% |
| Practice assessment | 75% of students will demonstrate this competency | 99% |
| Practice intervention | 75% of students will demonstrate this competency | 93% |
| Practice evaluation | 75% of students will demonstrate this competency | 95% |
| Average | 75% | 96% |
Career Outcomes
Foster care/adoption
Researcher
Social worker (school, medical, hospice, international, gerontological, forensic)
Case manager
Addictions counselor
Policy analyst
Community organizer
Victim advocate
Accreditation
King University's BSW program boasts nearly five-decades of proven academic success through our continuously maintained accreditation with the COUNCIL ON SOCIAL WORK EDUCATION (CSWE). In addition to the CSWE, the BSW program is affiliated with many other social work associations such as the National Association of Social Workers (NASW) and  the North American Association of Christians in Social Work (NACSW).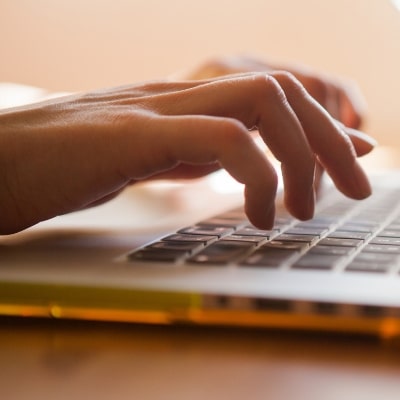 Online Learning
Studying online prepares you for a successful future. Discover a learning format that offers:
Flexibility and Convenience
Personalized Academics
Equal Excellence
Opportunity for Self-Insight