B.S. Healthcare Administration Overview
As the healthcare industry evolves, employers are going to require an increasing number of individuals who can effectively fill administrative and leadership roles.
According to the Bureau of Labor Statistics, healthcare careers are expected to grow 18 percent by 2026, one of the fastest rates of job growth for any field. At King University, the online Bachelor of Science in Healthcare Administration can give you a broad understanding of this booming industry, train you in the competencies you need to influence the future of the industry, and successfully prepare you to take the next step in your career.
This online healthcare administration program prepares you to become a critical thinker who can improve patient outcomes and increase the effectiveness of your organization. Key topics of study include:
Human resource management
Financial management of healthcare organizations
Informatics
Ethical and legal issues in the field
Population-based health
Marketing and sustainability in the industry
Organization and policy
Once you graduate, you'll be able to work in any number of health-related environments, such as:
Hospitals
Medical offices
Outpatient clinics
Medical/Pharmaceutical sales
Government agencies
Health related nonprofits
Medical insurance companies
Long-term care facilities
The degree also successfully prepares you for further graduate study.
Our online healthcare administration program is offered fully online, giving you the opportunity to study at time, place, and speed that works best for you. Because we offer the same classes online and on campus, you can be sure you'll get the same rigorous education as your peers. Major coursework can be completed in 16 months.
The B.S. Healthcare Administration Degree is Designed for…
Healthcare professionals who want to enter positions of management
Working adults with some college credit who seek to finish their bachelor's degree
Individuals who want to gain competence in non-medical aspects of healthcare, such as business and communication
Courses and Requirements
Our online healthcare administration degree requires 48 semester hours of major coursework. To graduate from King University, students must complete a total of 124 semester hours, which includes a mixture of major courses, general education courses, and additional courses which may come from credit transfers or electives.
Course of Study
To graduate from King University with a baccalaureate degree, all students must have earned 30 semester hours of common experience and general education courses. These courses include Foundations of Christian Thought and Practice, Citizenship, English Composition, Human Creative Products, Quantitative Literacy, Science, and additional credit hours from general education courses.
Students must earn a total of 38 semester hours of General Electives.
| Course # | Title | Description | Credits |
| --- | --- | --- | --- |
| BUSA 3270 | Human Resource Management | Introduces the student to the human resources/ personnel functions. Topics covered include recruitment, assessment, compensation, motivation, appraisal, development, legal environment, labor relations, and employee relations. Emphasis on how managers can deal with and utilize the human resources function. | 4 |
| HCAD 3020 | Financial Management of Healthcare Organizations | This course introduces the student to the elements of financial management concepts at the organizational level. Students will understand the evolving history of the financial management process and application at both the department and organization level. Students will become fully versed in topics such as tax status, third-party payers, recognition of operating revenue, working capital utilization, and the interface capital has on the organization's execution of revenue cycle management. Through appropriate use and understanding of operating capital and resource allocation, the student will understand how to strategically plan, operationalize, and analyze service line products resulting in a positive return on investment (ROI). This course is designed to expose students who typically do not have a background in either finance or accounting disciplines to the basic definitions, concepts, and use of mathematical applications to determine the positive or negative result of the organizational efforts in delivering healthcare. | 4 |
| HCAD 3110 | Introduction to Epidemiology and Biostatistics | This course takes a managerial perspective to the prevention and control of diseases in the public and private arenas. Basic concepts of epidemiology and biostatistics are applied to outbreak, geography of disease management, intervention, and policy development/ implementation. | 4 |
| HCAD 3120 | Introduction to Healthcare Organization and Policy | This course provides an overview of the complex structure and function of the healthcare system in the United States. Topics include: historical foundations, international comparisons, resource development and allocation, impact of technology, payment systems, and care delivery models for uninsured and special population. | 4 |
| HCAD 3130 | Population-Based Health | This course provides a paradigm that can influence the health of multiple groups within a community or region. This population-based approach focuses on unique health issues within groups as defined by chronological measure, geographic and ethnic boundaries, physiologic aberration, and at-risk and vulnerable populations. Content includes population-based health practices, challenges, and levels of maintenance and prevention. | 4 |
| HINF 3210 | Informatics for Healthcare Leaders and Decision-Makers | This course provides an introduction to the use of computers, technology, and data as informative tools to aid in healthcare managerial decision-making. Students develop skills in database access, database management, and information systems to promote sustainability and quality advantage in healthcare. Topics addressed include the selection, analysis, design, implementation, operation, and evaluation of health information systems in a variety of healthcare systems such as hospitals, medical practices, and community agencies. | 4 |
| HCAD 3220 | Research and Evidence-Based Practice | In this course, students obtain a basic understanding of how reliable evidence is used to form practice guidelines. Emphasis is placed on the research process including data collection, documentation, and dissemination of evidence. Students will learn to use their knowledge of the healthcare process, communication skills, and critical thinking skills to promote evidence-based care within the interprofessional team. This course requires effective use of library and internet resources. | 4 |
| HCAD 3230 | Management of Quality Improvement and Outcomes | This course introduces the student to the elements of process improvement and project management. Content is devoted to quality management methodologies in order to implement projects in a healthcare organization to reach goals and to maximize outcomes. This course encompasses healthcare cases for quality, process tools, team development, and outcomes measures. | 4 |
| HCAD 3310 | Applied Communication for Healthcare Leadership | This course allows students to explore and practice fundamentals of several subareas of communication studies, including: interpersonal, small group, and organizational communication, as well as leadership and public speaking, which are essential skills for healthcare professional roles. Specifically, students will learn and analyze theories related to interpersonal relationships and conflict management, interact with and become comfortable with varying dynamics of small group communication, dissect the roles of leadership and management in organizations, and effectively prepare and deliver public speeches and presentations in front of an audience. | 4 |
| HCAD 3320 | Management and Leadership | This course addresses the critical need of managing human resources for organizational effectiveness. Classes examine organizational leadership and the role that visionary leaders play in empowering employees, providing environments for effective work teams, and promoting an ethical climate. Students explore various leadership styles, including servant leadership, and will reflect on their own style of leadership and how it affects their ability to be an effective leader. Other topics include: motivating individuals and teams, performance evaluation, distribution of power, intervention in systems, and creation of change-oriented cultures. | 4 |
| HCAD 4420 | Ethics and Legal Issues | This course examines the contemporary application of legal and ethical issues involved in the management and delivery of healthcare services. Topics covered include regulatory compliances, contracts, torts, damages, negligence, risk management, patient rights, liability of hospital and staff for personal injury to patients, medical records and disclosure of patient information, informed consent, ethical billing and coding practices, medical staff credentialing, and ethical issues in healthcare. | 4 |
| HCAD 4430 | Marketing and Understanding Sustainability in Healthcare | Healthcare organizations do not always have an understanding of the impact of market share on sustainability. This course emphasizes the identification, analysis, and selection of target markets, development and management of healthcare service lines and products, the power of consumerism, pricing, demand analysis and forecasting, distribution systems, and advertising and promotions. | 4 |
Admission Requirements
Students applying for the online healthcare administration degree program must meet the following requirements:
Minimum cumulative GPA of 2.2 on a 4.0 scale
Students with less than a 2.2 high school GPA may be considered and accepted on a conditional basis provided they are able to demonstrate their plans to succeed in the program.
General Admission Requirements
General requirements for admission to King University include graduation from an accredited or recognized high school, GED, or secondary institution with a minimum of 16 academic units, distributed as follows:
Four units of English
Two units of algebra (Algebra I and II)
One unit of geometry
Two units of foreign language
Two units from history and social studies
One unit of natural science
Four units of other academic electives
Students educated at home should follow the same procedures as any other candidate for the freshman class.
Students should present a high school transcript and documentation, or its equivalent.
How to Apply
Students applying for the online healthcare administration program must submit the following materials:
A completed online application
An official transcript request form. A scanned copy may be emailed to your Enrollment Counselor.
Have questions about this program or the admissions process? Request information and get connected to one of our knowledgeable enrollment counselors.
Career Outcomes
Graduates of King University's healthcare administration online program may choose to pursue careers as:
Clinical managers
Health information managers
Community health managers
Practice managers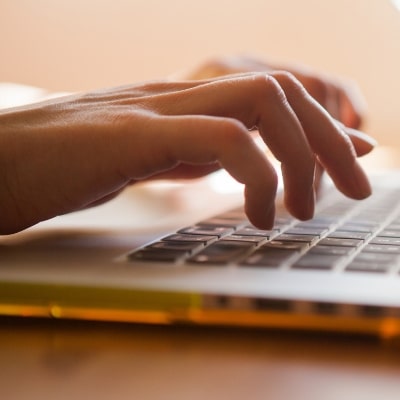 Online Learning
Studying online prepares you for a successful future. Discover a learning format that offers:
Flexibility and Convenience
Personalized Academics
Equal Excellence
Opportunity for Self Insight