B.S. Criminal Justice and Criminology Overview
Designed for individuals who plan to finish a bachelor's degree, our online Criminal Justice and Criminology program can help you build the skills you need to enter management positions in law enforcement, security, or human services.
At King, our online criminal justice and criminology degree features a comprehensive curriculum designed to help you gain a deeper understanding of the American justice system. Key topics of study include:
Criminal law
Theories of criminology
Juvenile justice
Policing
Criminal procedure
Throughout our program, you'll develop proficiency in in-demand skill areas, such as writing, critical thinking, and analysis. The degree prepares you for any number of roles, ranging from management positions in law enforcement to homeland security to child and family services. Employers may include state or federal governments, parole or probation offices, or other protective agencies.
Our online criminal justice and criminology program is proudly offered 100 percent online. All courses are the same as those on campus, ensuring that you'll never sacrifice quality for convenience. Because you'll study in a flexible format, you'll be able fit your degree around your life, and immediately apply your education to your current job. Major coursework can be completed in 16 months.
The B.S. in Criminal Justice Degree is Designed for…
Students who want an integrated course of study with both criminal justice and liberal arts courses
Working adults with some college credit seeking to finish their degrees
Those who want to study criminal justice to pursue advancement in law enforcement and human services
Courses and Requirements
Our online criminal justice and criminology degree requires 48 semester hours (12 courses) of major coursework. To graduate from King University, students must complete a total of 124 semester hours, which includes a mixture of major courses, general education courses, and additional courses which may come from credit transfers or electives.
Admission Requirements
Students applying for the online criminal justice and criminology bachelor's degree program must meet the following requirements:
Minimum cumulative GPA of 2.2 on a 4.0 scale
Students with less than a 2.2 high school GPA may be considered and accepted on a conditional basis provided they are able to demonstrate their plans to succeed in the program.
General Admission Requirements
General requirements for admission to King University include graduation from an accredited or recognized high school, GED, or secondary institution with a minimum of 16 academic units, distributed as follows:
Four units of English
Two units of algebra (Algebra I and II)
One unit of geometry
Two units of foreign language
Two units from history and social studies
One unit of natural science
Four units of other academic electives
Students educated at home should follow the same procedures as any other candidate for the freshman class.
Students should present a high school transcript and documentation, or its equivalent.
How to Apply
Students applying for the online criminal justice and criminology program must submit the following materials:
A completed online application
An official transcript request form. A scanned copy may be emailed to your Enrollment Counselor.
Have questions about this program or the admissions process? Request information and get connected to one of our knowledgeable enrollment counselors.
Career Outcomes
Graduates of King University's online criminal justice and criminology program can choose to pursue careers as:
Detectives and Criminal Investigators
Police and Sheriff's Patrol Officers
State Law Enforcement Officers
Federal Law Enforcement Officers
Parole Officers
Child and Family Advocate
Community and Social Service Specialist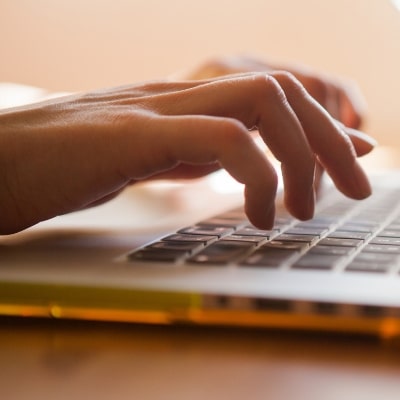 Online Learning
Studying online prepares you for a successful future. Discover a learning format that offers:
Flexibility and Convenience
Personalized Academics
Equal Excellence
Opportunity for Self-Insight