Program Overview
Enhance your understanding of business management and prepare to advance your career with the online Bachelor of Business Administration – Business Management at King University.
Designed for distance learners ready to complete a bachelor's degree, our program offers a comprehensive overview of business management practices and trains you in the skills needed to enter positions of leadership in your organization.
At King, you'll gain proficiency in skills crucial to the successful practice of business management, such as:
Problem-solving in organizational settings
Business communication
Ethical decision-making for effective leadership
Business research methods
Business plan development to build successful enterprises
Managerial economics
Self-analysis
You'll also develop a solid understanding of fundamental management topics, such as:
Economics
Financial accounting
Corporate finance
Business law
Human resource management
Because these aptitudes are in demand throughout the workforce, you'll graduate with a highly marketable skill set applicable to any number of industries. Ultimately, this increases your potential for both financial earnings and leadership roles. Graduates of the online Business Management distance education program are prepared for several career fields, such as management, consulting, or small business ownership. The program can also prepare you for further academic study.
Our accredited online business degree program is offered fully online, so you'll be able to finish your degree on your schedule. Distance learning programs can easily fit your schedule, allowing you to apply your training in your current role immediately. Major coursework can be completed in 16 months.
The BBA Degree is Designed for…
Working adults who want to engage in distance learning to enter positions of management
Those seeking additional business education to enhance their current careers
Individuals with some college experience who are ready to finish their bachelor's degree
Courses and Requirements
Our online business degree requires 60 semester hours (15 courses) of major coursework. To graduate from King University, students must complete a total of 124 semester hours, which includes a mixture of major courses, general education courses, and additional courses that may come from electives or transfer credits.
Course of Study
To earn a baccalaureate degree from King University, all students must earn 30 semester hours of common experience and general education courses. These courses include Foundations of Christian Thought and Practice, Citizenship, English Composition, Human Creative Products, Quantitative Literacy, Science, and additional credits from general education courses.
Students must earn a total of 26 semester hours of general electives.
| Course # | Title | Description | Credits |
| --- | --- | --- | --- |
| ECON 2000 | Introduction to Economic Principles | This course covers both micro-economic theory (theories of demand, supply, production, cost, and market structures) and macroeconomic theory (theories of economic institutions, GDP, unemployment, and inflation). | 4 |
| BUSA 2100 | Management Communication | Techniques and practices in business writing and oral communication, including communicating through letters, memoranda, reports, effective speaking, interviewing, and conference skills. | 4 |
| BUSA 2200 | Management Information Systems | An introduction to management information systems for decision-making. Students will learn the basic concepts of databases, spreadsheet software, and information technology as they relate to managerial decision-making and the maintenance of competitive advantage. | 4 |
| BUSA 2301 | Financial Accounting | An introduction to financial accounting principles and practices, financial statement analysis, as well as managerial accounting. | 4 |
| BUSA 3210 | Management of Organizations | A survey course with an overview of business operation, terminology, and practices with an emphasis on introducing fundamental management practices. | 4 |
| BUSA 3230 | Corporate Finance | A study of the foundations of corporate financial management, including cash flow analysis, financial analysis and planning, management of financial resources, and capital for the firm. Prerequisite BUSA 2301 | 4 |
| BUSA 2302 | Managerial Accounting | An introduction to managerial accounting, an accounting process where accounting information is used for managerial decisions. In addition, this course will make use of a spreadsheet for managerial problem solving and scenario analysis. | 4 |
| BUSA 2250 | Principles of Marketing | Extensive study of business activities that seek to satisfy customer needs. Topics covered include an analysis of the marketing environment, industrial and consumer markets, buyer behavior, measuring and forecasting demand, and the marketing mix (product, price, promotion, and place). In addition, an emphasis on the interaction of management and marketing decision-making will be stressed. | 4 |
| BUSA 3260 | Statistics and Business Research Methods | An introduction to inferential statistics and the major areas of research in business. Attention is given to problem definition, research design, information gathering, and data analysis and presentation to assist managers in the decision-making process. Each student will develop a research proposal and carry out a field project in a related business discipline. | 4 |
| BUSA 3270 | Human Resource Management | Introduces the student to the human resources/ personnel functions. Topics covered include recruitment, assessment, compensation, motivation, appraisal, development, legal environment, labor relations, and employee relations. Emphasis on how managers can deal with and utilize the human resources function. | 4 |
| BUSA 3276 | Business Law | An introduction to legal institutions and processes followed by a study of the laws governing contracts, torts, employment law, agency, sales, intellectual property, forms of business, and business regulation. | 4 |
| BUSA 3280 | Strategic Management and Business Policy | An overview course that seeks to integrate the concepts, techniques, and knowledge from business administration and economics courses. Its primary focus is on strategic, ethical decision-making and servant leadership. This course culminates with a dynamic computer simulation case. | 4 |
| BUSA 3850 | Small Business Entrepreneurship | This course examines the development and management of the business venture. Topics include the innovation idea; the development of business and financial plans, feasibility studies, alternative models of financing, and the launching of the business venture. | 4 |
| ECON 3290 | Managerial Economics | Students will learn how to apply economic theory, principles, and techniques to business decision making. | 4 |
| BUSA 3275 | Operations Management | An introduction to the tools and techniques of Operations Management, including forecasting, quality control, inventory management, supply chain management, and project management. Throughout the different elements of the course the core aspects will be strategy and productivity. Prerequisite BUSA 3260 | 4 |
Admission Requirements
Students applying for the online BBA degree program must meet the following requirements:
Minimum cumulative GPA of 2.2 on a 4.0 scale
Students with a lower high school GPA may be admitted on a conditional basis provided they are able to demonstrate their plans to succeed in the program.
General Admission Requirements
General requirements for admission to King University include graduation from an accredited or recognized high school, GED, or secondary institution with a minimum of 16 academic units, distributed as follows:
Four units of English
Two units of algebra (Algebra I and II)/li>
One unit of geometry
Two units of foreign language
Two units from history and social studies
One unit of natural science
Four units of other academic electives
Students who elect to pursue distance-learning opportunities should follow the same procedures as any other candidate for the freshman class.
Students should present a high school transcript or equivalent documentation.
How to Apply
Students applying for an online business program must submit the following materials:
A completed online application
An official transcript request form. Your King University enrollment counselor will help you complete this step.
Have questions about this program or the admissions process? Request information and get connected to one of our knowledgeable enrollment counselors.
Career Outcomes
General management
Office manager
Operations management
Retail management
Human resources
Public relations
Marketing and advertising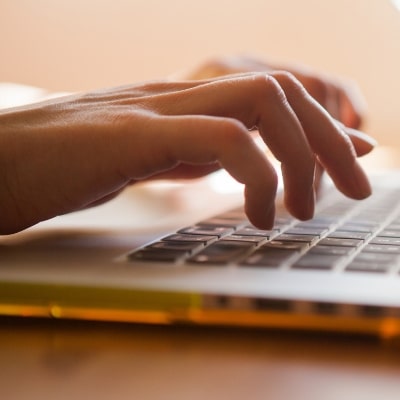 Online Learning
Studying online prepares you for a successful future. Discover a learning format that offers:
Flexibility and Convenience
Personalized Academics
Equal Excellence
Opportunity for Self Insight