Now offering a one-time $500 scholarship for Spring 2023 eligible students*
RN to BSN Online Overview
Discover a transformational learning experience leading to personal and professional growth with the online RN to BSN degree at King University.
Designed for working RNs who wish to finish a bachelor's degree, the online RN to BSN program trains you in the skills you need to build advanced competencies, improve patient outcomes, and take the next step in your career.
The School of Nursing seeks to rigorously prepare resourceful, accountable professionals with a passion for serving the world. During your course of study, you'll gain the competencies necessary to serve as a competent leader and advocate for consumers of healthcare. Key topics of study include:
Healthcare informatics
Evidence-based practice
Health assessment
Spiritual and cultural considerations in nursing
Ethics
Leadership
Once you graduate, you'll be prepared for a number of exciting leadership positions. Graduates may be eligible for jobs in nursing or primary care management, health program administration, or directorship. You can also apply for guaranteed admission to an MSN program at King.
Our online RN to BSN program offers you the full convenience you need as a working adult. Classes are offered fully online, allowing you to attend school on a schedule that fits around your life. Classes are usually taken one or two at a time, enabling you to focus on your studies while keeping your professional and personal commitments. You'll also immediately be able to apply your skills to your job.
To enter the program, you must have a nursing diploma Associate of Science or Associate of Applied Science degree with a major in nursing, and either a valid multi-state license or nursing license in the state of Tennessee. Nursing classes are scheduled with seven weeks in class and one week off. Core classes run for seven weeks.
The RN-BSN is Designed for…
Current registered nurses who wish to finish their bachelor's degree
Working RNs who want to enter higher positions of leadership within their field
Community college graduates and transfer students
Accreditation
The School of Nursing programs are fully approved by the TENNESSEE BOARD OF NURSING, and are a member of the AMERICAN ASSOCIATION OF COLLEGES OF NURSING.
The baccalaureate degree program in nursing, master's degree program in nursing and Doctor of Nursing Practice program at King University are accredited by the Commission on Collegiate Nursing Education (HTTP://WWW.CCNEACCREDITATION.ORG).
Courses and Requirements
Our online RN to BSN degree requires 36 semester hours (9 courses) of major coursework. To graduate from King University, students must complete a total of 124 semester hours, which includes a mixture of major courses, general education courses, and additional courses which may come from credit transfers or electives.
You may choose between a three-semester option (two classes per term) and a six-semester option (one class per term).
Additional core educational requirements may be needed based on previous academic record of completed coursework.
Admission Requirements
Students applying for the online RN-BSN program must meet the following requirements:
An associate degree or diploma in nursing from an accredited school of nursing.
Cumulative GPA of 2.75 on a 4.0 scale 
A current unencumbered license as a registered nurse from the Tennessee Board of Nursing or a compact multi-state license. Applicants should not be on probation and must report any past or current disciplinary action taken by a state board.
A current American Heart Association CPR certification.
Laptop computer with Microsoft Office 365, wireless and webcam capability is required. Microsoft Office 365 is available to all King students to load on the PC or Mac and is accessible at Office.com using their King University credentials. Chromebooks and many tablets will NOT meet the minimum requirements for the SON Programs.
How to Apply
Students applying for admission to the online RN-BSN program must submit:
A completed online application.
An official transcript request form. A scanned copy may be emailed to your Enrollment Counselor.
Verification of current unencumbered license as a registered nurse from the Tennessee Board of Nursing or a compact multi-state license. Students without licensure can start coursework but must provide licensure information before starting their second semester.
A copy of current CPR certification. Once your application packet is complete, it will be submitted to the admissions committee for a complete review and assessment.
Have questions about this program or the admissions process? Request information and get connected to one of our knowledgeable enrollment counselors.
Special Considerations
The School of Nursing has a cohort cancellation policy that reserves the right to cancel any cohort 10-calendar days prior to the orientation date if minimum enrollment has not been met.
Guaranteed Admission to King University MSN Program
Students completing the BSN degree from King University may apply for guaranteed admission to an MSN program during the final semester of the BSN program. In addition to standard MSN admission requirements, students applying for guaranteed admission must meet the following admission criteria:
Have a cumulative undergraduate GPA of 3.5 or higher
Submit three letters of recommendation (two academic and one professional)
Have received no academic sanctions during BSN program
Guaranteed admission is contingent on time of application and seats available per semester.
Career Outcomes
Primary care nurse manager
Nursing director
Clinical nursing manager
Clinical audit manager
Behavioral health program manager
Flexible Outcomes-Based Funding
King University is committed to ensuring that every student who seeks to further his or her career has that opportunity. To support this mission, King works with a host of mission-aligned partners that provide funding to support our high-outcome degree programs, such as the RN-BSN program. After students have exhausted scholarships and grants, and as an alternative to PLUS loans and private loans, King's RN-BSN students have access to Income Share Agreements (ISAs) as another affordable funding option that never requires a cosigner, and where students only pay based on future earnings, while also gaining access to additional career support & resources! Learn more HERE.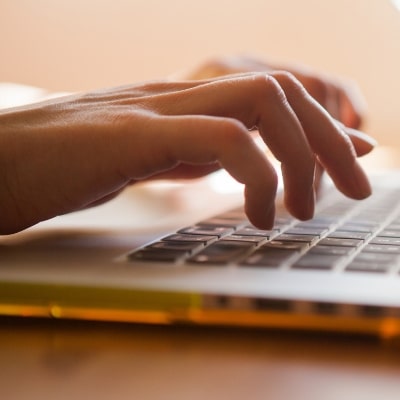 Online Learning
Studying online prepares you for a successful future. Discover a learning format that offers:
Flexibility and Convenience
Personalized Academics
Equal Excellence
Opportunity for Self-Insight
* Students must enroll in one of King University's Bachelor of Science in Accounting, RN-BSN, or Bachelor's in Social Work programs, be accepted by the institution, and start classes on or before January 9, 2023, February 13, 2023, or March 13, 2023 in order to be eligible for this scholarship. A limited number of tuition discount scholarships (20) are available on a first-come, first-serve basis. Eligible students will receive a total credit towards tuition of $500 which shall be provided upon enrollment in the program. If the student drops, or is administratively withdrawn they are no longer eligible for the scholarship. To confirm tuition discount and online program details, please consult an enrollment counselor at aeshoemaker@king.edu. Please note that the scholarship offer is for tuition only and could affect your financial aid award. Please contact the Financial Aid office to discuss it further. Information presented may be revised without notice.