Online MHA Overview
Designed to help you take your healthcare career to the next level, our online MHA offers a relevant, engaging learning environment that prepares you to thrive as a future healthcare leader.
As a Master of Healthcare Administration online student, you will be taught the core competencies needed to be a successful leader in the vital and growing field of healthcare. During your time in the program, you will study strategic planning, information systems, data analysis, legal issues, managed care, and more, preparing you to become a well-rounded candidate for a number of high-demand management positions.
Our online program will prepare you to effectively communicate within healthcare organizations to develop collaborative and professional relationships with all stakeholders. You will also have the opportunity to explore health care issues, trends, and perspectives that impact diverse populations to decrease healthcare disparities created by inequality.
This degree program is offered fully online, so you will be able to study in a way that fits into your schedule. King University's online courses are held to the same standards as our courses on campus, so regardless of how you choose to study, you will be receiving an exceptional education.
The Online MHA is Designed For…
Individuals who have already obtained a bachelor's degree and want to advance in their current career
Those who want to impact society, spark social change, and seek personal fulfillment
Working professionals, including allied health specialists, nurses, EMTs, pharmacists, and others who are seeking a career change out of clinical practice and into management or administration
Those seeking executive and upper-level management positions
Courses and Requirements
Our online MHA degree will give you a solid foundation in the practical ways to lead in healthcare. Throughout this 30-semester hour program, you will learn the core competencies needed to pursue a career in a variety of settings.
Course of Study
| Course # | Title | Description | Credits |
| --- | --- | --- | --- |
| HCAD 5000 | Strategic Planning and Change Management for Healthcare Environments | This course emphasizes that an organization's mission should guide its strategy. The unique environment of healthcare brings rapid and constant change. The graduate student will learn the theories and tools necessary to create, implement, and evaluate a strategic plan. Competencies characteristic of leaders in top-performing healthcare organizations are applied using case scenarios. | 3 |
| HCAD 5100 | Human Resource Management in Healthcare | Students will examine the complexities, strategies, and relations associated with human resource management within healthcare organizations. Future healthcare leaders gain the problem-solving skills to create and maintain a safe, effective environment for an ever-changing workforce. This course emphasizes credentialing, diversity, job design, recruitment and retention, compensation and benefits, HR policy, HR metrics, corporate culture, and workplace vitality. | 3 |
| HCAD 5200 | Healthy Communities | With a focus on the responsibilities of the healthcare administrator, this course provides an innovative approach to the skills needed to provide affordable, accessible, and effective health care to all members of a community. Social determinates of health and healthcare inequalities will be discussed throughout. The covid-19 pandemic will be used as the basis of many course concepts. | 3 |
| HCAD 5300 | Information Systems and Data Analysis | Health informatics has the potential to transform healthcare delivery and optimization. Using technology for knowledge transfer aids in decision-making results in patient-centered care and precision medicine. Additionally, concepts learned in the course include innovative delivery and financial models, integrate technology for population health, and global health systems informatics. | 3 |
| HCAD 5410 | Healthcare System | An introduction to the structure and function of the medical care delivery system. Includes basic concepts and measures of health, disease, quality, values, needs and utilization; issues in healthcare workforce, institutions, and system organization; general issues in policy; reimbursement and regulation; broad community, and organizational considerations in medical care organizations. | 3 |
| HCAD 5420 | Legal and Ethical Issues | Exposes the students to the legal system as it affects the healthcare industry. The course addresses the numerous legal and ethical issues raised by advances in technology, changing societal values, decreasing resources, and increasing professional liability. | 3 |
| HCAD 5430 | Managed Care | An in-depth analysis of the various managed healthcare delivery models is explored in this course. Emphasis is given to the managed care continuum. Topics include types of managed care organizations, provider payment plans, utilization control, underwriting and rate setting, management and marketing aspects, and legal and healthcare policy issues. | 3 |
| HCAD 5500 | High-Performing Traits and Professional Responsibility | This course exposes the graduate student to intangible healthcare leader traits through the application of evidence-based practices from various leadership views, including servant leadership. Students will learn how humility, compassion, kindness, and generosity combine with ambition and strength to create high-performing leaders who respect colleague diversity. | 3 |
| HCAD 5600 | Accounting and Financial Performance in Healthcare | Optimal patient care starts with financially secure healthcare organizations. In this course, students will explore topics such as insurance and reimbursement, financial accounting, case flows, profit analysis, cost allocation, service line costing, budgeting, debt, risk analysis, capital structure, and revenue cycles. Financial theories and practical tools needed to make crucial financial decisions are included. | 3 |
| HCAD 5700 | Applying Continuous Quality Improvement in Healthcare | This course covers the concepts and techniques necessary for improving the systems vital to the daily work of clinicians and the outcomes of patient care. Topics emphasized include: the role of policy, measuring process and system performance, a supportive environment, outside forces that affect quality, teamwork, collaboration, continuous improvement, high reliability accountability, and patient safety. | 3 |
| HCAD 5990 | Comprehensive Assessment | All candidates for a degree from King are required to demonstrate competency in each major field attempted. MHA candidates will submit a portfolio with evidence of competency in each of these five domains: communication and relationship management, professional and social responsibility, management and leadership, quality improvement, and business/financial/analytical skills. The portfolio will be comprised of selected assignments from major courses. Students must achieve a passing score on the rubric contained within this course to graduate. | 3 |
Admission Requirements
To apply for the online MHA program, students must meet the following requirements:
A bachelor's degree earned from a regionally accredited college or university
A minimum 3.0 GPA on a 4.0 scale on all prior academic work
Note: GMAT is not required for admission into the MHA program.
How to Apply
To apply for the Master of Healthcare Administration online program, students must submit the following materials:
Evidence of completion of a bachelor's degree from a regionally accredited college or university prior to enrolling
An official transcript request form. Your Enrollment Counselor will help you complete this step
Two professional or academic recommendations: Submit names and email addresses
Personal Statement: Should be 500–700 words indicating interest in the program, professional preparation, academic experience, job-related history, and career goals
Have questions about this program or the admissions process? Request information and get connected to one of our knowledgeable enrollment counselors, who will help you start your online MHA training.
Career Outcomes
Graduates of King University's online MHA program may choose to pursue careers in fields such as:
Hospitals
Outpatient facilities
Long-term care facilities
Accreditation organizations
Insurance/pharmaceutical companies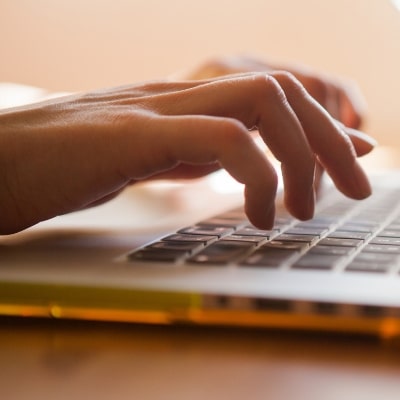 Online Learning
Studying online prepares you for a successful future. Discover a learning format that offers:
Flexibility and Convenience
Access to Full-time, Experienced Faculty
Opportunities to Learn in Multiple Formats
Practical Application of Skills Learned