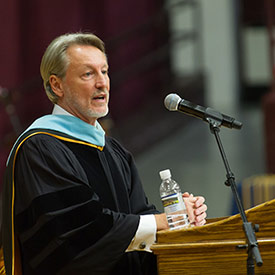 Who We Are
King University is a Presbyterian-affiliated, doctoral-level comprehensive university dedicated to the integration of rigorous academic programming and the exploration of faith. For more than 150 years, we have offered students the opportunity to excel as thoughtful, resourceful, and responsible citizens with a passion for serving the world.
Mission Statement
We prepare students in our Christian academic community to excel as thoughtful, resourceful, and responsible citizens with a passion for serving God, the Church, and the world.
Our Vision
We aim to be the preeminent small to medium-sized Christian university in the Upper South, with a reputation earned there and beyond as a school serious about its Christian commitment, focused on student success, dedicated to academic excellence, and successful in producing graduates who excel wherever they live, work, and serve.
Your Online Education
King University Online offers more than 15 degree programs at multiple levels of study. Earn your degree in high-opportunity fields like business, nursing, criminal justice, information technology, education, humanities, and social work. Our degrees are relevant, career-focused, and prepare you for real-world success.
Accolades
The reputation of King University goes beyond satisfied students and employers. U.S. News & World Report has continually ranked King among the best colleges in the nation. The Princeton Review has repeatedly named King one of the Best Colleges in the Southeast. And we have been recognized by the Brooking Institution, which in 2016 ranked the university third in Tennessee for preparing students for high-paying careers.
What's your academic goal?
Get the information you need to take the next step in your education. At King University Online, we provide you with the training and skills you need to advance your career.
Explore All Programs Offered at King Online