Online Accounting Degree Overview
Build the foundation you need to prepare for the CPA exam. Our hands-on, cost-effective accounting degree helps you gain the skills you need to succeed.
The B.S. in Accounting program at King University provides the knowledge and experience necessary to become an effective and capable accounting professional. With King's well-rounded degree program, you'll take the first steps toward becoming a certified public accountant. High-quality coursework is available at an affordable cost through this 64-credit transfer program.
Topics of study include:
Advanced accounting
Business law
Taxation
Communication
The degree curriculum follows a structured course schedule that builds knowledge from one class to the next. Through a cohort model, you will develop relationships and support systems with peers while guided by faculty with extensive accounting experience. The personal attention and support from instructors and staff allow students to flourish on their path towards the CPA exam.*
Transfer up to 76 credits and complete the program in as few as 16 months, ready for a dynamic and growing career path with unlimited potential.
The bachelor's degree in accounting is designed for:
Individuals seeking a strong accounting foundation to begin preparing for a career as a CPA
Those looking for a flexible program that fits busy lifestyles
Students who want experienced faculty and staff to support their educational journey
*In Tennessee, students may begin to sit for the CPA exam within 200 days of expecting to meet the 150 credit hour requirement. To meet the hours need to sit for the exam, additional graduate courses and experience hours are needed before students receive their CPA license. This is similar throughout the U.S., so students will need to confirm the requirements for their state.
Courses and Requirements
The bachelor's degree curriculum provides students with the required accounting coverage and hours to qualify to sit for the CMA exam and the accounting coverage to qualify to sit for the CPA exam. You'll complete 64 hours of coursework in the major, along with general education courses.
Course of Study
To graduate from King University with a baccalaureate degree, all students must have earned 30 semester hours of common experience and general education courses. These courses include Foundations of Christian Thought and Practice, Citizenship, English Composition, Human Creative Products, Quantitative Literacy, Science, and additional semester hours from general education courses.
Students must earn a total of 26 semester hours of general electives.
| Course # | Title | Description | Credits |
| --- | --- | --- | --- |
| ECON 2000 | Introduction to Economic Principles | This course covers both micro-economic theory (theories of demand, supply, production, cost, and market structures) and macroeconomic theory (theories of economic institutions, GDP, unemployment, and inflation). | 4 |
| BUSA 3110 | Intermediate Accounting I | An analytical study of accounting theory and practice | 4 |
| BUSA 3276 | Business Law | An introduction to legal institutions and processes followed by a study of the laws governing contracts, torts, employment law, agency, sales, intellectual property, forms of business, and business regulation. | 4 |
| BUSA 3271 | Human Resource Management | Introduces the student to the human resources/ personnel functions. Topics covered include recruitment, assessment, compensation, motivation, appraisal, development, legal environment, labor relations, and employee relations. Emphasis on how managers can deal with and utilize the human resources function | 4 |
| BUSA 3120 | Intermediate Accounting II | An analytical study of accounting theory and practice | 4 |
| BUSA 2250 | Principles of Marketing | Extensive study of business activities that seek to satisfy customer needs. Topics covered include an analysis of the marketing environment, industrial and consumer markets, buyer behavior, measuring and forecasting demand, and the marketing mix (product, price, promotion, and place). In addition, an emphasis on the interaction of management and marketing decision-making will be stressed. | 4 |
| BUSA 3841 | Taxation | An introduction to the taxation of individuals, partnerships, and corporations. Computerized tax preparation will be introduced using sample returns | 4 |
| BUSA 3850 | Small Business Entrepreneurship | This course examines the development and management of the business venture. Topics include the innovation idea; the development of business and financial plans, feasibility studies, alternative models of financing, and the launching of the business venture. | 4 |
| BUSA 2100 | Management Communication | Techniques and practices in business writing and oral communication, including communicating through letters, memoranda, reports, effective speaking, interviewing, and conference skills. | 4 |
| BUSA 4870 | Principles of Auditing | The theory and practice of auditing and the standards used in the development of auditing techniques. The course examines audit practices for public and nonpublic organizations | 4 |
| BUSA 3180 | Accounting Information Systems | This course focuses on business productivity software applications and professional behavior in computing from the perspective of the accounting profession | 4 |
| BUSA 4810 | Advanced Accounting | A study of special topics in financial accounting, including business combinations, fund accounting and foreign exchange transactions | 4 |
| BUSA 3230 | Corporate Finance | A study of the foundations of corporate financial management, including cash flow analysis, financial analysis and planning, management of financial resources, and capital for the firm. Prerequisite BUSA 2301 | 4 |
Admission Requirements
Students applying for the online bachelor's in accounting must meet the following requirements:
Minimum cumulative GPA of 2.2 on a 4.0 scale
Students with a lower high school GPA may be admitted on a conditional basis if they submit a personal essay explaining their GPA
General Admission Requirements
General requirements for admission to King University include graduation from an accredited or recognized high school, GED, or secondary institution with a minimum of 16 academic units, distributed as follows:
Financial accounting
Managerial accounting
Four units of English
Two units of algebra (Algebra I and II)
One unit of geometry
Two units of foreign language
Two units from history and social studies
One unit of natural science
Four units of other academic electives
Students who elect to pursue distance-learning opportunities should follow the same procedures as other first-year students.
Students should present a high school transcript or equivalent documentation.
How to Apply
Students applying for an online accounting program must submit the following materials:
A completed online application
An official transcript request form. Your King University enrollment counselor will help you complete this step.
Have questions about this program or the admissions process? Request information and get connected to one of our knowledgeable enrollment counselors.
Career Outcomes
A variety of career paths are available to accountants. Those with a CPA credential will have many options for success in areas, such as:
Accounting
Finance
Banking
Tax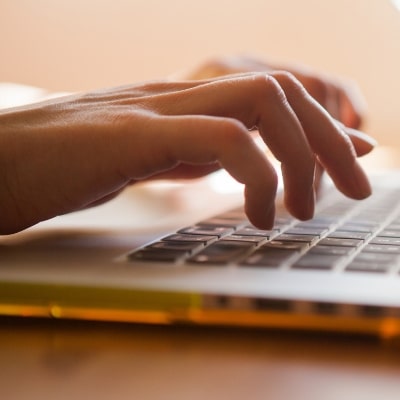 Online Learning
Studying online prepares you for a successful future. Discover a learning format that offers:
Flexibility and Convenience
Personalized Academics
Equal Excellence
Opportunity for Self Insight