MSN Overview
Become a leader in healthcare and take the next step in your nursing career with the Master of Science in Nursing online program from King University.
Designed for working nurses, the online accredited master's in nursing program provides the training you need to find advancement opportunities and grow your professional profiles. The program offers you a direct track towards professional advancement through your choice of three in-demand concentrations:
Nurse Educator (Not currently accepting new students)
Nursing Leadership and Administration
Pediatric Nurse Practitioner
Your course of study covers a range of topics including research design, health informatics, global health awareness, theory, and social perspective on health. Program outcomes seek to help you:
Synthesize theory, research, and values to effectively practice nursing
Expand your critical thinking and diagnostic reasoning skills
Practice reflective nursing in a way guided by expanded knowledge
Demonstrate professional accountability
Understand the role of nursing in local, state, national, and global healthcare policy
Improve the quality of your specialty practice
Take part in professional and personal growth
Offered fully online, the master's in nursing is taught in a cohort model and utilizes team-based learning. This allows you to retain the flexibility you need to attend school on your schedule, while simultaneously moving through your degree with a community of your peers.
Candidates can enter the accredited Master of Science in Nursing online program externally or directly from King University's RN to BSN program. Upon graduation, you will have the knowledge and skills to take on higher positions of management, as well as pursue doctoral education.
The M.S. Nursing Program is Designed for…
Working RNs who have already earned their BSN degree who are seeking to advance their careers
Graduates of King University's RN to BSN program
Nontraditional learners who want an accessible educational format
Accreditation
The School of Nursing programs are fully approved by the TENNESSEE BOARD OF NURSING, and are a member of the AMERICAN ASSOCIATION OF COLLEGES OF NURSING.
The baccalaureate degree program in nursing, master's degree program in nursing and Doctor of Nursing Practice program at King University are accredited by the Commission on Collegiate Nursing Education (HTTP://WWW.CCNEACCREDITATION.ORG).
Courses and Requirements
Our accredited Master of Science in Nursing online requires 36-45 semester hours for completion, depending on the concentration selected. Concentration requirements can be found in the table below.
| Concentration | Specialized Credits | Total Program Credits | Clinical Practicum Hours |
| --- | --- | --- | --- |
| Nurse Educator | 24 semester hours | 39 semester hours | 420 |
| Leadership | 20 semester hours | 35 semester hours | 395 |
| Pediatric Nurse Practitioner | 30 semester hours | 45 semester hours | 600 |
Admission Requirements
Students applying for the online MSN program must meet the following requirements:
A bachelor's degree in nursing from a regionally accredited program.
A minimum 3.0 GPA on a 4.0 scale on all prior academic work.

Students with a lower GPA may be considered and accepted on a conditional basis.

Undergraduate coursework completed with a C grade or better in the following disciplines:

Statistics
Nursing research/evidence-based practice
Health assessment
Pathophysiology (highly recommended for Nurse Education students, but not required)

Current unrestricted licensure to practice as a registered nurse in Tennessee (compact/multi-state accepted). The applicant may not be on probation and must report any past or current disciplinary action taken by a State Board directly to the Dean of the School of Nursing.
Laptop computer with Microsoft Office 365, wireless and webcam capability is required. Microsoft Office 365 is available to all King students to load on the PC or Mac and is accessible at Office.com using their King University credentials. Chromebooks and many tablets will NOT meet the minimum requirements for the SON Programs.
How to Apply
Students applying for an online MSN program must submit the following materials:
A completed online application.
An official transcript request form. Your enrollment counselor will help you complete this step.
Three letters of recommendation, preferably one from an employer and one from a previous college professor. When applying online, students may submit the names and email addresses of individuals offering a recommendation to automate the process.
A personal essay. Details will be provided by your enrollment counselor.
Verification of current unencumbered registered nurse license from the Tennessee Board of Nursing or compact multi-state licensure with privileges to practice in Tennessee.
Copies of all certificates in an area of clinical concentration, if applicable.
A current curriculum vitae including professional organization memberships and activities and community service.
Guaranteed Admission to MSN Program Criteria
Students completing the BSN degree from King University may apply for guaranteed admission to an MSN program during the final semester of the BSN program. Students applying for guaranteed admission must meet the following admission criteria in addition to those listed above:
Have a cumulative undergraduate GPA of 3.5 or higher
Submit three letters of recommendation (two academic and one professional)
Have received no academic sanctions during BSN program
Guaranteed admission is contingent on the time of application and seats available per semester.
**Courses are applicable for transfer if they are applicable to the requirements of the program, and are approved by the specialty area faculty and the Dean of the School of Nursing. Courses being transferred must have been assigned a grade of B or higher and must have covered content which is required for a particular core course or specialty program.
Career Outcomes
Professional nurses who graduate from King University's online MSN program can increase their earnings and build a career in various areas of nursing and other related fields. Outcomes include:
Director of nursing
Nursing faculty
Director of staff development
Pediatric nurse practitioner
Quality improvement manager/director
Flexible Outcomes-Based Funding
King University is committed to ensuring that every student who seeks to further his or her career has that opportunity. To support this mission, King works with a host of mission-aligned partners that provide funding to support our high-outcome degree programs, such as the MSN program. After students have exhausted scholarships and grants, and as an alternative to PLUS loans and private loans, King's MSN students have access to Income Share Agreements (ISAs) as another affordable funding option that never requires a cosigner, and where students only pay based on future earnings, while also gaining access to additional career support & resources! Learn more HERE.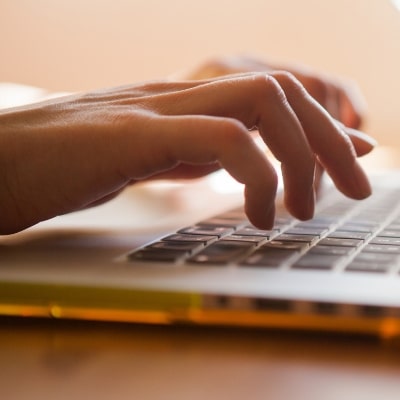 Online Learning
Studying online prepares you for a successful future. Discover a learning format that offers:
Flexibility and Convenience
Personalized Academics
Equal Excellence
Opportunity for Self Insight