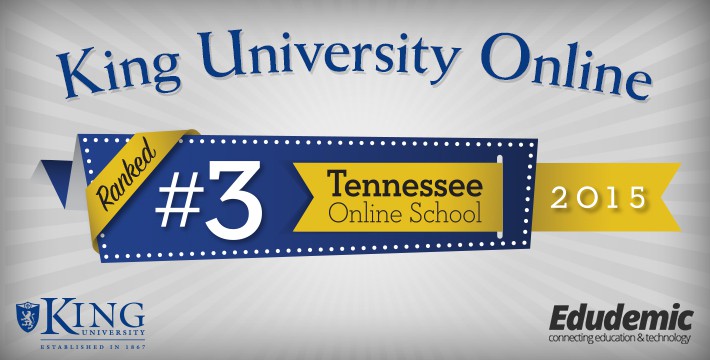 Earlier this month, education technology resource Edudemic released its 2015 Online College Report. In the report, King University was ranked third among all online colleges in the state of Tennessee. Edudemic looked at factors including tuition, graduation rates and number of programs offered to determine the rankings. King's affordability, student support and options in real-world fields like healthcare, business, information science and more all helped push it to the top of the list. That means that at King, you'll find a flexible, affordable education designed to help you succeed, and all available online.
Program Rankings
While King was ranked third overall, we also received fourth place rankings for several of our individual online programs. Edudemic recognized King in the following categories
Best Business/Accounting Degree
We offer undergraduate business degrees that take an interdisciplinary approach to learning. Our Bachelor of Science in Communication gives you the writing, critical thinking and communication skills you need to succeed in media and public relations careers. You'll develop the presentation, design and public speaking strategies employers are looking for in all types of organizations.
The Bachelor of Business Administration is designed for professionals who are looking to increase their earning potential and advance their career through education. You'll study fundamental managerial topics like problem solving, ethical decision-making, business plan development and more. This degree qualifies you for careers in operations, management and more.
Best MBA Degree
Our MBA program features an advanced business curriculum, including topics in project management, research, policy development, statistical analysis and more. You can specialize this degree to meet your career goals as well. Choose from accounting, finance, healthcare, human resources, management and marketing. Graduates are effective leaders and managers, prepared for the demands of today's business world.
Best Computer Science Degree
The online Bachelor of Science in Information Technology prepares students like you for IT-related administrative and management careers. It features specializations in cyber security, network management and programming, allowing you to choose the path of study that makes sense for your future career. The curriculum includes key topic areas such as IT plan development, policy consultation and technical project management.
Best Criminal Justice Degree
Our Bachelor of Science in Criminal Justice features an emphasis on restorative justice, an approach that repairs relationships and focuses on community growth. Whether you are interested in law enforcement, corrections or the courts, this degree program teaches you the skills you need for career success. You'll gain both theoretical and practical knowledge that you can apply in today's complex criminal justice system.
Best English/Humanities Degree and Best Psychology Degree
No matter which area you are interested in studying, our arts and sciences degrees are a great foundation for a variety of careers, including education, law and more. These programs also prepare you for further study at the graduate level. We offer the following associate and bachelor's degrees:
Best Healthcare Degree
These online degrees are designed to prepare you for today's rapidly changing healthcare system. The Bachelor of Science in Healthcare Administration teaches you to make important strategic and ethical decisions that improve patient care quality and efficiency. You'll study topics like healthcare organization and policy, ethics and legal issues, sustainability and more. This degree qualifies you for careers such as medical services manager, compensation and benefits coordinator, personnel director and more.
The Bachelor of Science in Health Informatics is interdisciplinary, combining information science, computer science and healthcare. You'll learn to analyze, design, implement and evaluate the information and communication systems that are so critical to our healthcare system. After graduation, you'll be qualified for careers such as information security analyst, medical records and health information technician, and database administrator, among others.
Best Nursing/RN to BSN Degree
The online Bachelor of Science in Nursing degree program for Registered Nurses provides RNs with the educational opportunity to advance their career by earning a bachelor's degree. It is designed to combine practical and theoretical learning, leading to personal and professional development and advancement in the workplace.
Our Master of Science in Nursing program offers three concentrations: nurse educator, nurse administrator and an MSN/MBA dual degree. If you are interested in management-level nursing careers, this program is ideal for getting the advanced education you need for success.
No matter what career path you are interested in, King University has the high-quality, respected programs you are looking for with the added convenience of an online format. Learn more about our many degree options and discover what a King education can mean for you.