B.S. Communication Overview
The ability to effectively convey information is a crucial skill in one's professional wheelhouse. Improve your employability and value in the workforce with the online Bachelor of Science in Communication at King University.
Designed for adult learners who plan to finish a four-year degree, our online communication degree provides skills needed to advance in your place of employment. You'll become proficient in a wide range of desired competencies including writing, presenting effectively, persuasive design, critical thinking, and key topics like:
Ethical communication
Media ownership and influence
Negotiation and conflict management
Interpersonal relations
Leadership
Persuasion
The program emphasizes peer connections in the online learning environment, and the ability to integrate applied communication into a modern work environment. At the end of the program, you will be able to provide employers with a compelling portfolio of work.
Nearly every industry imaginable requires competent communicators. This means you'll have the opportunity to advance in a wide range of fields. The program also rigorously prepares you for graduate study should you choose to continue your education.
At King, our online programs feature the same rigorous academics that you'd find on campus. However, because your program is offered in a fully digital format, you'll have the ability to complete assignments throughout the week at a place and pace that's right for you. Major coursework can be completed in 16 months.
The B.S. in Communication Degree is Designed for…
Adult learners with some college credits seeking to earn their bachelor's degree
Working professionals who want to formally improve their business communication skills
Individuals who want to develop one of the most in-demand skill sets in the workforce
Accreditation
King University is accredited by the Southern Association of Colleges and Schools Commission on Colleges to award associate, baccalaureate, masters, and doctoral degrees. Contact the Southern Association of Colleges and Schools Commission on Colleges at 1866 Southern Lane, Decatur, Georgia 30033-4097 or call 404.679.4500 for questions about the accreditation of King University.
Courses and Requirements
Our online communications degree requires 49 semester (13 courses) hours of major coursework. To graduate from King University, students must complete a total of 125 semester hours, which includes a mixture of major courses, general education courses, and additional courses which may come from credit transfers or electives.
Course of Study
To graduate from King University with a baccalaureate degree, all students must have earned 30 semester hours of common experience and general education courses. These courses include Foundations of Christian Thought and Practice, Citizenship, English Composition, Human Creative Products, Quantitative Literacy, Science, and additional semester hours from general education courses.
Students must earn a total of 38 semester hours of general electives.
| Course # | Title | Description | Credits |
| --- | --- | --- | --- |
| COMM 1500 | Basics of COMM at King Seminar | This two-week course is mandatory for new students at the beginning of their first semester in the Communication program. This required course introduces students to fundamental skills like organized writing, citing, and APA style that prepare them for the Communication program at King. (Not designed for transfer.) | 1 |
| COMM 2400 | Professional Communication | Students practice traditional methods of written and oral expression in professional communication environments. Assignments emphasize audience-centered writing, industry-specific expectations, and organized communication. Students also hone resumes and practice effective interviewing. | 4 |
| COMM 2500 | Visual Rhetoric | This course is an introduction to basic design. Students design visually persuasive documents, business cards, letterhead, invitations, brochures, and other content. The course examines the production of everyday texts both written and visual. This course requires student-created projects and modification. | 4 |
| COMM 2600 | Introduction to Media Communication | A survey of mass media and its impact on society. This introductory course examines and analyzes how radio, television, newspapers, books, films, the Internet, citizen media, and social media shape society. Students consider the ethical influences of media and develop a critical lens for analyzing mass media texts and mediums. | 4 |
| COMM 2700 | Advanced Speech Communication | This course develops student mastery of professional speech, focusing on both theory and practice of presentational skills. Students learn how to speak effectively to various audiences by learning stress reduction techniques, organized speech principles, ethical strategies for presenting ideas, and visual aids. This course also incorporates listening and ethical critique of speeches. | 4 |
| COMM 3000 | Communication Theory and Practice | An introduction to communication theory that maps different schools of thought. This course teaches people to use theories to explain, predict, or control their communicative experiences and relationships. Course includes a theory-rich application paper. | 4 |
| COMM 3200 | Interpersonal Communication | This course overviews interpersonal communication, conflict management, and theory. Students learn the basics of interpersonal relationships, rules that guide those personal and professional relationships, and effective tools for negotiating such complex connections. Students assess their own patterns in order to understand interactions. Students learn to initiate, maintain, repair, and negotiate effective interpersonal relationships. | 4 |
| COMM 3300 | Editing for Special Topics in Communication | This course explores special topics in communication. The special topics change to include recent developments in communication, news stories of interest, and best practices for communication practitioners. Example topics include negotiation, effective crisis communication, social media campaigns, family conflict resolution, and countless other trends in the field of communication. Students write papers pertaining to the selected topics and revise these works to develop strong editing skills. | 4 |
| COMM 3400 | Rhetoric & Persuasion | An introduction to the study and practice of ethical and unethical persuasion. Course covers issues such as the role of emotion, motives and values, propaganda and the abuse of persuasion, political persuasion, and media persuasion. | 4 |
| COMM 3500 | Public Relations | An introduction to the many aspects of public relations such as relating to the mass media, managing crises, and preparing campaigns. Students learn conventional and new-media approaches to effective public relations. Students practice research in public relations and learn how to prepare PR plans, press releases, memos, and proposals. | 4 |
| COMM 3600 | Organizational Communication | This course explores the fundamentals of effective organizational structures, communicative processes, and innovations at organizations. Students learn historical and developing approaches to organizing. Course emphasizes student-learned contributions to organizational communication that permeates companies, procedures, and effectiveness. | 4 |
| COMM 4100 | Ethics in Communication | A study of philosophical and religious theories of ethics and of their application to realistic ethical dilemmas that enable students to consider the complexities of ethical decision-making. Emphasis on critical thinking and learning to apply ethical frameworks. | 4 |
| COMM 4500 | Leadership Communication | This course overviews professional and personal leadership styles. Students assess their own predispositions and learn to strengthen their leadership abilities and effectiveness habits in a variety of personal and professional contexts. | 4 |
* COMM 1500 is a mandatory pass/fail class required of all new communication students at the beginning of the first semester in the communication program.
Admission Requirements
Students applying for the online communications degree program must meet the following requirements:
Minimum cumulative GPA of 2.2 on a 4.0 scale
Students with less than a 2.2 high school GPA may be considered and accepted on a conditional basis provided they are able to demonstrate their plans to succeed in the program.
General Admission Requirements
General requirements for admission to King University include graduation from an accredited or recognized high school, GED, or secondary institution with a minimum of 16 academic units, distributed as follows:
Four units of English
Two units of algebra (Algebra I and II)
One unit of geometry
Two units of foreign language
Two units from history and social studies
One unit of natural science
Four units of other academic electives
Students educated at home should follow the same procedures as any other candidate for the freshman class.
Students should present a high school transcript and documentation, or its equivalent.
How to Apply
Students applying for the online communication program must submit the following materials:
A completed online application
An official transcript request form. A scanned copy may be emailed to your Enrollment Counselor.
Have questions about this program or the admissions process? Request information and get connected to one of our knowledgeable enrollment counselors.
Career Outcomes
Graduates of King University's online communication program can choose to pursue careers as:
Public relations specialists
Marketing coordinators
Content strategists
Technical writers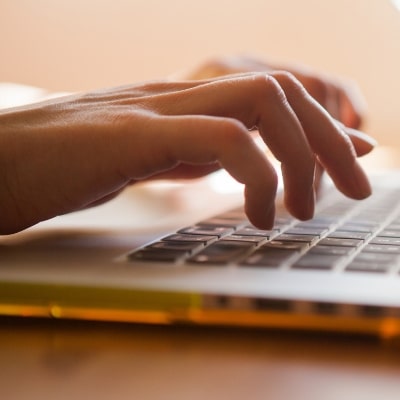 Online Learning
Studying online prepares you for a successful future. Discover a learning format that offers:
Flexibility and Convenience
Personalized Academics
Equal Excellence
Opportunity for Self Insight