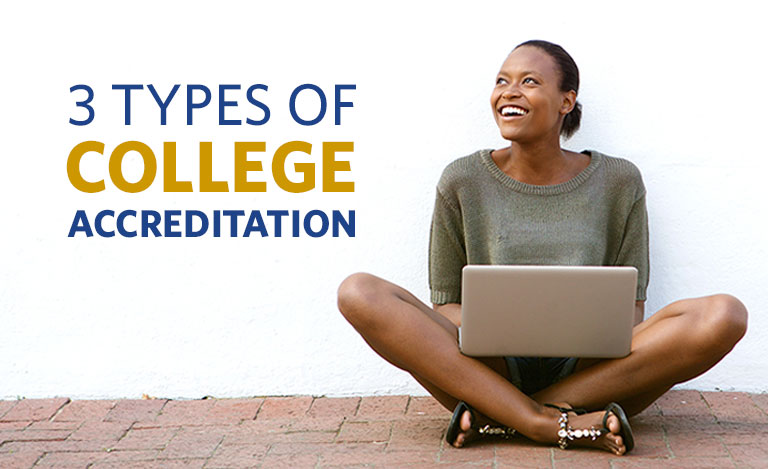 While most students understand that earning a degree from an accredited program is important, confusion still exists about what accreditation is. In addition, "accredited" is not an umbrella term. Colleges and universities can earn accreditation in three ways, and King University has earned all three. Its online and on-campus degree programs are regionally and nationally accredited, and many are also programmatically accredited as well.
Because the process is voluntary, not all institutions are accredited. When an online or traditional university is accredited, this means that the institution holds itself to the highest academic standards. When it comes to earning an online degree that leads to career success, choosing an accredited university like King is essential to ensure both quality and recognition.
College Accreditation Type 1: Regionally Accredited Online Colleges
Regional accreditation is a highly regarded type of accreditation. It covers both public and private institutions. Regional accrediting agencies oversee almost 3,000 institutions and ensure that 17 million students receive a high-quality education. The regional accreditation process is divided into geographical areas, meaning there is close scrutiny and oversight, which can lead to higher standards. The Southern Association of Colleges and Schools Commission on Colleges (SACSCOC), the regional accreditor of King University, is one example. Its standards include:
Compliance certification
Off-site committee review
Development of Quality Enhancement Plan (QEP)
On-site committee review
College Accreditation Type 2: Nationally Accredited Online Colleges
This form of institutional accreditation generally includes universities that don't fall into traditional categories, such as vocational schools and certification programs. Unlike regional accreditors, national accreditors do not operate in one specific geographic area.
For example, King University is a member of the American Association of Colleges of Nursing (AACN) and is accredited by the Commission on Collegiate Nursing Education (CCNE). The CCNE grants nationwide accreditation through the U.S. secretary of education. Its procedures include:
Self-study assessment
On-site evaluation
Periodic review
College Accreditation Type 3: Programmatic Accreditation
Programmatic accreditation focuses on individual schools and study programs to ensure that students receive the proper credentials and licenses after graduation. For example, King University has an accreditation specifically for its nursing program.
King also has several program-centric accreditations that adhere to licensing criteria. For example:
The nursing program (RN to BSN and MSN) is approved by the Tennessee Board of Nursing, which ensures that "all who practice nursing within [Tennessee] are qualified and licensed to practice." The board is responsible for granting nursing licensure, along with upholding quality nursing education and practice.
King's Bachelor of Social Work (BSW) program is accredited by the Council on Social Work Education's Commission on Accreditation (CSWE). This nonprofit national association is a "partnership of educational and professional institutions, social welfare agencies, and private citizens" that is the only accrediting body for social work education in the United States.
King's business programs (BBA and MBA) are accredited by the Accreditation Council for Business Schools and Programs (ACBSP). The ACBSP is "a leading specialized accreditation body for business education supporting, celebrating, and rewarding teaching excellence." It accredits business-related programs at the associate, baccalaureate, master, and doctoral levels.
Learn more about King University's accreditations.
Why University Accreditation Matters
University accreditation functions like a certification. After a rigorous vetting process, accredited universities prove that they deliver the practical tools and resources students need to thrive as professionals after graduation. Agencies such as the National Advisory Committee on Institutional Quality and Integrity (NACIQI) and the Council for Higher Education Accreditation (CHEA) oversee university accreditation. This means that students can be confident that accredited programs meet industry standards.
According to the Accrediting Council for Independent Colleges and Schools (ACICS), the following are more reasons that accreditation is important for students:
Helps students determine acceptable institutions for enrollment
Enables graduates to sit for certification and licensure examinations
Provides evidence that applicants have received an accredited degree
Determines eligibility for federal student loan assistance
For all of these reasons, earning an accredited degree is essential for ongoing success in the workplace and beyond. Explore King University's many accredited online degree programs that are designed to help students succeed.