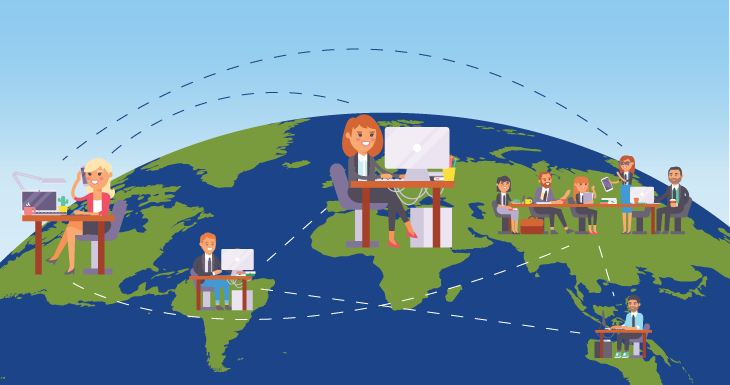 One of the most prevalent trends in the modern workforce is the gig economy. While there is no official definition for the term, the Bureau of Labor Statistics (BLS) defines a gig as "a single project or task for which a worker is hired, often through a digital marketplace, to work on demand." Gigs come in many shapes and sizes. Some are like short-term jobs, with workers utilizing them as a way to be self-employed.
Recently, digital services that connect workers with jobs like these have become common. Fiverr and Upwork are two of the most popular companies involved in this growing industry. They match workers with customers seeking gig-style work.
Growth of the Gig Economy
The number of U.S. workers with alternative work arrangements increased from 10 to 15 percent between 2005 and 2015, MarketWatch reports. In 2005, the BLS found that contingent workers made up 2 to 4 percent of all workers, and about 7 percent of workers were independent contractors. This data points to steady growth in professionals working outside of traditional employment. The Census Bureau found that nonemployers (self-employed individuals "operating a very small, unincorporated business with no paid employees") grew in all industry sectors between 2003 and 2013.
Harvard's Lawrence Katz and Princeton's Alan B. Krueger also found that, from February 2005 to November 2015, the number of Americans with alternative work arrangements rose 9.4 million. Their report, "The Rise and Nature of Alternative Work Arrangements in the United States, 1995-2015," found that the fastest growing group is contract workers. The Kauffman Foundation notes that this rate was greater than the overall rise in employment during that time, making this data even more significant. All of this means that growth in the gig economy is quite rapid: The Intuit 2020 Report suggests that by 2020, 40 percent of American workers could be alternative workers.
Who Are Gig Workers?
It turns out that some fields are suited for the gig economy more than others. The BLS lists the following industries and occupations as particularly ideal.
Arts and design: Professions such as musicians, graphic designers, and fine artists provide customized, one-time work. This makes them strong candidates for gig work.
Computer and information technology: Web and software developers, computer programmers, and other IT positions can be hired to complete a single job. Examples include designing a website or developing an app.
Construction and extraction: Occupations like carpenters, painters, and other types of construction workers can work on short-term projects.
Media and communications: Technical writers, transcribers, interpreters, photographers, and other similar professions work on a project-by-project basis and deliver their work electronically.
Transportation and material moving: Ridesharing apps like Uber and Lyft have caused growth in this category. Workers who provide transportation and on-demand shopping services can participate in the gig economy with ease.
In general, any work that involves a single task or on-demand job can be effectively marketed in the gig economy, the BLS points out.
What the Gig Economy Means for Businesses
This trend of alternative employment can be good for managers and employers. According to MarketWatch, employers are able to standardize job tasks, making it easier to hire and manage freelance or contract workers. In addition, experts at the Kauffman Foundation point out that the fluidity of the gig economy makes innovation possible, through "more idea generation and better idea execution."
Talented workers can be hired for individual projects for which they may be particularly well-suited. Businesses, therefore, have more control over finding skilled workers without the commitment of long-term employment. A fresh perspective is always within reach, and managers have the agency to find the right person for every project.
Business Education at King University
For professionals in leadership positions, understanding the changing landscape of today's business world is more important than ever. Learn the skills you need for innovative, effective management with a fully online business degree from King University. King offers both a Bachelor of Business Administration and a Master of Business Administration that can prepare you for management-level careers.
The MBA offers specializations in management, leadership, and more so that you can tailor your education for your specific career goals. Both programs can be completed in as little as 16 months. Learn more about what a King University degree can mean for your career.