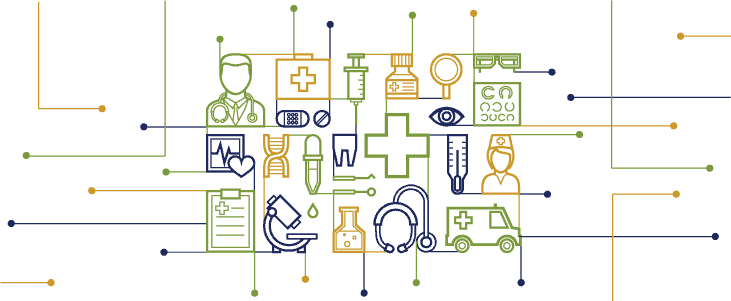 In the healthcare administration field, professionals administer and manage processes and systems in hospitals, care networks, private practices, and more. They play a vital role in maintaining patient care quality and privacy standards. Working closely with other healthcare professionals, healthcare administrators may also manage prevention initiatives that promote public health in their communities. Overall, they are responsible for ensuring that the complex processes involved in modern healthcare delivery run smoothly.
Earning a degree in healthcare administration can prepare you for a wide variety of careers after graduation. Depending on the career path you choose, you can expect different salaries, tasks, and job settings. The following are some of the most in-demand healthcare administration jobs.
Medical and Health Services Manager
Also known as healthcare executives or healthcare administrators, these professionals are responsible for planning and coordinating medical services. Depending on the specific setting, they could manage entire facilities, specific departments, or clinics. One of the most important responsibilities these professionals have is staying informed about changes in regulations and technology. Other duties include recruiting and training staff, creating work schedules, managing facility finances, and more. Medical and health services managers also maintain records of facility services and can serve as representatives on various governing boards, according to the Bureau of Labor Statistics (BLS).
They work with physicians, nurses, technicians, and other healthcare professionals to streamline care delivery and maximize both quality and efficiency. The average salary for medical and health services managers is $94,500 per year. According to the BLS, job growth is much faster than the national average rate at 17 percent.
Administrative Services Manager
Also referred to as office managers, administrative services managers coordinate all of the support services involved in running an organization. While specific responsibilities vary by employer, the BLS reports that these professionals "typically maintain facilities and supervise activities that include recordkeeping, mail distribution, and office upkeep." Other job duties include supervising clerical personnel, setting department goals, identifying necessary procedure changes, and more.
While small organizations usually only have one administrative services manager on staff, larger businesses may have "several layers of administrative managers" with different areas of focus. The BLS lists the following different types of administrative services managers:
Contract administrators: These individuals specialize in buying and distributing both equipment and supplies. They may also facilitate real estate transactions on behalf of the company.
Facility managers: They oversee building operations and maintenance, project management, and other environmental factors. Specialties include renovations and maintaining alignment with government regulations.
Records and information managers: These professionals monitor and manage an organization's records. They also ensure that personnel follow company guidelines. Familiarity with records management technology is particularly important in this role. Records and information managers "work closely with an organization's attorneys, technology and business operations personnel," according to the BLS.
The average salary for administrative services managers is $86,100 per year. While not faster than the national average, the growth rate for this career is significant at 8 percent, according to the BLS.
Social and Community Service Manager
These administrative professionals coordinate various social services programs for community organizations. Depending on the type of organization, they may work with specific demographics such as children or the elderly. Social and community service managers help stakeholders meet their objectives by analyzing data to determine program effectiveness, identifying areas of improvement, planning outreach events, and more. Other job responsibilities include writing proposals and managing program budgets. According to the BLS, "most managers must also recruit, hire, and train new staff members. They also supervise staff, such as social workers, who provide services directly to clients."
In larger organizations, these professionals may be responsible for particular programs or initiatives. For agencies that are smaller, social and community service managers might carry out all administrative functions. The median annual salary for social and community service managers is $63,530. Job growth is faster than the national average rate at 10 percent, according to the BLS.
Healthcare Administration at King University
If you are interested in pursuing high-demand healthcare administration jobs, King University offers degrees at both the graduate and undergraduate level. Our Bachelor of Science in Healthcare Administration provides a rigorous education grounded in relevant topics like human resources, healthcare policy, ethics, management, and more. It prepares students to make the strategic and ethical decisions that improve patient care across the modern healthcare system and in public health settings.
King also offers a MBA with a specialization in healthcare management for those seeking advanced education in this field. This program prepares students for the next step in their career by focusing on management topics like policy development, statistics analysis, project management and more. Both the degree and specialization can be completed in just 16 months. You can learn more about each of these flexible online degree programs from King University here.