Working as a nurse is a calling that requires a passion for helping others and love for what you do. On the practical side of things, however, it is important to understand how salary works in the nursing profession. There are many factors that contribute to how much a nursing professional earns, and among the most important is education. Nurses who hold a BSN degree make more than an RN salaryäóîit's as simple as that. For many nursing professionals, continued education is a way to advance their career as well as earning potential. At King University, we understand that you want to make the most of your career. Earning your RN to BSN online is an effective means of doing just that.
Nurses who hold a BSN degree make more than an RN salary's as simple as that.
Holding a BSN degree helps ensure that you are qualified to meet the demands of today's dynamic healthcare industry. RN to BSN programs like ours allow you to gain competency in areas like health policy, health finance, public health, leadership, quality improvement and systems thinking. Nurses are increasingly expected to make important patient care decisions, requiring a more sophisticated skill set.
RN vs. BSN: Outlook and Salary
One of the main ways that employers ensure they are hiring nurses who are qualified for these expanded care roles is through filling vacancies with BSN holders. The benefits of advanced nursing education are two-fold: not only does the degree ensure that you will be considered for a higher level of employment, but it also increases your earning potential. In fact, the "Future of Nursing" report issued by the Institute of Medicine recommends that, by the year 2020, the proportion of nurses with baccalaureate degrees be increased to 80 percent. The best way for you to take advantage of these trends is by pursuing a bachelor's degree in nursing.
According to the same report mentioned above, nurses who hold baccalaureate degrees outperform their RN counterparts. This is part of the reason why more employers are requiring new nursing hires to hold a BSN. And because higher education means increased earnings, opportunity for leadership roles and more job security, now is a better time than ever to earn your BSN. The following numbers represent BSN salary by years of nursing experience: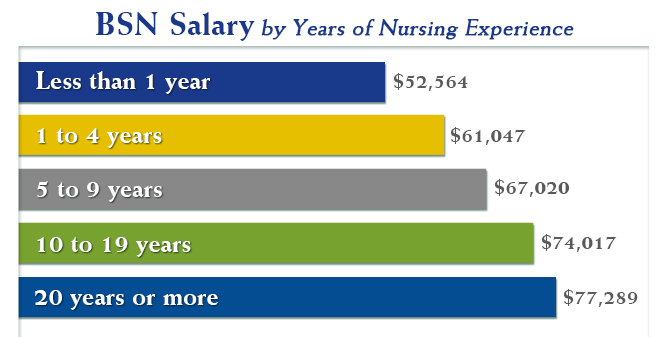 As this data shows, nurses like you who are interested in earning more for the work they do should consider earning their RN to BSN. Whether you seek advancement, specialization or both, King University's online nursing program is a flexible, affordable way to earn your degree while still balancing your career.
Specializations
While salary overall differs depending on education, it also varies by specialty. Though all pay amounts vary by years of experience, the following specialties are some of the most high-paying in the nursing field.
Nurse researcher: $95,000 These nursing professionals work for private companies or nonprofit organizations. They complete and publish research based on data they collect about various pharmaceuticals, health products and practices.
Orthopedic nurse: $81,000 Nurses who choose this specialty care for patients who are suffering from problems with the musculoskeletal system. This category of ailments can include arthritis and joint replacement. Patient education is a significant component of this specialty, as many patients are experiencing these issues for the first time.
Clinical nurse specialist: $76,000 This type of specialized nurse creates standards for quality care and ensure that their staff of nurses is meeting those standards. Clinical nurse specialists should have good administrative skills due to the managerial nature of this specialty.
Neonatal nurse: $74,000 These nursing professionals provide care to infants who are born prematurely or who have serious illnesses. They often provide emotional support to parents as well.
Surgical nurse: $74,000 Nurses in this specialty assist doctors and surgeons with procedures. They are skilled in both pre- and post-operative care. These nurses also handle medical equipment and surgical instruments inside the operating room.
ICU nurse: $62,000 These nursing professionals work in the fast-paced, high-tech environment of the intensive care unit. They are typically assigned to specific patients throughout the course of a hospital stay. This position involves close monitoring of vital signs and evaluating the overall condition of patients.
Obstetrics and gynecology specialist: $60,000 This type of specialized nurse directly interacts with female patients. They provide education and surgical assistance, as well as helping with the birthing process.
No matter what specialty or career path you ultimately choose to pursue, holding a BSN is key to increased earning potential. There is a demonstrated need for highly educated nursing professionals in today's health care industry. The RN to BSN program at King University provides you with the ideal educational environment to advance your education and get qualified for a variety of high-paying nursing careers. Visit our program page to learn how to get started.