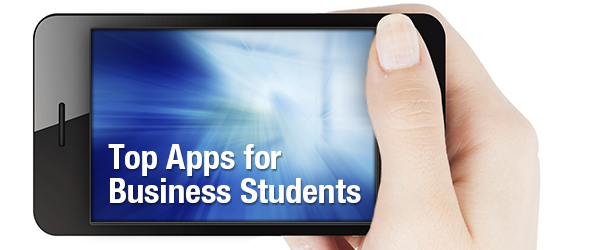 If you are looking for a practical, real-world degree that you can apply to all types of careers, then earning an online business degree is a great solution. Business programs are some of the most popular degree options available. As you pursue your degree, you will develop your business skills and build your foundation of business knowledge, and the coursework you complete will be directly applicable to the workplace.
Because you'll be completing your degree online, it's important to have the flexibility and convenience to learn no matter where you are. There are a wide variety of mobile applications designed for this exact purpose. Especially if you are considering pursuing an online business degree from King University, these apps for business students will help you make the most of your education.

Dropbox: This app is designed to streamline file storage. It's a cross-platform app, allowing you to store and sync your files to all your devices by using Dropbox's cloud capability. You don't have to worry about remembering to email files to yourself or dealing with a crashed computer and lost documents.

Evernote: This is a free-form note taking app that lets you transcribe information and upload it to access anywhere. Evernote lets you categorize your notes by topic and post notes to social media, as well as share through email.

LinkedIn: One of the best ways to network in the modern business world is through LinkedIn. The website allows you to set up a professional profile and connect with useful contacts. The site recently launched its own app that is downloadable to all mobile devices. With it, you can add your specific skill set and allow others to endorse you, as well as upload a resume for potential future employers.

CardMunch: The business world places a high emphasis on networking. With CardMunch, you can turn stacks of business cards into searchable mobile phone contacts. Take a picture of the card from your smartphone. The information is then automatically stored in your phone. This app was also recently purchased by LinkedIn, and now provides you with LinkedIn profiles associated with each contact in your phone.

MightyMeeting: This app provides you a way to store and share your business presentations. Upload your presentation to the app, then you can play it either from your phone or on a projector screen. Another great feature of this app is its beam function, which lets you share your presentation with another student or employee by sending it to their smartphone.

Flipboard: This app allows you to keep up with the latest news in the business world. Topics are broken into useful categories like finance, advertising and more. Flipboard also features content from major new outlets like Business Insider and the Wall Street Journal.

Bizzabo:This business app is all about connections. It enhances your networking experience at events and conferences by allowing organizers to engage with attendees. With Bizzabo, you can find and keep business contacts easily. It also helps you learn about future relevant events and who will be attending.

Numbers: Spreadsheets are a big part of both the business education and the business world. Numbers is one of the best mobile spreadsheet apps available allowing you to make tables, charts, and graphs easily from your mobile device. You can also enter data and analyze results, and sync through iCloud so that all of your devices update automatically as you add information.
Distance learning solutions and online tools like those we've featured here make sure that you can study and complete business coursework in a way that makes sense for your schedule. As an online student at King University, your smartphone, laptop, and tablet will be invaluable to your education; these apps equip your devices with the tools you need to succeed.
A business degree is a valuable credential in today's workforce. At King University, we offer both graduate and undergraduate programs so that you can start or advance your business career with us. Learn more about each of our online business degrees and find out what a King degree can mean for your career success.