Sport psychology keeps athletes on path toward success
The Olympic Games showcase the world's most talented and skilled athletes and feature men and women from around the globe competing at the highest level of sport on the world's biggest stage. In many cases, these athletes have dedicated their professional lives to their sport with aspirations to compete in the ultimate test of athletic ability: the Olympics.
However, to reach this level of competition, athletes must possess more than the physicality required for a gold medal-winning performance. Olympic athletes must have the mental stamina and tenacity not only to persevere through adversity, but also to rely on themselves and their abilities. Because of this, athletes' toughest opponent can often be themselves. Sport psychologists can help athletes break through mental performance barriers so they can reach their goals and Olympic dreams.
Sport Psychology: A History
In 1920 Germany, Robert Werner Schulte established the first sport psychology lab to measure athletes' physical abilities and aptitudes in sport. Later that decade, America's most notable pioneer of sport psychology, Coleman Griffith, began his work in the field at the University of Illinois. In 1938, Philip Wrigley hired Griffith as a consultant for the Chicago Cubs. During his tenure with the Cubs, Griffith examined various factors of the sport, including ability, personality, leadership, teachability and other factors, so he could help enhance players' performance. Perhaps his most recognized contribution to the field of sport psychology was his assertion that field studies could provide a deeper understanding of how psychological principles play out in competitive environments. After years of research, Griffith proved that sport psychology enhanced athletic performance and personal growth, and his findings gave rise to a new industry.
The field has since evolved to become a common component of both amateur and professional athletes' training. Many countries have implemented sport psychology plans to prepare their athletes for this year's summer Olympic Games in London, England.
The Science Behind Sport Psychology
Having first emerged in the 1920s, sport psychology is a relatively new field in psychology, but it has quickly become reputable through the support of scientific research. Since the field's inception, researchers have worked to make connections between athletes' performance level and their mental health.
A 2011 study published in the Journal of Sports Economics examined the effect stress plays on the free throw rate of NBA players. Researchers at Oregon State University found that the players' free throw success rates were 6 to 9 percent lower when their team trailed by a few points and only a few seconds were left in the game. The findings suggested the resulting stress from clutch plays caused the basketball players to fail, or "choke."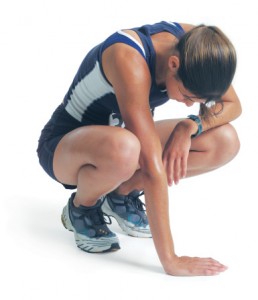 Although research shows that stress negatively impacts athletes' performance, research also shows that the concept of "luck" produces positive results. Lysann Damisch of the University of Cologne in Germany led a study in 2010 to test the power of superstitions using the concept of "luck." The study measured the success rate of participants sinking a golf putt with various "luck" variables. People who had a "lucky ball" sank more putts compared to those who used an "ordinary ball." Another test group brought their own lucky charms before trying to sink a putt. Half the group held onto their lucky charm during their shot, but researchers confiscated the remaining group members' lucky charms. The study showed that the group members who kept their lucky charms performed better than those who did not. The researchers concluded that luck correlated with feelings of confidence and competency and inspired people to try harder.
Another common element of sport psychology is self-motivation or "self-talk." Sport psychology researchers have long studied the effects of self-talk in enhancing athletes' performance. These studies concluded that self-talk helped more in sports that utilize fine motor movements (such as archery and golf) than in sports that use large muscle groups (such as track and field). In fine motor sports, "instructional self-talk" helped athletes more than "motivational self-talk," as instructional self-talk sharpens focus and increases confidence for better performances.
Additional studies have found that athletes who can dissociate parts of their activity or automate certain aspects of their sport perform better during competitions. For example, Ali Boolani of the University of Georgia found that athletes who listen to music perform better regardless of the sport.
Continuing study in sport psychology has enhanced the field's reputation as a credible segment of psychology and has helped improve the performance level of all types of athletes, from weekend warriors to professional sportsmen and women.
Going the Distance: Sport Psychology Techniques
Stress, low self-esteem and mental blocks can hinder top athletes' performance. At the Olympic level, these hindrances can make the difference between a podium performance and just another finish. Olympic athletes must prepare to focus and cope with extreme pressure.
"We're not dealing with robots or machines," said sport psychologist Joel Fish in an article for The New York Times. "If you are distracted by 1 percent, it could mean the difference between medaling and not medaling. It's important to learn how to handle that and develop some mental toughness." Fish practices in the Philadelphia area, and his clients include professional hockey, baseball and soccer players.
Visualizing a Gold Medal Performance
Sport psychologists often implement visualization techniques with their clients. Athletes learn how to create a mental image or intention of what they want to happen during their game, match or race. Athletes should create a robust sensory experience during their visualizations to help them perform at the level of their visualization. From the appearance of the arena to the way their body will feel and even to the sounds of cheers in the stands, visualizing the race can help athletes step into that image and enhance their performance.
Overcoming Performance Anxiety
Stress can cause even the most seasoned athletes to "choke" on game day. Performance anxiety plagues all athletes. Stress can be exaggerated due to the heightened game day environment, including large crowds, television cameras, fierce competitors and high expectation levels. Most stress and anxiety builds up internally and perpetuates because of self-imposed pressure to succeed. Sport psychologists work with athletes to replace negative thoughts and feelings of self-doubt with feelings of confidence and competence.
Be SMART About Your Training
Sport psychologists encourage their clients to reach their ideal performance level through a structured approach to training using goal setting. Sport psychologists teach athletes to set goals that are:
Specific
Measurable
Adjustable
Action-oriented
Sport psychologists create a harmonious game day environment for athletes. They manage the stress of preparation, handle unexpected setbacks such as injuries and help facilitate effective communication between coaches and athletes. At the Olympic level, sport psychologists are critical to the success of a country's team.
Sport psychologists play an integral role in preparing athletes mentally for competition. People who have an interest in sports or health and wellness may find the field of sport psychology to be an ideal career fit. Earning an online Bachelor of Science in Psychology from King gives you an educational foundation to help you to build a new career in sport psychology.
King has a reputation for academic excellence that goes beyond the classroom. Our online degree programs position graduates in line for exceptional career or continued education opportunities. In fact, more than 80 percent King graduate survey respondents indicate they are accepted to their choice of graduate or professional school. Make an investment in your future with an online degree from King.