Tennessee Initiatives to Integrate Information Technology in Healthcare
October 22, 2014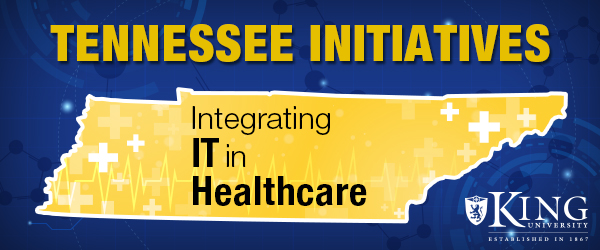 Health informatics and information management are fast-growing fields in job markets across the country, and Tennessee is no different. There are several reasons for this industry-wide growth, including the implementation of the Affordable Care Act, which requires the electronic filing of medical records. As a response to this mandate, skilled informatics professionals are being hired by hospitals and government organizations to update systems and ensure that they run efficiently.
This trend toward health information is so prevalent in Tennessee, in fact, that the state has created an Office of eHealth Initiatives. Its mission is to "facilitate improvements in Tennessee's healthcare quality, safety, transparency, efficiency and cost effectiveness" by implementing electronic medical records (EMRs) and health information exchange statewide. Because health technology has become such a major movement within the healthcare industry, Tennessee is advancing the secure exchange of health information through grants and loans.
Long-Term Strategy
The Tennessee Office of eHealth uses a twofold approach to secure health information between providers. First, the state is working to develop both public and private regional exchanges that will allow providers to access patient medical history. This enables healthcare professionals to understand the entirety of a person's medical history and implement a more proactive care plan. Second, Tennessee is working to develop a secure messaging system so that providers from different regions can communicate in regard to a shared patient. This strategy is made possible through federal and state grants.
Implementation
The most important benchmark that the Office of eHealth must address is "meaningful use." The term refers to a set of 15 criteria that must be met by medical providers in order to demonstrate that they are using electronic medical records effectively. This is accomplished in three stages:
Stage one: This involves use of a certified EMR system in their own practice, along with clinical support tools, to report quality measures and public health information.
Stage two: Physicians in this stage are required to use EMR systems to send and receive patient information, such as lab results.
Stage three: Though this stage has not been completely defined as of yet, it will involve responding to national high priority health conditions to improve population health, as well as enrolling patients in an electronic patient health record system (PHR).
The Office of eHealth also has several initiatives in the works. Most of these are closely tied with helping physicians and healthcare organizations meet the standards of meaningful use. One particularly prominent plan is the State Health Information Exchange (HIE). The Office of eHealth designed information technology to create a "business architecture and underlying governance structure, and a statewide technical architecture of HIE." The goal of this plan is to foster improvements to healthcare outcomes on the state level to "enable vital, secure, decision-ready information to be available to clinicians at point of care and benefit public health in general."
One of the other central health information initiatives supported by the Office of eHealth is the eShare Direct Project. This statewide initiative aims to "promote the understanding and adoption of Direct Technology." Direct technology in general provides a mechanism for physicians, clinicians, patients and public health agencies to send and receive medical information in a secure way. This project enables all connected parties to receive and send medical information such as hospital discharge information, diagnostic test results and medical summaries. It puts vital information in the hands of the professionals that need it most, so that more efficient and effective healthcare is possible.
Health Information at King University
When it comes to Tennessee's health information landscape, King University offers a variety of degrees that can help you become a part of this statewide movement. Our information technology, healthcare administration and health informatics programs equip you with the skills you need for a career related to health information and eHealth. Whether you see yourself working in an administrative or hands-on capacity, one of these online degree programs can empower you to accomplish your goals.
Whether you see yourself working in an administrative or hands-on capacity, one of these online degree programs can empower you to accomplish your goals.
The Bachelor of Science in Information Technology provides you with the strong technical background you need for success as an IT professional. It also features three concentrations you can apply to the healthcare industry: cybersecurity, network management and programming.
Our Bachelor of Science in Health Informatics is an interdisciplinary program that features courses from the healthcare administration, information technology and health informatics curricula. As a graduate with this degree, you'll be prepared to implement industry standards for quality management and improvement of healthcare information systems.
The Bachelor of Science in Healthcare Administration prepares you for the decision-making required in today's healthcare industry. You'll develop your skills in key areas like human resources, organization and policy, ethics and sustainability.
No matter which degree program you choose, your healthcare information career is within reach at King University. Learn more about our online programs to discover what the right education can mean for your professional goals.