A look at the history of Knoxville's economic development and its future prospects
Settled in 1791 in the frontier of eastern Tennessee, Knoxville has a rich economic history. The city's industries have evolved to meet the growing demands of a changing society and keep pace with the current economy. Today, the city maintains a diverse economy supported by trade, transportation, utilities and financial activities. Knoxville also provides a welcoming environment for new businesses, which continues to spur economic development for future growth and viability.
A Historical View of Knoxville
From Frontier to War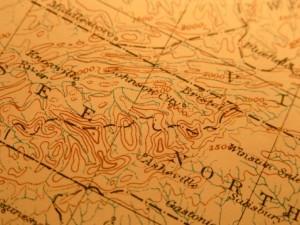 Knoxville's economy started slowly. Knoxville's natural geography restricted its early growth; the Appalachian Mountains and the Tennessee River created nearly impassable borders for early settlers. Knoxville's founding industries stemmed from their usefulness on the frontier and included industries such as gristmills, sawmills, tanneries, cotton-spinning factories and wood-carding mills.
However, as settlers continued to migrate westward, many chose to stake claims in this region and the city flourished. The first settlement in the region, White's Fort, was founded in 1786. Settlers formed mostly amicable relationships with neighboring Cherokee tribes, which helped expand the city's borders. White's Fort served as a hub of activity in the region, and settlers created streets around the fort to aid its development. Government officials named Knoxville the state's first capital after Tennessee joined the Union in 1796. However, the city's economic growth and expansion soon plateaued despite this elevated political status.
By 1850, the city had grown to a population of only 2,000, a rather stagnant growth rate compared to the rest of the state. The Civil War further hindered Knoxville's development because a two-week siege burned and damaged railroads, factories, public buildings and private homes and nearly destroyed the city in November 1863.
Reconstruction Begins
Knoxville prospered in the post-Civil War era because many soldiers returned to the city and brought the business and labor necessary to reconstruct the city. The population grew to nearly 10,000 people by 1870. The city's industrial capacity also increased during the late 19th century with the introduction of the railroad. New industries included iron plants, cloth mills, furniture factories, marble quarries and more.
The Great Depression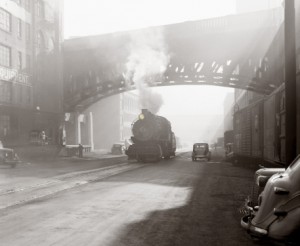 The Great Depression of the 1930s devastated Knoxville's economy. Once-flourishing factories closed, and the failing financial system caused many local banks to shut down. The cautious economic mood of the time limited growth and development. To provide economic relief during the Great Depression, the U.S. government established the Tennessee Valley Authority (TVA) to create jobs, attract manufacturing industries and provide electricity to all residents.
Postwar Boon
World War II served as a major catalyst to lift the nation's economy out of the Great Depression. Franklin D. Roosevelt's New Deal funneled federal dollars into workforce programs in the Knoxville region that created jobs in various areas, including construction, service industries, retail businesses and wholesale trade. Large manufacturers also chose Knoxville to establish growing businesses, including Alcoa Aluminum, Oak Ridge National Laboratory and the Tennessee Valley Authority.
Today's Environment
Knoxville, one of Tennessee's largest and most prosperous cities, now accounts for a substantial percentage of the state's revenue. Today's economic environment in Knoxville continues to evolve and keep pace with a changing society. New industries, including high-tech businesses, have moved into Knoxville and spurred economic development and growth, and many older industries with a history in Knoxville have expanded to create more jobs and increase their value to the Knoxville economy. In fact, in 2005 Expansion Management magazine listed Knoxville among "America's 50 Hottest Cities" for businesses looking to expand or relocate.
A City With an Entrepreneurial Spirit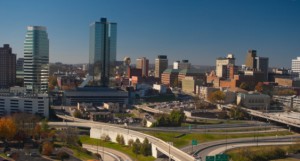 Knoxville has positioned itself as one of the leading economies in Tennessee because of its extremely diversified job market. City-Data.com reports that no employment sector accounts for more than 22 percent of the area's total employment, and the city has experienced recent growth in trade, transportation, utilities and financial activities. Additionally, Knoxville's location in the center of the eastern United States places it within a day's reach of three-fourths of the nation's population and serves as a prime location for manufacturing businesses to relocate or expand. More than 700 manufacturers are located throughout the Knoxville area. The presence of influential businesses in Knoxville has given the area a reputation of being on the cutting edge of business and technology.
Knoxville also supports area businesses through local and statewide programs. At the local level, Knoxville serves as an inland port of entry and has a foreign-trade zone and a U.S. Customs Office, which ease access to imports and exports. The city offers sales tax exemptions on new equipment and special revenue for financing programs, making it an ideal location for major manufacturers and other large businesses. Knoxville also provides businesses with efficient shipping methods through transportation systems, including the McGhee Tyson Airport, the Norfolk Southern and CSX rail systems, truck lines and barge systems.
Many statewide programs in Tennessee also attract new and expanding businesses to the Knoxville area. Tennessee is a right-to-work state, and it has one of the lowest state and local tax rates in the country. According to City-Data.com, select industries receive exemptions from various taxes. For example, finished goods inventories are exempt from personal property tax and industrial machinery is exempt from state and local sales taxes. In addition, manufacturers receive other tax exemptions and reduced property assessments under if they meet stipulated conditions. The state also offers other programs that provide businesses financial, personal, technological and organizational support, including the Small and Minority-Owned Business Assistance Program, the Small Business Energy Loan Program, the FastTrack Infrastructure Development Program and the FastTrack Training Services Program.
The business-friendly nature of Knoxville and Tennessee has helped to position the city as a leading location for many industries.
Finding Your Place in the Knoxville Economy
Professionals looking for a place to root themselves in abundant culture and numerous job opportunities will find Knoxville an ideal location. As the Knoxville economy continues to expand and advance, more companies will need a knowledge-based workforce. An advanced degree will position you for high-level careers that lead to greater job security and higher earning potential. Consider earning your Master of Business Administration degree from King College online to move your career and future forward.