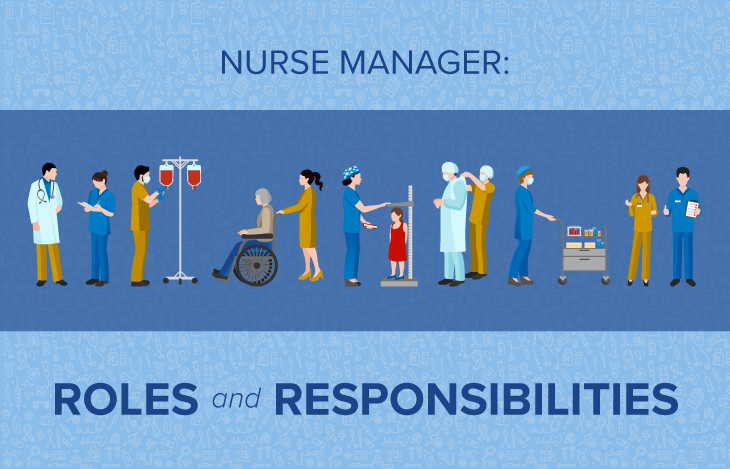 Nurse management is one of the most rewarding options for registered nurses looking to advance their careers. Armed with additional experience and educational qualifications, nurse managers are responsible for supervising teams of nurses and ensuring that care delivery runs smoothly.
Now is an ideal time to make this career transition: according to American Nurse Today, the official journal of the American Nurses Association, "With greater attention now focused on transforming nursing care and the profession for the future, this is an exciting time to consider a career in nurse management."
Nurse Manager Job Description
Though they do not spend as much one-on-one time with patients, nurse managers play an important role in service delivery because they oversee teams of registered nurses. Their main job responsibility is the recruitment and retention of nursing staff, though they also "collaborate with doctors on patient care, and help assist patients and their families when needed," Discover Nursing explains.
Nurse managers work in hospitals, ambulatory care centers, and long-term care facilities alongside frontline managers, clinical leaders, and physicians. An important component of a nurse manager's role is working with stakeholders to determine overall strategy and goals within their team and various departments. They are tasked with ensuring that their team's practices align with the rest of the organization. Discover Nursing describes nurse manager roles as:
Fast-paced
Multifaceted
Patient-facing
Behind-the-scenes
Managerial
As part of their responsibilities as team leader, nurse managers help coordinate care teams and create work schedules. They also implement new patient care policies to improve quality, along with overseeing compliance with professional standards and regulatory requirements, according to PayScale. From an administrative standpoint, nurse managers monitor budgets and ensure the effective utilization of operational resources.
Types of Nurse Managers
The following are some of the specialization areas available in nurse manager careers.
Clinical nurse specialists work as part of a team with other medical professionals, often in intensive care units, emergency units, and other hospital departments. They diagnose and treat illness within an area of expertise, according to Discover Nursing. Certification from the American Organization of Nurse Executives (AONE) may be required in this role. The AONE offers a Certified Nurse Manager and Leader (CNML) credential in partnership with the American Association of Critical-Care Nurses. To be eligible for certification, registered nurses must have a valid license, along with meeting education and experience requirements.
Nursing care managers interact directly with patients to create treatment plans and monitor outcomes. They may also complete research and serve as liaisons between their patients and insurance companies. This career path requires additional training and possibly continued education beyond the bachelor level.
Geriatric care managers specialize their career to care for older adults. They work with patients' families, various physicians, and other healthcare professionals to oversee care delivery, including home care and other support.
Becoming a Nurse Manager
One practical way to prepare for a career in nurse management is to take on additional responsibilities in your current nursing role, as these can "be stepping stones to a management position," American Nurse Today says. In addition, having a bachelor's degree in nursing (BSN) is a requirement.
The median annual salary for nurse managers is $79,422, according to PayScale. The Bureau of Labor Statistics (BLS) reports that growth in medical and health services manager roles is 17 percent through 2024. This rate is faster than the national average. Demand for nurse managers is expected to increase because they are able to organize and manage increasingly complex care delivery teams. In addition, the BLS notes that professionals who have experience with digital tools like electronic health records are even more desirable to employers.
Becoming a nurse manager begins with continuing your education. You can gain the advanced skills you need with King University's online RN to BSN degree. This program features a career-focused curriculum that shows employers you are ready to advance in the nursing field. King University's program, which is accredited by the Commission on Collegiate Nursing Education (CCNE), prepares you with the knowledge and experience for leadership roles like nurse manager. Learn more about what a degree from King University can mean for your nursing career.