Germs are everywhere in schools; however, the role of a school nurse goes far beyond diagnosing a common cold or administering first aid to a child who hurt themselves during gym class. A school nurse acts as a health educator and wellness advocate and is sometimes a child's only access to health care.
Schools across the state are looking for nurses with a Bachelor of Science in Nursing (BSN) to lead school-wide health initiatives and provide primary care services to their student body, faculty and staff. These nurses will have the opportunity to work in a non-traditional health care environment while supporting wellness efforts targeted to reach one of our most vulnerable populations. King University's RN to BSN online program is designed to build upon your previous education and experience to deliver new opportunities that will set you down a meaningful career track in health care.
What is a school nurse?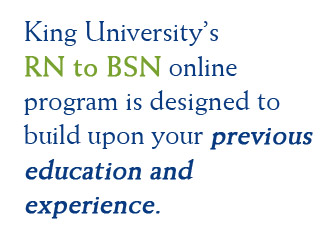 Today's student faces a myriad of health issues affecting their physical, mental and emotional well-being. Students, as well as some faculty and staff, have chronic illnesses, disabilities and mental health conditions such as autism and ADHD that may prevent them from being an active participant in the classroom. Federal law asserts that all schools develop health and educational plans for students with disabilities. School administrators depend on nurses to create and implement these health plans in conjunction with other faculty and staff members. Onsite school nurses must be prepared to address these health care needs while working with school officials to develop and manage health initiatives that promote the overall wellness of the school's general population.
School nurses oversee and implement health policies and programs in a school, such as health services and educational programs. Some of the health services provided by school nurses include:
Administering medications
Providing wellness checkups and general health screenings
Giving medical referrals and
Directing educational outreach efforts
A school nurse also acts as a resource for educators by teaching health-related courses. Together, the teacher and school nurse will build effective, developmentally appropriate health and wellness curriculum designed to address developmental milestones in physical and emotional education.
The social and mental well-being of the student is just as important as the physical aspect of wellness. A school nurse is often the first line of defense in identifying abnormal social behaviors that could be a sign of bullying or abuse. A school nurse may be called on to monitor students and keep record of irregular behaviors.
The school nurse is an important resource for students, faculty and staff as well as parents who are in need of support and guidance in health care. Tennessee schools seek BSN-prepared nursing professionals to provide these and more necessary health care services for their students and staff.
What are the requirements to become a school nurse?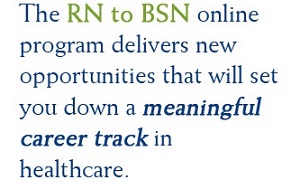 Class is now in session for nurses with a Bachelor of Science in Nursing (BSN). The National Association of School Nurses (NASN) expressively states that a four-year nursing degree is necessary to pursue a role as a school nurse. Specific requirements, including additional licensures, field experience and more, may differ by state. Contact the TN NASN affiliate to learn about the requirements to become a school nurse in Tennessee at http://tnschoolnurses.com/.
Most nursing programs provide courses in patient care in nontraditional settings such as the school. School nurses should also have a background or interest in pediatric care and health care ethics. Additionally, public health courses provide a focus on common health issues facing communities and health care policies that effect vulnerable populations. King University's online RN to BSN program includes a community and public health theory course as part of its core curriculum requirements. This course and others will provide insights into public health and caring for communities.A school nurse must also display compassion and empathy for patients, particularly children. They must be willing to collaborate with school administrators to meet the needs of the school while also possessing the ability to work autonomously, as they will often be the only health care provider onsite.
King University's online RN to BSN degree program provides registered nurses with an accelerated track to a four-year nursing degree by using gained experience and previous education toward the program, allowing nurses to expedite their education and career. Earning a BSN will give you the flexibility to pursue diverse nursing careers, such as a school nurse, while also providing the necessary foundation for future education, as in a master's degree or specialized licensures.