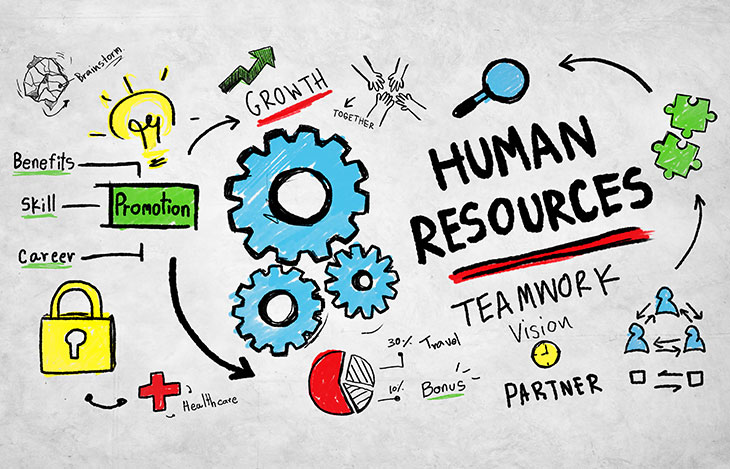 How HR Education Builds Companies
As the professionals tasked with overseeing recruitment, organizational development, culture creation, and more, human resource managers are involved in almost all the processes and programs that involve employees. They also manage the following, according to The Balance:
Compensation
Hiring
Performance management
Safety
Wellness
Benefits
Employee motivation
Communication
Administration
Training
Human resource managers build the "human capital" part of a company. Human capital embodies the collective skill sets, knowledge, and experience that a group of people possesses. In terms of building companies, it is up to HR managers to help facilitate success. To be effective in this position, human resource managers need an education that features six key skill sets.
Human Resource Management Skill Sets
The following are some of the core skills that human resource managers need for success in the workplace. Graduate programs in human resources can help professionals develop expertise in these areas.
Management
High-quality HR education prepares students to become effective managers of human resource teams. However, management goes beyond personnel in the case of HR management. Human resource managers must also manage healthcare plans, payroll initiatives, and most personnel decisions. The role of HR managers has changed in recent years, with these professionals playing a key role in strategic development rather than simply reporting to executives at the C-level. This requires the ability to balance team management responsibilities with the management of programs, research initiatives, and more.
Research
HR education equips students with essential research skills. On the job, HR professionals commonly use survey research to "inform strategic direction for functional areas and the organization as a whole," according to the National Business Research Institute (NBRI). This might include analyzing internal strengths and weaknesses, along with gathering information about "what is working and what is not, what needs to change and how," the NBRI explains. By conducting surveys, using matrix formats, and ranking, human resource managers can gain valuable insight into the function of the organization as a whole, along with taking a more granular look at processes.
Theoretical Systems
HR degree programs enable students to spot patterns that lead to success. In the workplace, this means finding systems, habits, and behaviors conducive to company growth. One way to accomplish this is through systems theory, an "alternative approach to understanding, managing, and planning organizations," according to Chron Small Business. Using this skill set, human resource managers can identify how various departments work together and drive the business toward success.
Quantitative Analysis
Many HR programs show students how to understand the motivations behind human behavior. When human resource managers understand why and how a decision is made, they can build teams that streamline company growth. Quantitative analysis can be especially helpful in tracking productivity and managing results. By measuring the internal function of departments and employees, quantitative data can help human resource managers make personnel decisions. Examples of this type of data include:
Retention rate
Salary scale
Professional development hours
Demographic data
Average retirement age
Skill Development
Human resource managers inspire employees to harness and develop their skills. This is where skill development comes into HR management responsibilities. They should be able to "identify which employees need additional training or professional development or continued certifications," NBRI says. Then, human resource managers determine if training should be done in-house, through an online course, or externally through a third party. Coursework in this area prepares HR professionals to enrich human capital.
Ethics
When human resource managers hold a deep understanding of ethics, they are able to work with employees professionally and personally. Ethics is an important skill set because "HR professionals are the conscience of the company, as well as the keepers of confidential information," HR Daily Advisor says. Human resource managers are tasked with ensuring that company policies and government regulations are followed as well. HR education programs should include coursework in ethics so that graduates are prepared to meet the challenges of modern human resource careers.
Human Resource Management: Education Requirements
The Bureau of Labor Statistics reports that while some HR management roles can be attained with an undergraduate degree, higher-level positions require a master's degree in human resources or business administration. King University's online MBA with a specialization in human resource management is an ideal way to satisfy these requirements.
In this program, which can be completed in as little as 16 months, professionals gain valuable knowledge that can be directly applied in the workplace. Featuring a comprehensive business curriculum and dedicated HR coursework, King University's MBA gives students experience in the key skill sets covered here. You can make the most of your HR career with King University äóî learn more today.