The aging baby boomer population is creating an enormous demand for healthcare professionals, and Tennessee is feeling this intensified push for added support in its healthcare facilities. "The Role of Healthcare in the Knoxville Area Economy: Trends and Economic Impacts" äóñ a recent study issued by the King Institute for Regional Economic Studies (KIRES) at King University äóñ shows that one in every five Knoxville-area jobs is related to healthcare. This trend signals the importance of continued nursing education in an effort to shape nurses who are prepared to take on new and advanced roles within healthcare.
King University's RN to BSN online program is an accessible alternative to traditional academic platforms and best suited for current nursing professionals trying to juggle the demands of their current career and obligations while positioning themselves for new opportunities. Graduates of our RN to BSN program gain a valuable healthcare credential for career advancement and job security.
The Shortage in Numbers
Current projections suggest Tennessee will need an additional 35,300 registered nurses by 2020 to meet healthcare demands. If the state fails to produce the necessary number of qualified nurses, only 53 percent of Tennessee's statewide need for nursing professionals will be met, which could affect the level of patient care offered by Tennessee healthcare facilities. Making matters worse, a 2008 study, "Curing the Crisis in Nursing Education: A Master Plan for Tennessee," suggested that many of Tennessee's nursing schools were operating at or near capacity, which limited new enrollments and slowed the graduation rate for new nursing professionals.
Because of this, nursing candidates are being driven to utilize alternative methods to receive the higher education they need, such as online programs. Online programs provide a functional academic outlet for current nurses to expand their skill set and fuse their knowledge gap for a new, advanced career in healthcare. Online programs allow more nurses to enroll and, thus, graduate helping to keep pace with healthcare demands.
Tennessee and King University Address the Shortage
Since the 2008 study, private and public nursing schools alike have recognized the need for an alternative academic outlet to meet Tennessee's healthcare demands. Expanded classroom capacity and new, online programs have launched targeting current nursing professionals as well as new students. These online programs have provided an open platform for expanded enrollment and a more efficient allocation of resources to raise graduation numbers and speed up graduation rates across the state.
King University's online program answers the call for an accessible academic alternative to move regional nurses through the education tunnel faster to fill gaps in the healthcare workforce. And, our graduate program provides a next step for BSN-prepared nurses to reach their full potential as a healthcare professional in the online format. The MSN provides greater career opportunities and maximized career outcomes for nursing professionals.
Tennessee also offers a loan forgiveness program for graduate nursing students who are registered nurses to become teachers and administrators in Tennessee nursing education programs. For full information on this program, visit the Tennessee Student Assistance Corporation website.
How the Shortage Affects Me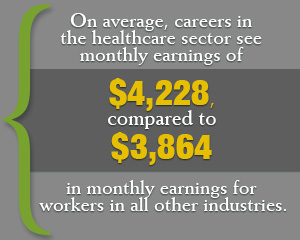 Nursing is in high demand in Tennessee, creating tremendous job opportunities for BSN-prepared nurses. Added education credentials can give your career a boost and provide you with new skills designed for a sophisticated and complex industry. Limited supply of qualified nurses also gives you an edge in the job market, raising your potential for employment, job security and earning potential.
Nursing will provide you with a career that is highly satisfying and in high demand. And, because of the high demand, compensation for nurses is at an all-time high. If you're looking for a sure bet for a career that will last, you can't go wrong with healthcare and nursing. King University delivers an online program to meet your education and career needs in Tennessee's unsteady nursing job market.