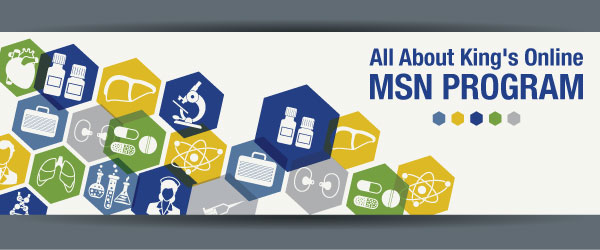 If you are interested in advancing your nursing career, earning your masters in nursing online is a great way to get started. King University's Master of Science in Nursing degree (MSN) is designed to prepare professional nurses like you for a specialty role in advanced practice nursing. Because the program is online, you can study when and where you want while still meeting your professional and personal commitments.
Our curriculum is focused on providing you with the knowledge and skills you need to take your nursing career farther. At the end of the program, students will have the ability to:
Combine theory, research and values within a conceptual framework for advanced nursing practice in a specialized area.
Develop critical thinking and diagnostic reasoning skills to determine clinical decisions as a nursing professional.
Practice advanced nursing reflectively, guided by theory and expanded knowledge.
Demonstrate professional accountability in decisions based on ethical, professional and Christian standards.
Interpret nursing's role in healthcare and health policy on a local, state, national and global level.
Use outcome criteria to improve the quality of specialty practice.
Participate in professional and personal growth-promoting activities.
Achieve requisite knowledge to pursue doctoral education.
Clinical experiences are completed under the guidance and supervision of a faculty member and a preceptor in the field study and internship course.
Core MSN Courses
The MSN course work helps deepen your foundational knowledge of nursing through theoretical concepts, research-based studies and practical learning experience. All MSN students complete the following core courses:
Theoretical Basis of Nursing Practice (3 hrs.)
Research Design in Nursing (3 hrs.)
Social, Cultural and Political Perspectives on Healthcare and Delivery Systems (3 hrs.)
Healthcare Informatics (3 hrs.)
Research Seminar (3 hrs.)
Total core hours: 15
Concentrations
One of the most valuable features of our online MSN program is that you have the option to concentrate in three different areas: MSN administrator, MSN nurse educator and MSN/MBA.
The administration concentration focuses on applying specialized knowledge and skills in nursing administration. It prepares you to be successful in both mid-level and upper-level management positions. You'll learn about the concepts and theories related to financial and economic aspects of healthcare, healthcare policy, nursing delivery systems, human resource management, program evaluation and organization leadership. The course work you complete will also emphasize the interpersonal and visionary attributes that are valued in nurse leaders.
King University's nursing education concentration prepares professionals like you to function in a nurse educator role. This could mean working in staff development, health education or preparation of nursing students. Course work focuses on applying the knowledge and skills related to teaching, curriculum design, assessment and evaluation of education programs, practice as well as leadership.
Our combined MSN/MBA business courses provide an administrative foundation and opportunities to collaborate with others. It also prepares you to foster excellence in client care services. You'll complete requirements of both the MSN nursing administration track and the MBA program.
Admissions Requirements
To be admitted to our online MSN program, students must meet the following requirements:
Graduation from an accredited baccalaureate nursing program with a minimum cumulative GPA of 3.0 on a 4.0 scale
Satisfactory completion of the following undergraduate courses: Statistics, nursing research and health assessment (as a separate course or integrated concept) with a course grade of C or better*Pathophysiology is highly recommended but not required
Current unrestricted licensure to practice as an RN in Tennessee (compact/multi-state accepted)
Current CPR or BLS certification (adult and child)
Submission of the Graduate Admissions Essay as stated in the application
All students should be computer literate with ability to send and download attachments. Familiarity with Excel is required for the MSN/MBA program, including spreadsheet, database management and presentation graphics
Completion of business foundation courses either prior to admission to the MSN/MBA program or during the course of study but prior to the related BUSA course
All prospective students meeting the criteria will be reviewed for admission into King University's online MSN program. Admission will be granted on a competitive basis by the School of Nursing Admission Committee.
Tuition and Financial Aid
Program tuition for the MSN program is $552 per credit hour. Financial aid is need-based and available to all students who qualify. Apply for financial aid at your earliest convenience to take advantage of all aid available to you. Your financial aid must be complete before your course launch date. To apply for financial aid, complete the online Free Application for Federal Student Aid (FAFSA); King's school code is 003496. We encourage you to apply for financial aid when you apply for admission. Once we receive confirmation of your acceptance into our online MSN program, we will access your federal financial aid information online. We will then compose a financial aid award letter detailing all the information that you are eligible to receive.
Tuition cost & Your family contribution = Financial need
If you have any questions, please contact our financial aid office via phone at (800) 362-0014 or email at financialaid@king.edu.
Earning Your MSN
At King University, we understand that your passion for nursing is what drives you to advance in the field. That's why we've provided you with an MSN program that is a valuable credential in today's healthcare industry. Nurses like you who complete an online master's degree program are qualified for advanced career placement, which means both higher salaries and specialized responsibilities. Continue your personal and professional development with our online MSN program.