Treating Mental Illness: The Difference Between Psychology vs. Psychiatry
March 29, 2016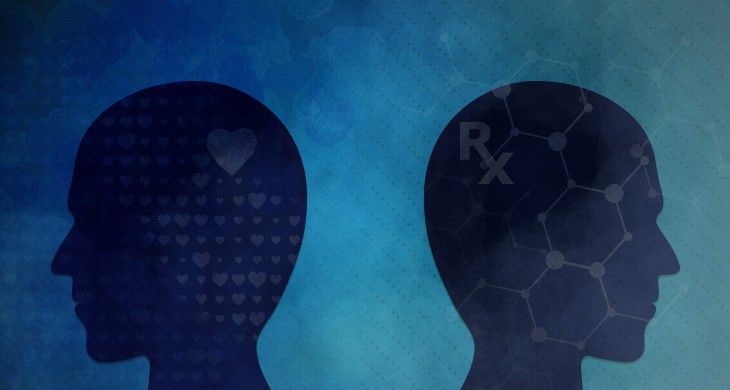 Approximately 61 million Americans experience mental illness in a given year, according to the National Alliance on Mental Illness. There are a number of ways to treat mental illness, from medication to counseling and more. For those entering the arena of a career treating mental illness, comparing options can be confusing. One of the most fundamental aspects to decide on a career path is understanding what differentiates psychology vs. psychiatry. From education and training to approaches and methods, there are several differences between psychologists and psychiatrists, as well as important similarities.
Psychiatrists and psychologists are both trained to treat patients with mental health issues. They provide patients with various treatments to manage struggles in everyday life. Both psychiatrists and psychologists are trained to practice psychotherapy, a treatment that involves talking with patients about their problems and offering methods to cope. However, psychiatrists and psychologists have differences in background and training. This means that they have different approaches to treatment.
Psychologists focus on behavior and may ask patients to track sleep, eating habits and environmental stressors to identify areas of concern. Psychologists concentrate on the patient's mind and emotions, with a primary focus on thoughts, feelings and life experiences. Psychiatrists, who have extensively studied both biology and neurochemistry, treat patients based on the American Psychiatric Association's Diagnostic and Statistical Manual of Mental Diagnosis (DSM).
This is why their focus is on chemical imbalances in the brain. After making a diagnosis, psychiatrists prescribe medication. Because they are medical doctors, psychiatrists may work in tandem with primary care physicians or other specialists. In fact, patients are oftentimes referred to psychiatrists by their primary care provider. Psychiatrists can also evaluate underlying medical conditions that may contribute to mental illnesses.
The two professions often work together to coordinate care, with psychiatrists providing medical treatment and psychologists meeting with patients on a weekly or biweekly basis for counseling.
Usually, psychiatrists are tasked with treating more serious cases of mental illness like major depression, bipolar disorder or schizophrenia. As physicians, psychiatrists are able to prescribe medication. And while some states such as New Mexico and Louisiana allow psychologists to prescribe a limited number of medications, most states do not.
The two professions often work together to coordinate care, with psychiatrists providing medical treatment and psychologists meeting with patients on a weekly or biweekly basis for counseling. Based on therapy outcomes, psychologists may recommend their patient be seen by a psychiatrist to receive medication, while psychiatrists may refer their patients to psychologists to complete therapy.
Education Requirements for Psychologists and Psychiatrists
As medical doctors, psychiatrists have graduated from medical school and have both internship and residency experience in their specialty. Internships last one year, while residencies are completed in three. After residency, they must pass an exam to become a board-certified psychiatrist. They have specific training in assessment, diagnosis, treatment and prevention. Psychiatrists are also required to learn "all the functions in the human body, history and physical examination skills, and the specific treatment plans for each medical condition," according to Psychology Today. Some also complete extra study and become board-certified in a subspecialty like forensic, child or addiction psychiatry.
Psychologists, on the other hand, have a doctoral-level degree in psychology. They can hold a Ph.D. in psychology or a Doctor of Psychology degree. Usually, a Ph.D. means the psychologist's graduate study was research based and required a dissertation. The Psy.D. is a clinical degree that focuses more on psychotherapy. Regardless of degree, their experience includes one to two years of internship. Usually, psychologists are also trained to perform psychological tests. Doctoral programs usually take five to seven years to complete.
The title "psychologist" can only be applied to individuals who have completed this education and training, as well as state licensure. Titles like "counselor" and "therapist" may be used by other mental health professionals such as licensed clinical social workers or licensed marriage and family therapists. Typically, they do not need to earn a doctoral degree.
Becoming a Psychiatrist or Psychologist
Both psychiatrists and psychologists play vital roles in the mental health community as they work to treat mental disorders of all types. Both receive extensive training and can make a significant positive impact in the lives of patients. In addition, the career outlook is positive for both paths.

According to the Bureau of Labor Statistics, psychologists can expect a growth rate of 19 percent through 2024, while psychiatrists are projected to increase in demand by 14 percent. Both rates are much faster than the national average for all occupations. Earning potential is promising as well, with psychologists earning an average of $70,700 per year and psychiatrists earning a median wage of $245,673 annually.
Get Started With King University
For both of these career paths, earning a Bachelor of Science in Psychology is a common first step. The undergraduate degree provides a comprehensive background and foundational learning in psychology that can prepare students for graduate study. King University's online Bachelor of Science in Psychology is designed to prepare adult professionals with the skills they need for many mental health and social services careers. The psychology degree program at King University teaches students key competencies in psychology, communication, research and critical thinking. Students develop their knowledge of sociocultural diversity and psychological behavior. You can learn more about King's online psychology degree here.