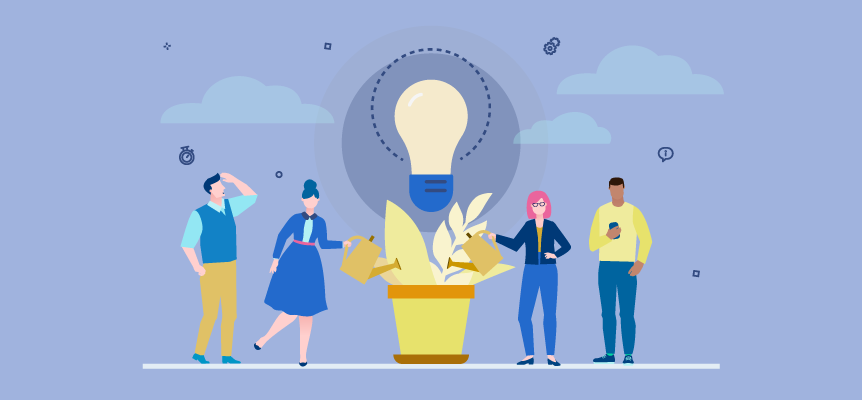 When values and culture are working in harmony, companies see benefits. Businesses with good company culture statistically experience better retention, productivity, and a better reputation in the community.
It's not always easy to get it right, though. Some organizations blur the lines between the two concepts, while others keep them too separate from one another. The most successful businesses have found ways to connect their values to organizational culture, ensuring the core values permeate through everything the company does.
The Difference Between Company Values and Company Culture
While culture and values may seem incredibly similar, the two concepts are different.
Harvard Business Review said, "Culture is the tacit social order of an organization: It shapes attitudes and behaviors in wide-ranging and durable ways. Cultural norms define what is encouraged, discouraged, accepted, or rejected within a group." In other words, company culture is the framework of norms by which individuals operate on a daily basis in their workplace.
In a well-functioning culture, those norms are governed by a shared commitment to the company's core values. Company core values are so much more than just a list of words that an organization places on its website. According to CultureiQ, they are "the guiding tenets of a company. They are timeless, enduring, and intrinsically important. Core values support the company's vision, shape the culture, and reflect the company's identity."
Therefore, core values should be the building blocks of a successful company culture, and a healthy culture should allow individuals to live company core values. So, how do you define and nurture good core values?
Building Core Values
Creating lasting and permeating company values is no easy feat. From crafting worthwhile ideals to making them a part of all the choices an organization makes, it's a daily challenge. Still, many companies do it successfully.
Here are some steps to go through when building company core values:
Define Your Company Core Values: Consider what is already important to the company and document it clearly. Different companies take varying approaches in writing core values, but the important thing is they are recorded and easy to understand.
Get Buy-In from the Entire Organization: Allow all employees to provide feedback about what the company's values should be and how they should govern actions. Values that are not believed in will not be executed at all levels of the organization.
Standardize the Values: Siloed companies rarely have good company culture. Ensure that everyone is working from the same defined set of values and not creating their own practices for divisions or teams.
Get Feedback: To ensure your company culture stays in line with values, periodically ask for feedback from employees about the culture and core values.
Be Open to Change: If the values aren't working, make sure your leadership team is open to adapting them. Workplaces change over time, and clinging to outdated values will impede the growth of a healthy culture.
When it comes to making sure the values stick, the next step after creation is communicating the values clearly. Don't let them sit on the desks of the leadership team or live as a list on the organization's website. They must be incorporated through the organization, and to do that, employee engagement is key.
"Company leaders need to talk about core values a lot, tell core values stories, and use values in the language of the day-to-day business. Call out people for both living by them and breaking them," said Robert Glazer, founder of Acceleration Partners and author of "Performance Partnerships."
The core company values should be a part of all decision-making, from routine conversations between managers and employees to major decisions like acquisitions and partnerships. In all business choices, your values must be considered, and no choices should be made that deviate from them. From acquisitions to dealings with lower-level employees, values should be exemplified.
While each company's process will be different, these basics will help you build values and a culture that shine.
Company Core Values Examples & Outcomes
Today, many organizations try to exemplify their values and create an environment that reflects and encourages them. Some succeed, while others don't. Here are a few examples of companies that have lived their core values, ensuring they're reflected in their cultures.
Squarespace
Squarespace is a website platform that has been named one of the best places to work in New York City, along with receiving many other accolades. This is in no small part due to a culture that aligns with its stated values, which are:
Be Your Own Customer.
Empower Individuals.
Design is Not a Luxury.
Good Work Takes Time.
Optimize Towards Ideals.
Simplify.
Squarespace truly lives these values. It built its site on the same platform and tools it sells. Essentially being its own customer, Squarespace has a stake in the quality of its own product.
The organization also empowers individuals by making sure everyone in the company has a voice. Entrepreneur stated, "Squarespace has worked to continue this freedom as part of its culture, by purposely not adding layers of management, and ensuring that all employees have a say."
Squarespace understands that good work takes time. The company website stated, "We respect the creative process and pursue long term ideas without fear. We only release our products when we feel they meet our standards."
These values create a culture of ownership and pride at Squarespace, making it a great place to work and a successful business.
Southwest Airlines
In 2019, Southwest Airlines was selected as one of Glassdoor's Best Places to Work for the tenth year in a row. That's no small accomplishment, especially for a business that employs so many people at various levels. Southwest Airline's stated values are:
Warrior Spirit.
Servant's Heart.
Fun-loving Attitude.
Safety and Reliability.
Friendly Customer Service.
Low Costs.
Making its values part of the entire process, the airline applies its values to its hiring process. Greg Muccio, Director of Talent and Acquisition, told Travel and Leisure, "We call it living the Southwest way, but it's folks that have a warrior's spirit, a servant's heart, and a fun-loving attitude." He says that most of their interview questions are motivation based, focusing on the "why" instead of the "what."
Southwest Airlines has never had to cut employee pay or have a mass layoff. The company has also offered profit sharing since the 1970s. This commitment to employees hasn't translated into higher costs for customers, though.
The company remains true to providing a safe, friendly, cost-efficient option for travelers. TripAdvisor announced that Southwest Airlines was voted the best U.S. airline in 2019, as well as the airline with the best economy. It also made their list of best airlines in the world at No. 6.
Unfortunately, not all companies hit the mark when it comes with aligning values and culture to make a great place to work and do business with. The disconnect is felt, and customers and employees alike are unhappy. Here's one example of values not translating into a good company culture.
Uber
Uber is a relatively new company with a unique business model. The company introduced these core values in 2015:
Customer Obsession.
Make Magic.
Big Bold Bets.
Inside Out.
Champion's Mindset.
Optimistic Leadership.
Superpumped.
Be an Owner, Not a Renter.
Meritocracy and Toe-Stepping.
Let Builders Build.
Celebrate Cities.
Be Yourself.
Principled Confrontation.
At first glance, it's easy to see that the company had quite a few values that are vague. In its 2019 IPO filing, Uber acknowledged the values weren't the best, stating, "Our workplace culture and forward-leaning approach created significant operational and cultural challenges that have in the past harmed, and may in the future continue to harm, our business results and financial condition."
Both the public and employees were left with a bad taste in their mouths. Internally, Uber's culture included problems such as aggressive competition, a lack of coordination and knowledge sharing, as well as reported sexual harassment and discrimination in early 2017. Externally, Uber suffered repercussions when the public perceived it was trying to profit from the taxi later that same year. This prompted a #DeleteUber campaign on social media. These scandals and more led to Uber being named one of USA Today's 20 most hated companies in 2018.
In late 2017, new CEO Dara Khosrowshahi introduced updated values with a note on LinkedIn that said, "Our values define who we are and how we work, but I had heard from many employees that some of them simply didn't represent the kind of company we want to be."
It's possible that, with time, the new values will take hold and lead the company toward prosperity. The fact remains that aligning company values with actions creates a healthy company culture and positive public image, and these updates show a step in the right direction.
Not everyone can get it right, but with proper training you can help build a company core value success story. King University proudly offers an online MBA. The online MBA program prepares you for the next step in your career by focusing on fundamental managerial topics, including business communication, research methods, and statistics analysis. Kings' online courses do not differ from those taught on campus but offer flexibility for the working adult. Find out how to impact company core values and company culture with a strong business education from King University.