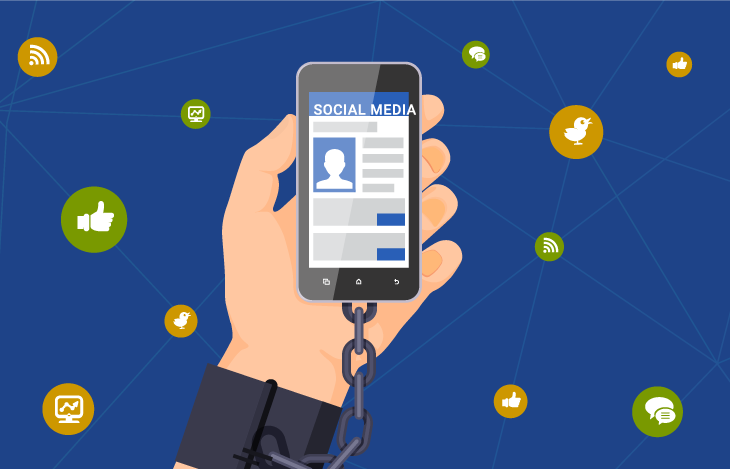 The prevalence of smartphones is nothing short of a phenomenon. Apple debuted the iPhone more than 10 years ago, and its introduction to the world created a consumer need that previously didn't exist.
Now that 56 percent of Americans own smartphones, we use our mobile gadgets to work, play, share, learn, communicate, and stave off boredom. However, the increase in reliance on technology has a downside: People are relying more and more on their smartphones äóî sometimes to an unhealthy degree. "Technological addiction can happen to anyone," digital detox expert Holland Haiis told CNN. She also described technology as "the new 21st century addiction."
Tech dependency is a modern issue that is growing in relevance as more and more people utilize mobile technology. Dr. Russell Belk's Extended Self Theory suggests that our possessions, such as smartphones, have become integral to how humans operate on a daily basis. They became an extension of the self, so that separation from devices can cause anxiety, irritability, and even psychological symptoms similar to substance addiction for some. What are the facts behind tech dependency, and who does it affect?
People Touch Their Phones an Average of 2,617 Times Per Day
According to recent research from dscout, people tap, swipe, and click an average of 2,617 times per day. For the top 10 percent of users, this number doubled to 5,427 touches per day. That's about 1 million touches per year and 2.42 hours of phone screen time per day. More serious users interacted with their phones even more, at 3.75 hours per day. This data includes all types of interactions, from reading and sending texts to scrolling on social media. How much time we spend on our phones each day is indicative of the important role these devices play in our lives.
iPhone Owners Unlock Their Phones 80 Times Per Day
iPhone users unlock their phones an average of 80 times per day, while a study of Android users found that they unlock their phones 110 times per day, according to Business Insider. This means that, in an average day of usage, iPhone users check their phones six to seven times per hour, or once every 10 minutes. Frequent usage can have a negative effect on communication with others during social engagements and is often seen as disruptive. In some cases, it might be said that we have become more concerned with digital interaction than with the social interactions that happen face to face.
Americans Spend an Average of 5 Hours Per Day Browsing
The time we spend on our mobile devices continues to increase. In fact, according to data by Flurry Mobile, "the average U.S. consumer spends a whopping 5 hours a day on these devices. That is a 20% increase in time-spent compared to Q4 2015." This kind of abundant usage is fueling greater demand for trained IT and other tech professionals.
50 Percent of Young People Admit Cell Phone Addiction
A recent poll on mobile device usage from Common Sense Media found that 50 percent of teens said they "feel addicted" to their mobile devices. At 59 percent, even more parents thought their teens were addicted, CNN says. The survey asked more than 1,200 parents and teenagers about mobile device usage and family conflict.
According to Fortune, "Social media may be particularly entrancing, with notifications from apps like Facebook and Twitter providing jolts of pleasure in some ways similar to the effects of drugs and gambling." Because today's young people are digital natives, this level of use indicates that mobile technology will remain a staple in our society.
Signs and Symptoms of Cell Phone Addiction
The following are some of the signs and symptoms of cell phone addiction, according to Entrepreneur.
Reaching for the phone first thing in the morning: When something becomes a vital part of your daily routine, it can affect thinking and emotions. As Entrepreneur notes, 68 percent of adults sleep with their phones near the bed.
Using cell phones when bored: Many people experience feelings of excitement or euphoria before or after using their smartphone. This creates a highly addictive response, causing them to want to repeat the action over and over, the same article explains.
Increasing cell phone use: "Tolerance is the need to receive an ever-increasing dose to reach the desired high, and is similar to alcohol abuse. And with the increasing number of new uses for the cell phone, and the proliferation of available downloads, it is easy to access the next exciting new thing," Entrepreneur notes.
Becoming anxious or agitated when the cell phone is out of sight: Symptoms like stress, irritability, and panic that occur when individuals can't find their phone or are separated from it indicate that they have formed a dependency. Entrepreneur cites research that notes "Sixty-eight percent of all adults have an irrational fear of losing their phone."
People complain about cell phone use: If loved ones frequently mention that individuals are always on their phone and that it bothers them, it is likely time to cut back. Smartphone use could be negatively impacting social life or family time.
Inability to cut back on cell phone use: "Relapse occurs when you set every intention to cut back on your phone use, but find yourself reaching for it with a force that seems beyond your control," Entrepreneur explains.
Other signs of tech dependency include using a device to bypass negative feelings or forget a troubling event, losing track of time while on the device, and physical repercussions such as eye strain, neck pain, and more. It is important to note that, while internet addiction is viewed as a public health issue in other places, "it is not yet a recognized disorder in the United States," according to CNN.
Online Education at King University
For better or worse, mobile technology is here to stay. The widespread (and growing) use of smartphones and other mobile devices is driving serious growth in the information technology industry, which is ideal for those interested in this career path. According to the Bureau of Labor Statistics, employment of computer and information technology occupations is expected to grow 12 percent through 2024, with almost 500,000 new jobs being added to the workforce.
King University's online bachelor's degree in information technology is designed for professionals who are ready to excel in technology-based careers. Through specialized coursework in relevant fields like cybersecurity, graduates are ready to face the challenges of the modern workplace.
For those more interested in the psychological motivations behind technology use, King University offers an online bachelor's in psychology. King's online psychology degree is designed to prepare students with the skills they need for many mental health and social services careers. This program teaches students key competencies in psychology, communication, research, and critical thinking. Students develop their knowledge of psychological behavior.
Undergraduate coursework for both these programs may be completed in as little as 16 months. Learn more about King University's online program options today and discover how King can help you enhance your knowledge and qualify for the job you want.