Nurses looking for new career opportunities should consider continuing their education with a Master's of Science in Nursing (MSN). MSN specialties offer nurses more than just career diversity, they expose nurses to careers with greater on-the-job responsibilities, higher earning potential and stronger opportunities for professional development.
Current nursing professionals can enroll in online MSN programs for an accessible way to earn an advanced nursing degree. Take a look at these career specialties for nurses with an MSN.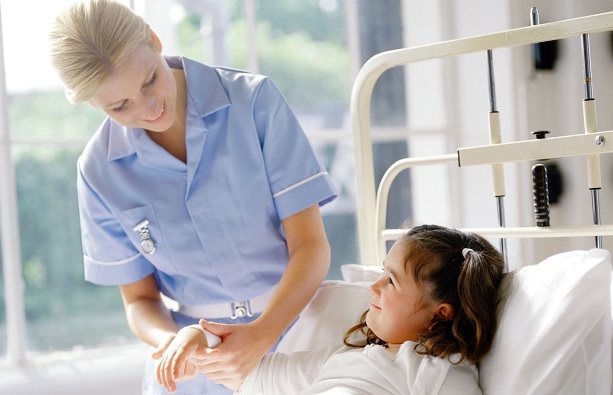 An MSN can transition nurses to specialty careers including a pediatric nurse practitioner.
Clinical nurse leader
These nursing professionals are responsible for ensuring patients receive the best treatment available to them through coordinated care between their medical team members. You will work with team members to design a patient's treatment plan, monitor their condition and keep record of their progress throughout their treatment so they meet important care milestones on the road to full recovery. Understanding current trends in medical technology and medical care can give you an advantage in this field.
Clinical nurse specialist
A clinical nurse specialist focuses his or her practice in a particular field providing guidance, management and consultation to team members when treating patients in their field of expertise. Popular areas of specialization include patients and their families, nurse management and administration.
Critical care nurse
These nursing professionals specialize in providing care for critically ill patients. Critical care nurses typically work in hospitals and can specialize in serving adults, children or babies. These nurses must be well-trained in critical care treatment services and technology to ensure patients receive optimal care for recovery.
Family nurse practitioner
The typical role of a nurse practitioner is to provide patients with quality care under the (sometimes limited) supervision of a physician. Nurse practitioners may work in a variety of health care settings. Family nurse practitioners work in general medical practices to provide primary care for patients throughout their lives. They have the ability to conduct routine medical exams, diagnose illnesses, order patient lab tests, prescribe medications and more. Some family nurse practitioners may operate their own private practice.
Gerontological nurse practitioner
There are a variety of specialties for a nurse practitioner, including gerontologyäóîworking with the elderly. A gerontological nurse practitioner may work in a nursing home, hospice facilities or with home health care services. These nurse practitioners may also operate their own private practice. Gerontological nurse practitioners conduct routine medical exams and screenings, order patient lab tests, diagnose illnesses, prescribe medications and more.
Health policy nurse
Emerging health policies are swiftly changing how medical professionals practice health care. Health policy nurses help bridge knowledge gaps between current practices and new policies. They also play an important role in advocacy and research as well as policy development and analysis. Health policy nurses can often find careers outside of medical facilities with many job opportunities becoming available in research firms, health care provider groups, government offices and more.
Nurse anesthetist
These nursing professionals provide anesthesia-related care throughout a patient's surgical experience, which sometimes includes giving patients anesthesia. Nurse anesthetists may work in operating rooms, emergency rooms or outpatient care centers. This in-demand nursing field is among the highest paying professions for nurses in health care today.
Nurse educator
As markets nationwide continue to experience vast nursing shortages, preparing a new nursing workforce is critical in today's health care environment. Nurse educators teach students earning nursing credentials such as state licenses as well as associate or bachelor's degrees. Nurse educators may also be involved in research projects.
Nurse executive
These nursing professionals are responsible for ensuring the mission of a health care facility or organization is thoroughly realized and executed using effective plan management, communications and leadership skills. Nurse executives help to establish and enforce health care policy within a facility and provide professional development opportunities for staff, such as continuing education courses that help to raise the level of service and patient care.
Nurse manager
Nurses serve on the frontlines of patient care and play an important role in a patient's treatment plan. Recruiting and retaining quality nursing staff is critical to the viability and effectiveness of a health care provider. Nurse managers oversee a department's or, sometimes, a facility's nursing staff, including recruitment and retention efforts. Nurse managers may also be called in to collaborate on a patient's treatment plan.
Nurse practitioner
Nurse practitioners provide patient care and treatment services under the supervision of a physician. The scope of physician oversight is sometimes limited in primary care settings, giving nurse practitioners more independence and control over a practice. In some instances, a nurse practitioner can operate their own private practice. Nurse practitioners can specialize in a variety of medical specialties, including family medicine, pediatrics, women's health and more.
Pain management nurse
Patients who experience acute or chronic pain may work with a pain management nurse for treatment of their pain. Pain management nurses will collaborate with medical teams to create a treatment plan that will help patient's limit, reduce or relieve severe pain. These nurses also help to educate patients on techniques to manage their own pain, including proper uses of their medication and alternative treatment therapies.
Pediatric nurse practitioner
Nurse practitioners can specialize in a variety of medical fields, including pediatrics, which is working with patients from infancy to young adulthood. A pediatric nurse practitioner will diagnose illnesses, conduct routine exams, order patient lab tests, prescribe medication and more. These nurse practitioners often work in hospitals alongside a physician; however, some operate their own practices.
Perinatal nurse
Perinatal nurses provide care to women during pregnancy, including prenatal health education. A perinatal nurse assists with labor and serves as a resource for new mothers by helping them learn how to care for their child.