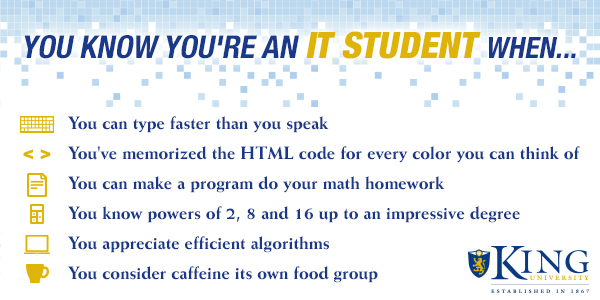 Does any of this sound like you? Of course, these are only humorous stereotypes about people who study information technology, but there are actually are some characteristics that ring true for individuals in the IT field. According to a survey of IT professionals conducted by Computer Weekly, for example, 21 percent of those working in IT have a high propensity for risk-taking.
While the stereotypical IT student is not seen as having an adventurous personality, those who dare to take risks are better able to adapt to the constant changes and innovation of the tech industry.
This isn't the only surprising characteristic of IT professionals. What does it really take to succeed in this exciting field?
The following are some characteristics of successful IT professionals.
They keep up with industry trends. Because the technology industry is in a constant state of change, it is important for IT specialists to stay educated about new trends and IT innovations. This means finding ways to increase profitability and efficiency while keeping data secure.
They maintain their skills. Much of your role as an information technology professional should be focused on continued education and training so that you can make the most of the technology your company uses. This can also mean teaching others in your company what you know, as part of your troubleshooting and desktop support responsibilities. Take advantage of seminars, training and certification courses available, and earn an online degree from a program like ours at King University.
They work well with others. IT professionals need to have stronger interpersonal skills than you might assume. Information technology departments work closely with all other teams within businesses, which means that you will need to feel comfortable communicating with employees on all levels of the corporate hierarchy. This also applies to networking opportunities, such as Chamber of Commerce events.
They are patient. IT professionals are the experts within companies when it comes to technology. Frequently, you will have to deal with professionals who are not as tech-savvy as you are, which can be frustrating. However, successful information technology professionals provide a service and therefore need to have patience when troubleshooting and answering tech questions. Being a good listener is also key here, because in order to understand the problems people are having with their computers and other devices, you have to know what they are struggling with. Take the time to train people, listen to concerns and address questions using language lay people can understand.
They are good project managers. Though project management is important in all types of careers, it is especially valuable to information technology professionals. This is because of the implementation that is involved when a company moves to new programs, operating systems or devices. A strong sense of organization and leadership skills will ensure that you can successfully interact with other departments.
They will work beyond a 9 to 5 schedule. The nature of IT work is that it sometimes takes place after normal business hours. It is the job of a business's information technology department to respond to and address problems whenever they occur, and this can mean responding to emergencies and other issues after others have gone home for the day.
They like a challenge. Because information technology is an interdisciplinary and dynamic field, no work day will be exactly the same. IT professionals respond to problems as they arise and should respond well to last-minute tasks. And of course, because they deal with bugs, faulty devices and security risks, work in IT is rarely boring.
IT at King University
A bachelor's degree is a must-have credential for IT career success, whether you are looking to pursue a managerial role or continue with graduate study in the field.
Our online Bachelor of Science in Information Technology is designed for professionals like you who want to pursue IT-related administrative and management careers. It prepares you for various technical career paths that require superior business skills as well as technological knowhow. A bachelor's degree is a must-have credential for IT career success, whether you are looking to pursue a managerial role or continue with graduate study in the field. Because you can choose to concentrate in business, database management, health informatics, network management, programming, cyber security or web design, our degree allows you to tailor your education to your professional goals. Your IT educational and career success begins at King University.