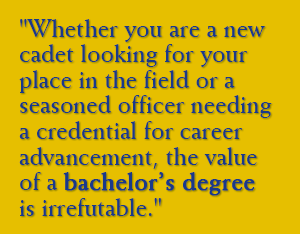 Criminal justice has long been considered a field for men. And, the numbers have long supported that theory with the National Center for Women and Policing (NCWP) reporting that 15 percent of law enforcement professionals are women. However, women are hitting their stride in criminal justice as the once male-dominated field begins to answer the call for a more complex, proactive form of policing. As such, police forces are looking for superior candidates who can act aggressively but also think strategically to meet new, more sophisticated demands on law enforcement, and women are fitting this need.
A bachelor's degree is essential for women and men alike who are looking to take the next step in their criminal justice career. Whether you are a new cadet looking for your place in the field or a seasoned officer needing a credential for career advancement, the value of a bachelor's degree is irrefutable. A bachelor's degree presents you with an industry history for reference and creates a foundation of competencies that can be utilized on-the-job for successful outcomes. King University's online criminal justice degree is an accessible alternative for busy professionals with limited time for traditional academic programs. Our program bridges practical skills with new industry ideas so you stay on top of the field and equipped to serve and protect the public. And, our focus on restorative justice, which serves to bring victims and offenders together to repair relationships and make the community a safer place, is attractive for females looking for a new take on criminal justice.
Community Policing Creates New Importance for Women in CJ
Once a male-dominated field that required cadets to exhibit strong physical attributes and brute force, criminal justice is seeing a shift towards a new type of policing that draws on the strengths of women äóñ community policy. Community policing is a proactive form of criminal justice that looks to solve potential problems before they spiral into major crimes. Law enforcement agencies will assign police officers to special task forces in charge of particular residential areas so they can become familiar with residents and typical residential activity. This form of crime prevention works to establish a sense of shared responsibilities among community members by building lasting relationships with community partners to prevent crime. When everyone, including business owners, residents and community leagues has a stake in the safety and security of a community, crime rates have been shown to decrease and neighborhoods become communities.
Women are ideal for this type of policing according to the NCWP. Their data shows that female police officers inherently utilize a conflict resolution style that emphasizes communication before physical confrontation. Communication is essential in community policing, where relationship building is the proactive approach to crime prevention and conflict resolution. Our focus on restorative justice is an excellent precursor to this type of policing. Courses present you with an overview of key criminal justice concepts and delve deeper into ethics and policy for a more sophisticated understanding of the field.
Women Exhibit Needed Qualities, Skills for Policing
Modern policing is moving toward a more sophisticated approach to criminal justice. Law enforcement agencies are looking for candidates with integrity, honesty, perseverance and compassion. And, while these traits aren't exclusive to either gender, they are essential for a new police officer. Women offer their own special qualities and skills to assist in community policing and law enforcement. Generally speaking, women are good communicators and display good interpersonal skills helping to facilitate needed relationships within the community and on the streets to promote policing efforts. Women tend to approach problems differently and can offer a unique perspective when formulating solutions. The duality of men and women within a police force lends itself to benefit the community as a whole.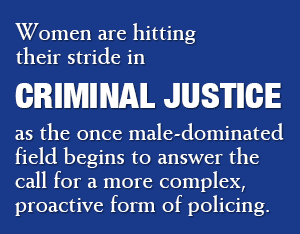 Policing is no longer considered a men's club. Traditional practices heavily relying on strength, physicality and force have been replaced with strategy, communication and relationship building making way for women in the force. And, education is another leading qualifier for new cadets and advancing professionals in law enforcement. Criminal justice systems are looking to hire and promote candidates with a bachelor's degree to bolster their agencies and foster a more sophisticated work force. For men and women alike, earning a bachelor's degree in criminal justice from King University should be your next career step. The added education, training and experience can help women break into the criminal justice field and discover real career success.