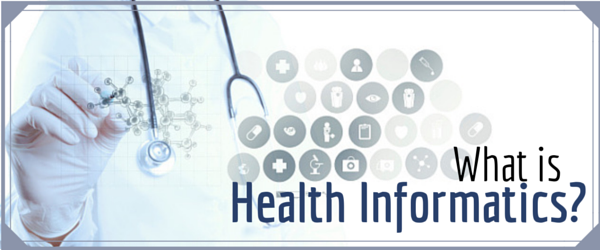 Chances are you've heard of the informatics field. In general, it's the science of information and includes the practice of information processing, as well as the development of information systems. However, you may not realize that this technology-driven discipline is also being implemented into today's health industry. A health informatics definition is interdisciplinary and complex, but at King University, we're here to explain.
This technology-driven discipline is also being implemented into today's health industry.
As a specialization, health informatics combines information technology, health and communications, and aims to improve the quality of patient care. It's important to note, though, that health informatics is not the same as health information technology. Think of it this way: health informatics is the science behind health IT. The most important aspect of this discipline is to collect, store, analyze and present health data in a digital format. And this relatively new field is growing rapidly, mostly because of the widespread use of electronic health records (EHR). EHRs allow for the storing and sharing of a patient's medical history with all providers involved in their care. The adoption of EHRs is just one of the reasons why the health informatics field is experiencing rapid growth.
The Details
Individuals who work in health informatics are highly trained in information science, as well as having a strong sense of how the healthcare industry functions. They understand how to find, store and use a wide variety of health and medical information. Professionals in this field also know how best to use both computerized and non-computerized information systems. Because their work specifically involves medical records and healthcare systems, they also must be well versed in medical terminology, the structure of various healthcare hierarchies and clinical guidelines.
The work that health informatics professionals do is also closely linked to medical coding. The medical coding system is a universal way to classify every type of diagnosis and procedure. There are also codes that indicate how much Medicare, Medicaid or insurance coverage is available, verses how much a patient will pay out of pocket. Medical codes also indicate where a procedure was performed, such as a hospital or physician's office. A variety of databases have been designed to keep track of patient records, and professionals in this field have to be familiar with them. Security measures must also be in place to protect patient information, which involves server configuration and access credentials. All of this is the responsibility of health informatics professionals, depending on where they work and what their specialty is.
Outlook and Careers
According to the Bureau of Labor Statistics, employment of health information specialists is expected to grow 22 percent through the year 2022, a rate that is far faster than the average growth for all occupations. Related to EHR implementation, the Affordable Care Act (ACA) is also driving employment in health informatics. The new standards set by the ACA requires that systems are implement for transmitting patient test results to EHRs, so that they can be used effectively by physicians.
[pullquote] Starting salaries can be as high as $40,000 to $50,000 annually.[/pullquote]
Careers in health informatics include medical records and health information technician, health information clerk, clinical informatics director and more. Employment opportunities include work in hospitals, clinics, health systems, ambulatory facilities, government agencies, nonprofit organizations, consulting firms, private practice and more. The salary for these positions ranges by specialty, level of education and years of experience. However, starting salaries can be as high as $40,000 to $50,000 annually.
Health Informatics at King University
If you are interested in pursuing a career in this thriving field, a Bachelor of Science in Health Informatics is a great place to start. We offer a 100% online degree completion program that lets you complete your degree on your own schedule. It is designed for students who have previously earned an associate's degree, or who have earned 60 credits and are looking to start a career in health informatics.
Our program includes coursework in health informatics, healthcare organization, information systems, project management, ethics and quality improvement. Graduates of the online health informatics degree completion program will be qualified for employment in both hospitals and private companies. Students also develop strong background knowledge in oral and written communications, ethical decision-making and critical thinking skills.
Take advantage of this high-demand industry by completing your degree with King University Online. Discover what a health informatics degree can mean for your career.