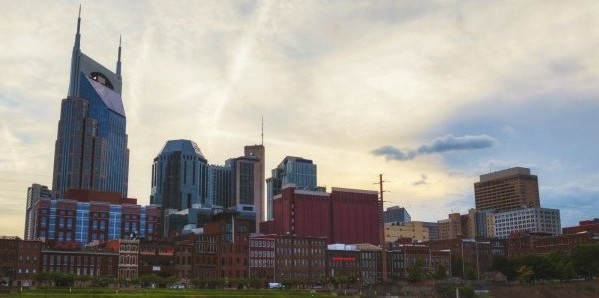 In Nashville, tech employment was up over 65 percent in 2013, with a 160 percent spike in jobs related to computer systems design services.
When most people think of the tech industry, they think of places like Silicon Valley. However, you may be surprised to know that the Nashville metropolitan area is experiencing considerable growth when it comes to tech jobs like information technology. In Nashville, tech employment was up over 65 percent in 2013, with a 160 percent spike in jobs related to computer systems design services. These impressive numbers are largely due to the rise of the area as a hospital management and healthcare IT center, as well as widespread digital development in fields like music and healthcare. This growth means that there is a high demand in the Volunteer State for workers in fields like programmers, analysts, developers and other information technology jobs. There is an even keener need for professionals qualified for these positions because the area is experiencing widespread digital development in fields like music and healthcare. At King University, we know that now is a great time to be a Tennessee graduate with IT qualifications. That's why we've put together this guide to information technology employment near you.
Tech Industry by the Numbers
In 2013, the metro Nashville area's tech industry employed 21,063 people, an almost 6 percent change – faster than the national average. On average, these professionals earn more than $30 an hour, for an annual income of approximately $62,000. An impressive 872 annual openings were estimated for IT jobs in 2013 alone, with only 618 graduates in technology related fields. These numbers are great news for you, because as the number of tech establishments in Tennessee continues to rise, so does the deficit in employment. Simply put, there aren't enough qualified workers to keep up with demand.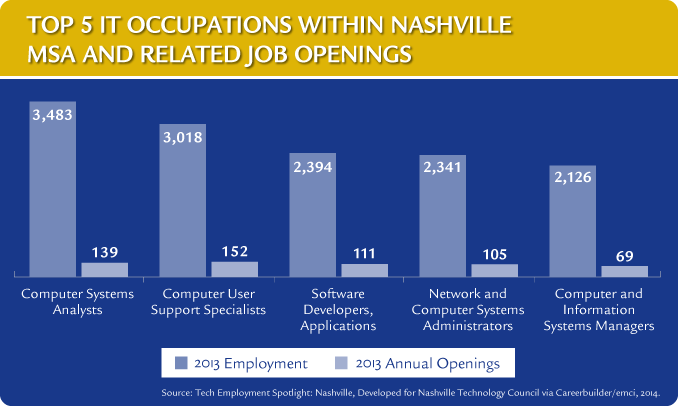 According to the Nashville Technology Council's 2014 Tech Employment Spotlight, the top five IT occupations within the Nashville area were computer systems analysts, computer user support specialists, software and applications developers, network and computer systems administrators and computer/information systems managers. As John Kepley, a CEO and NTC executive board member, put it, "Nashville continues to lead the country in IT job growth. The numbers indicate this momentum is not slowing down. Couple this with our cost of living remaining in the bottom half in the country, Nashville is a great place to be in information technology."
Why Tennessee?
As Kepley pointed out, Middle Tennessee has a lot to offer IT professionals. There are great schools and businesses and the cost of living is relatively low. Despite the shaky national economy, the region has over 250 healthcare companies that are looking for talented employees. In health technology areas like medical devices and patient care systems, Nashville is a great opportunity for both startups and recent graduates. Over time, the region's businesses will expand as more companies and professionals take notice of Tennessee as a rising tech hub.
WorkIT Nashville
This online hub for technology jobs and information about the Middle Tennessee tech industry is a great resource for King University Online IT graduates and students. WorkIT Nashville is a campaign to recruit tech workers to the Nashville region. It features helpful resources such as:
WorkIT includes job-matching technology that benefits both job seekers and companies
The WorkIT Nashville guidebook, containing information about the Nashville region that informs job seekers and companies about the features of the Tennessee tech community
A digital market strategy that uses social media to highlight the Tennessee tech industry and the professionals who are involved in it
IT professionals can create a profile on the WorkIT Nashville website and upload their resumes or connect to a LinkedIn account. This campaign is a great way to get involved or find out more information about tech in Tennessee.
IT at King University
As the data clearly shows, a shift is occurring in the technology industry. Employment is probably not going to grow the fastest in America's biggest, most expensive cities. Instead, tech hubs are spreading across the country to smaller cities with lower costs of living. Nashville and the surrounding area are a prime example of this emerging trend. That's why now is a great time to earn an information technology degree with us.
Our online Bachelor of Information Technology degree program is designed for professionals who want to pursue IT-related administrative and management careers. It's a great opportunity to earn qualifications and enhance your industry knowledge. The program focuses on business skills and technology that prepares you to move up in your tech career. You'll take courses in fundamental topics such as project management, problem solving, policy consultation, technology research methods and IT plan development, as well as create a portfolio of your work. Take advantage of Tennessee's tech environment with a degree in the high-demand field of information technology. Learn more about our IT degree program.