Self-employment at 15-year high; mastering business skills essential for entrepreneurial success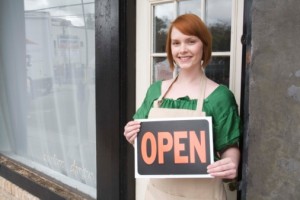 When the recession hit in December 2007, it triggered an economic slump that sent ripples across industries and hit Tennessee communities hard.
Although the recession caused tremendous job loss, it also spurred a new type of economic activity: small business ownership. According to the Kauffman Foundation, the percentage of Americans who started new businesses in 2009 and 2010 reached a 15-year high. Kauffman's research suggests the perpetually high unemployment rate has been the driving factor of this trend; people who are unable to find a job have created their own. However, business ownership does not always provide a foolproof means of employment. U.S. Bureau of Labor Statistics (BLS) research shows that nearly six out of 10 businesses shut down within the first four years of operation, giving prospective entrepreneurs reason to act cautiously when considering business ownership.
Avoid Start-up Pitfalls
Perhaps the best way to navigate business ownership and management is to understand what not to do when it comes to owning and operating your own business. Brad Bentz, an MBA graduate who has experience with start-ups, business strategy and investing, has identified 10 key components that most often cause new businesses to fail, ways to beat the statistics and how to achieve business success.
Poor Execution
A new business must include more than just a good idea. Your initial execution can make or break your start-up. Bentz suggests starting with an honest evaluation of your skills to determine which opportunities are practical and worth your time.
No Viable Market
New businesses should not ignore the consumer market, such as by opening a coconut stand in the Northeast. Bentz says many entrepreneurs enter business ownership with the "build it and they will come" mentality. In so doing, entrepreneurs waste time and money on a concept that will inevitably fail due to lack of consumer demand. Therefore, start-up business owners need market research to understand their customers' needs. Research can reshape and focus your business idea, helping position you for success.
Too Much Leverage
Spending and investing before your company sees its first signs of profitability can quickly bankrupt your start-up. Revenue projections are often unreliable during the first year of business. Start-up costs such as building construction, equipment and fixed obligations, including rent and employee salaries, can run your business into the ground. Bentz suggests keeping most initial costs variable and using equity capital to finance your company until you have the confidence to forecast positive sales numbers.
Undercapitalizing the Business
Many entrepreneurs go into business ownership thinking their company will succeed. However, success does not happen overnight. Business owners must be patient and fiscally conservative during the initial start-up phase of the business. Bentz warns new business owners to make cautious initial financial projections and prepare adequate funds to support their business upon its launch until the company becomes profitable.
Lack of Competitive Advantage
The "me-too" business model offers a quick, easy and low-cost way to enter business ownership, giving new start-ups easy entry into the market. However, these businesses face tremendous competition and can be pushed out of the market just as quickly as they entered it. Giving your business a competitive advantage will insulate it from competition, according to Bentz, who suggests considering a great location and a cool brand or new technology to separate you from the pack.
Competing Head-to-Head With Industry Leaders
Avoid entering markets saturated with competitors and markets that a mega-industry leader already dominates. Big companies can outspend you on advertising while cutting prices to run you out of the market.
Picking a Niche That is Too Small
Finding your niche within the market can set you apart from your competitors, and market research and consumer testing will help ensure that your niche can support and sustain your business efforts long term. However, Bentz warns against entering a niche that requires you to have more than a few percent of the market share to stay profitable.
Breakup of the Founding Team
Losing a member of your business' founding team can send shock waves through your already vulnerable start-up. Your start-up's success depends on establishing a solid organizational structure and business plan, which ensures fair treatment of all key players and equal alignment of all personal interests.
Poor Pricing Strategy
According to Bentz, you should address pricing strategy and customer value during the earliest stages of planning, before you make any significant investments. Underpricing and overpricing can cause a huge blow to a company's revenue stream. Understanding the consumer value of your product will help to determine the cost structure of your business.
Growing Too Fast
Your business' success depends on growth. However, according to Bentz, uncontrolled growth can kill your business. He cites the absence of systems and infrastructures to scale properly and the need for additional investments in fixed assets and working capital to keep pace with growth as potential roadblocks to sustainability. Keeping a mindful eye on your business's growth and cash flow can help you to sustain growth at a responsible pace for long-term gains.
Tennessee Seeing Strong Signs of Recovery
Start-ups are greatly influencing Tennessee's economic recovery. Moody's Analytics classifies seven out of 10 regions across the state as experiencing recovery or expansion phases following the recession, including the Bristol, Tenn., region. To measure a region's economic status, Moody's Analytics completed a test that compared the six-month moving average in the current period to the six-month moving average in the previous six-month period. If the economy reaches a trough (the lowest turning point of a business cycle), the economy is slated as in "recovery." The economy is in "expansion" when the coincident indicator has yet to reach a peak.
Tennessee has also recently experienced a surge of economic growth due to relocations and expansions of many large-scale companies in the past several years. The right-to-work state serves as a low-tax haven and contains a strong educated and qualified worker base.
Entrepreneurs have long made the country's economy competitive on the global scale with new innovations and improved business practices. Business ownership takes a willing entrepreneurial spirit, dedication, business foresight and savvy to turn an idea into an expertly executed business strategy. A creative, feasible idea coupled with exceptional business skills and funding can help you make your dreams of business ownership a reality.
King College has a reputation for academic excellence that goes beyond the classroom. Our online degree programs position graduates for exceptional career or continued education opportunities. More than 80 percent of our graduates are accepted to their choice of graduate programs. Make an investment in your future with an online degree from King.