The technology sector has been an employment machine for both large and small industries by giving professionals with information technology (IT) skills an edge in a crowded marketplace. Much of the recent employment boom in the IT field has been driven by organizational need for big data and supporting networks. According to the Bureau of Labor Statistics (BLS), the overall job growth in this field by 2026 is expected to rise by 13 percent. Take a closer look at the hottest IT jobs in 2019, and how an online information technology degree prepares students for these growing careers.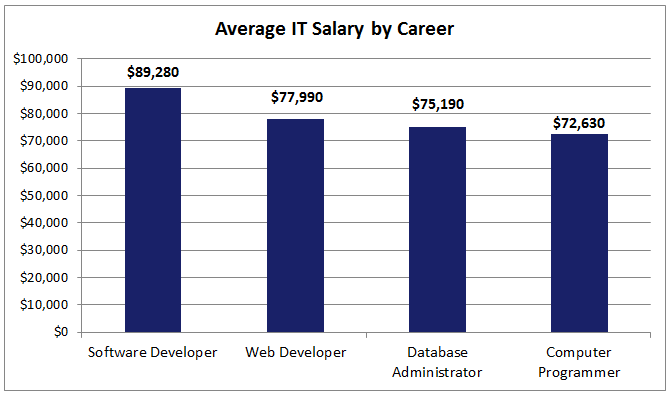 Computer and information systems manager: Computer and information systems managers plan, coordinate, and direct all activities related to computers within their companies or organizations. They must be extraordinarily well organized, as much of their work involves analyzation, planning, and assessing. They may be charged with observing their organization's computer needs and recommending upgrades, assessing costs of projects, planning installation and maintenance, determining personnel needs for their department, and more. The BLS predicts that these positions will grow 12 percent by 2026, a rate considered much faster than average. Computer and information systems managers make a median annual salary of $139,220.
Database administrator: Database administrators maintain these data stores to ensure error-free operations and efficiency. These administrators might also be called to build databases for businesses. A bachelor's degree in information technology is required for employment as a database administrator; data analysis field experience is preferred. The BLS estimates an 11 percent growth rate by 2026. The median annual salary for database administrators is $87,020.
Information security analyst: Information security analysts protect an organization's computer networks and systems through the planning and implementing of security measures. They may be required to install software, monitor networks, conduct security testing, develop security standards, and other responsibilities that lead to safe and impenetrable networks. According to the BLS, the growth rate for this field is extraordinarily high, with an estimated 28 percent growth by 2026. Information security analysts make a median annual salary of $98,100.
Software developer: User-friendly applications and technology can help drive profits for businesses. Software developers research user needs and identify tech solutions to enhance the overall user experience. Software developers design new software applications or systems and are also tasked with maintaining and updating these new products. A bachelor's degree in computer science, software engineering or information technology is required. The BLS estimates that software development jobs will rise 24 percent by 2026. The median annual salary for software developers is $103,560.
Web developer: Websites serve as the virtual face of a business by helping to build brand awareness and customer interactivity. Web developers are at the helm of creating these websites and must pay attention to functionality, aesthetics and user experience, including layout and content. They may also be charged with incorporating new technology and applications into the sites to improve usability. A bachelor's degree in a computer-related field is required for entry into this field. According to the BLS, employment is expected to grow 15 percent by 2026, a rate considered much faster than average. The median annual salary for web developers is $67,990.
A Future in IT
At King University, the online Bachelor of Science in Information Technology degree can successfully prepare individuals to enter an in-demand field and increase their earning potential. Designed to be completed in as little as 16 months, the degree features three specialized tracks: cybersecurity, network management, and information systems. This, plus a fully online format, allows students to truly experience a flexible learning environment designed around their needs and professional goals.