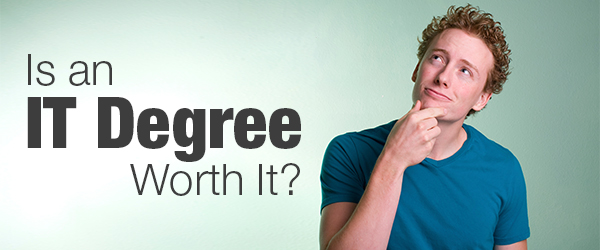 As of January 2014, 90 percent of American adults have a cell phone, 58 percent use a smartphone, 34 percent own an e-reader and 42 percent have a tablet. These numbers are impacting the way businesses work. The proliferation of technology in personal lives is reflected in the business world, with computers and technology innovation driving the global economy.
With that reliance on technology comes a need for professionals to maintain networks, create new software and ensure cybersecurity. Add the thriving mobile application (app) economy and you'll find IT professionals are more in demand than ever.
Is an IT degree worth it? With the steady rise in jobs and the accompanying salaries, the answer is clear.
A Growing Industry
For the past two decades, employment in computer systems and information services has grown steadily, in spite of setbacks such as the dotcom crash of the 90's and the recent recession. In fact, employment in the IT industry has increased by 37 percent since the year 2003. A recent BLS report noted employment in the IT industry is higher than it had been prior to the recession. The reason for this continued demand is the industry's commitment to technologies that increase companies' efficiency, such as cloud computing, mobile apps, and security.
Employment in computer systems design and related fields is projected to grow almost four percent through the year 2020.
This growth isn't expected to slow down any time soon. The same BLS report stated that employment in computer systems design and related fields is projected to grow almost four percent through the year 2020, a rate that is much faster than the national average of just over one percent for all industries.
Why are IT careers in demand? The answer has a lot to do with tech-savvy consumers. Companies need strong IT professionals to develop innovative software that meets the needs of the average client. It's all relative: as consumers use more and better technologies, companies need to constantly update and expand their services in order to stay relevant.
Cloud computing, mobile technology, and security are not the only areas of the tech industry that are expected to drive employment. The BLS expects disciplines like data management and health IT to grow rapidly as well.
Careers
There are many types of jobs related to information technology, and career opportunities are growing on pace with technology innovation. Positions related to computers make up more than half of the IT industry, with the rest made up of managers, finance, and administrative employees. Due to the high demand for these services, all the occupations that fall into this category have high salaries and growth rates. See the table below for more information: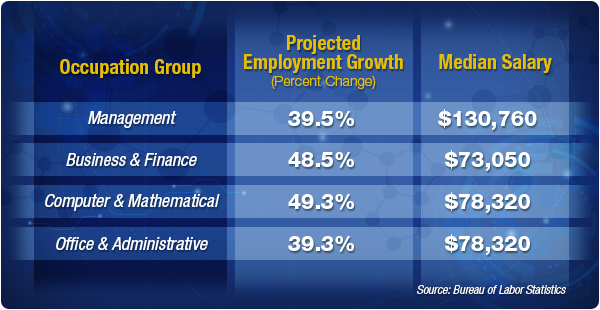 Earning Your IT Degree
For most information technology careers, a bachelor's degree is the answer. Previously, employers didn't require a degree, but this environment has changed. The more complex technology needs of companies, along with the important role computers play in almost every workplace, has led to strict educational requirements. A bachelor's degree in information technology from King University will get you on track to most IT careers.
We offer an online Bachelor of Science in Information Technology degree designed for professionals looking to pursue in-demand IT careers. At King University, we understand students need real-world qualifications they can apply to today's thriving tech job market. We provide you the opportunity to choose from concentrations in cyber security, network management and programming. You can tailor your IT education to the career you want to have.
An online IT degree from King University is the qualification you need for career success. Learn more about our program and how it prepares you for the complex, innovative world of information, and computer systems careers.