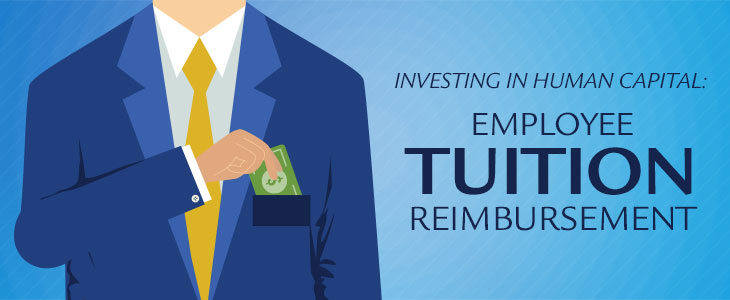 From employee loyalty to a better trained workforce, highly successful businesses have discovered that providing employees with educational opportunities can result in a variety of benefits that boost the bottom line. If your organization is considering implementing a tuition reimbursement program for employees, it is likely you are concerned about the costs associated with such initiatives. However, there are untold benefits for companies who choose to go this route. Tuition reimbursement can be a powerful recruitment tool and is an investment in your employees, showing them you are committed to their professional development.
Businesses across the country are launching tuition reimbursement programs. For example, Starbucks offers its employees a wide array of benefits, including this perk. The program, known as the Starbucks College Achievement Plan, provides eligible employees with tuition assistance. It is designed for employees who are in their junior and senior year of college, supporting them in finishing their degrees. Employees must be based in the United States and work an average of 20 hours per week or more. Other companies like Deloitte, UPS and Home Depot offer similar programs, for reasons like differentiation from competitors. For many organizations, tuition reimbursement is a smart way to attract potential candidates.
How Does Tuition Reimbursement Work?
In general, tuition reimbursement involves a contractual obligation between employer and employee. Such agreements outline specific terms under which the employer will pay for tuition. Also known as tuition assistance, these programs vary widely from company to company. Most companies base the amount provided upon the employee's grades. For example, a policy may state that employees must maintain a B average to participate. Other organizations may stipulate that employees are not reimbursed until coursework is complete.
For most tuition reimbursement programs, courses must be work related, but definitions of what qualifies vary. Some companies may only pay for classes related to a specific role, while others cover coursework that is considered professional development. This is because skills related to management and leadership can help employees grow into new positions within the organization. Companies that do not offer tuition assistance may cover other kinds of learning such as certifications and training programs. Online degree programs provide even more opportunities for employees to go back to school in a way that doesn't interrupt their work, and such options are usually more affordable as well.
Benefits of Tuition Reimbursement
While it is clear that there are many employee advantages to tuition reimbursement programs, including reduced tuition costs and the chance to advance their careers, it is important for companies to understand how they stand to benefit from such programs as well.
High-quality candidates and knowledgeable staff: Offering benefits like tuition reimbursement will attract better candidates for open positions, ones who have qualities like drive, ambition and motivation. In fact, offering tuition reimbursement could be the deciding factor on whether a candidate accepts a position. Competitive benefits packages are becoming increasingly important in the modern workplace. A more knowledgeable staff is another benefit to employers. The best way to ensure your workforce is made up of industry experts is to pay for their training.
Internal hiring opportunities: Employees in tuition reimbursement programs are usually interested in advancing their careers. This means that offering to cover part of college costs encourages your workforce to seek employment opportunities internally. Global recruitment platform Recruiter points to studies suggesting hiring from within saves money, with external hires costing an average of 18 percent more than internal hires in the same position.
Improved branding: A smaller but still significant benefit to tuition assistance programs is that companies are often more respected within the industry and their community when they offer such programs. This is because reimbursement may be viewed as socially responsible.
Employee loyalty: Finally, tuition assistance often results in increased employee loyalty. Incentives like this one improve company culture, especially when employers educate their staff on the opportunities available to them after completion of a degree. Employees are likely to feel more loyal to a company that provides tuition reimbursement because it shows an investment in their professional success. In terms of more tangible benefits to companies, these programs can guarantee that your employees stay with your company for a certain time frame after degree completion. Organizations can develop contracts that state the individual must remain a part of the company for a set period of time after education financing ends.
Tuition reimbursement programs are not right for every company, but it is a good idea to consider offering employee assistance. With thoughtful planning, these benefits can help you make the most of your human capital and improve your bottom line.
Educational Opportunities at King University
If you are interested in current business topics and how they affect the modern workplace, King University offers both graduate and undergraduate programs that enable you to deepen your understanding of the business world. If you are ready to advance your career in this dynamic field, choose from our online Bachelor of Business Administration and Master of Business Administration (MBA). The MBA program offers specializations in the following areas:
Accounting
Finance
Healthcare management
Human resources management
Management
Marketing
Leadership
Project management
You can learn more about our online business degrees and find out what a King degree can mean for your career here.