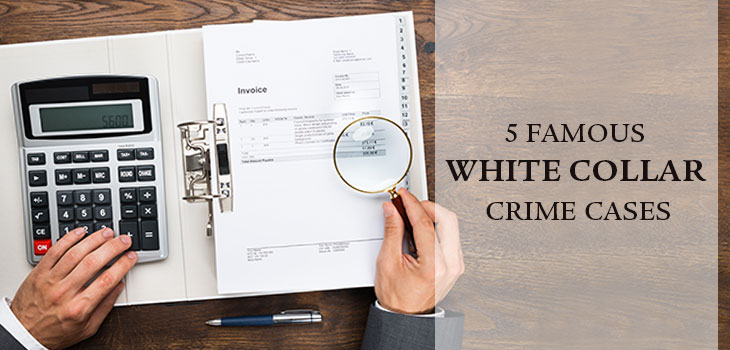 Some of the most complex and high-profile types of criminal investigations are those involving white collar crime cases. Though the term can refer to crimes ranging from securities fraud to embezzlement to money laundering, "white collar crime" generally refers to a nonviolent crime committed for financial gain, according to Investopedia. These crimes are usually investigated by federal agencies like the FBI and Securities and Exchange Commission along with state-level agencies.
In fact, Utah established America's first online registry for white collar criminals in 2016, Investopedia says. Those convicted of white collar crimes face prison sentences along with the potential of paying millions of dollars in financial damages and fines.
Because those involved in white collar crime are usually high-ranking business professionals and executives, serious cases usually make headlines nationwide and even globally. The following are some of the most famous (or infamous) companies and individuals involved in white collar crime cases. These examples show that, while such crimes involve large amounts of money and extensive concealment, trained law enforcement professionals are able to investigate and prosecute white collar crimes successfully.
Enron
In this famous white collar crime case, a company that was once successful resorted to schemes to hide losses and fabricate profits. Though Enron shares were worth $90.75 at its peak, they fell to just $0.67 after the company filed for bankruptcy in 2002. Some of the criminal practices involved in the Enron case included using off-balance-sheet special purpose vehicles (SPVs) in order to hide mounting debt and "toxic assets" from both investors and creditors. Chief Financial Officer (CFO) Andrew Fastow was held largely responsible for orchestrating these false business tactics.
WorldCom
As one of the "biggest accounting scandals in U.S. history," according to CBS News, the WorldCom investigation began when internal audits found "improper accounting of more than $3.8 billion in expenses over five quarters." These accounting irregularities did not conform to Generally Accepted Accounting Principles and resulted in the resignation of senior vice president and controller David Myers, as well as layoffs for more than 17,000 WorldCom employees.
HealthSouth
In 2004, auditors discovered "hundreds of millions of dollars in previously unreported accounting fraud at HealthSouth," according to The New York Times. The chain of hospitals and clinics was found to have "$2.5 billion in fraudulent accounting entries from 1996 to 2002, $500 million in incorrect accounting äó_ and other items involved in acquisitions from 1994 to 1999, and $800 million to $1.6 billion in 'aggressive accounting' from 1992 to March 2003," the same article reports. This brought the total range of fraudulent entries to a staggering $3.8 billion to $4.6 billion. Founder Richard M. Scrushy was indicted on 84 counts of fraud, and at least five former CFOs pleaded guilty to charges.
Bernard Madoff
Perhaps the most well-known white collar criminal is Bernard Madoff, who was convicted of fraud costing investors $65 billion in 2009. The wealth management portion of his business took money from investors to pay former investors, without ever actually investing funds. Madoff, the former chairman of Nasdaq and founder of a successful Wall Street firm, was sentenced to 150 years in prison for running "an elaborate Ponzi scheme, which promised large returns on investments," Investopedia says.
Wells Fargo
One of the most recent instances of a white collar crime case involves Wells Fargo, a banking and financial services provider. In 2016, "federal regulators said Wells Fargo (WFC) employees secretly created millions of unauthorized bank and credit card accounts äóî without their customers knowing it äóî since 2011," CNN Money says.
Opening some 1.5 million fraudulent deposit accounts and submitting 565,443 credit card applications allowed employees to hit unrealistic sales targets and receive bonuses. Customers were then wrongly charged fees for accounts they didn't know existed. Wells Fargo must pay $185 million in fines and refund $5 million to affected customers. This is the largest penalty since the Consumer Financial Protection Bureau was founded in 2011.
Stopping White Collar Crime: Criminal Justice Education at King University
Fighting white collar crime requires law enforcement to look beyond traditional offenses and hold corrupt businesses and corporations accountable. Earning a criminal justice degree can help qualify you for careers that help keep communities safe and prevent crimes like those discussed here.
King University's online Bachelor of Science in Criminal Justice teaches you vital knowledge and skills related to law enforcement, restorative justice, and other key topics. This King degree can be completed in as little as 16 months, and graduates are prepared for careers in fields such as state and federal law enforcement and the court system.