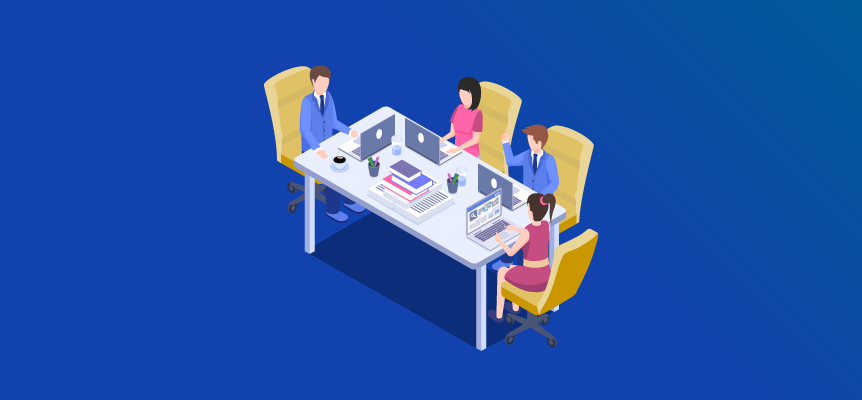 There's a lot of unexpected pressure for businesses to keep their employees motivated. Not only do they have to worry about producing their own goods or services, but they must also stay on top of their company culture and employee engagement to keep staff on board. Today's industry leaders are finding clever ways to navigate these challenges to inspire, and thereby retain, their employees.
A lot of important and helpful information can be taken away from how major organizations have challenged and engaged their employees. Because so much about a company's culture depends on effective employee engagement, business owners need to find innovative ways to understand and then stimulate their workforce.
Why Employee Engagement Is Important
Companies need to adopt effective and comprehensive employee engagement strategies to attract top talent and retain staff. Before they can do that, though, they need to think about what employee engagement really means.
According to SHRM, whose publications tap into the current nature of HR and business practices, employee engagement needs to be differentiated from job satisfaction. They wrote in an article titled "Developing and Sustaining Employee Engagement" that engaged employees tend to go above and beyond for their companies and contribute their best possible work. Conversely, "satisfied employees, in contrast, feel pleasant, content and gratified." They added that comfortable employees can still manage to be productive, but engaged employees are much more likely to record more impressive and consistent results.
This distinction helps give context to what employee engagement means for companies, but more information is still needed to capture its significance. Brian Anderson of the Forbes Communications Council has focused on the ways employee engagement can help with retention rates. Specifically, he said a company's "retention strategies should be shaped by a balance of people, technology, and process, and in alignment with your business's goals." This overarching engagement goal, he concluded, should center on active listening strategies that will apply employee feedback to improving company culture and employee engagement. Further, this tactic ultimately helps to reduce turnover rates in companies and help cut costs in the long run.
Another major reason that organizations should think about employee engagement is that employees will complete their work faster and more efficiently when motivated. John Baldoni, a storied leadership educator and Harvard Business Review contributor, stated that employee engagement works toward securing higher levels of productivity and so much more. He defined employee engagement as the process when "people want to come to work, understand their jobs, and know how their work contributes to the success of the organization." Moreover, he recommended that companies looking to improve their employee engagement build on their own core goals and communicate them clearly with everyone in the organization. Providing that clear sense of purpose to employees, according to Baldoni, will establish a compelling source of meaning for employees when they work on projects.
How Employee Engagement Impacts Culture
Company culture and employee engagement are inextricably connected. Employee engagement, particularly through performance metrics, can help measure company culture. Organizations can develop and sustain company culture through effective employee engagement practices.
CultureIQ, a company that specializes in improving workplace environments, has explored how employee engagement will fuel a positive, functioning, and productive company culture. Specifically, they find that documenting and regularly checking in with employees about clearly defined company core values will help drive employee engagement.
What's more, they recommend regularly investing resources in company culture through "training opportunities, the latest in technological advancements, managerial support, and an open mind about what makes a great workplace environment" to "evolve to keep pace with employees' expectations to really drive success." With this logic in mind, organizations can prepare and maintain a thriving company culture that keeps employees continually engaged.
Giving employees the freedom to make their own decisions can have major benefits on engagement, too. Mike Kappel, an entrepreneur and CEO of Patriot Software, wrote that one clever way to engage employees and improve company culture is for managers and administrators to take a step back with employees. He determined that employees, when given clear direction and then left to their own devices, will come up with their own ways to solve problems, which will in turn give them a greater sense of independence in the workplace. As business owners avoid micromanaging, they will see their company culture take on a positive life of its own.
It's important for entrepreneurs to find a balance between engaging employees effectively and not overwhelming them. Challenging employees with unrealistic or extreme tasks will lead to demotivation, which will inevitably result in a resentful, toxic company culture. As business leaders construct resonant methods to engage their employees, they should also reward staff for their accomplishments. Investing in employees will yield massive, undeniable results.
Examples of Employee Engagement Opportunities
To understand the intertwining roles of company culture and employee engagement, it's best to look at examples of real-world companies that have successfully fostered creativity and productivity. While DreamWorks, Virgin, and Google are all massive corporations, their models for employee engagement can be adopted by companies of all sizes.
DreamWorks and Creativity
DreamWorks Animation has created a company culture that stimulates its staff through some unique employee engagement practices. In addition to allowing employees to stylize their workspaces on the studio's dime, they create an environment where creative ideas can be constructively critiqued. They're able to do this through planned events where employees are encouraged to bring in materials that have nothing to do with their work at DreamWorks.
If employees are working on creative projects outside of the office, they are invited to bring them in to get feedback from their colleagues. This admittedly vulnerable activity builds a strong sense of trust between employees, who are then encouraged to freely discuss what's working creatively and what aspects may need improvement. As entrepreneur and writer Steffen Maier said, "This keeps people feeling both in control and passionate about their work." Smaller businesses should apply this practice to their own workplace environments because it will lead to a more productive and ambitious employee engagement culture.
Virgin and the Golden Rule
A lot of the culture at Virgin comes from its CEO Richard Branson. The eccentric personality pushes employees to succeed through a transparent and humanizing engagement platform. Outside of his company's ethos that tries to blur the lines between work and play, he centrally engages employees by applying the golden rule. He stated in an interview that "There is no magic formula for creating great company culture. The key is just to treat your staff how you would like to be treated."
While this advice at first may appear overly simplistic, it carries a lot of weight for smaller business owners. For employers wanting to be treated professionally, it's probably best to approach your employees the same way. Similarly, for business owners who favor flexibility, it would probably make the most sense to engage with employees on less rigid terms. This honest sort of communication will go a long way for business leaders in developing and carrying out a compelling employee engagement strategy.
Google and a Culture of Understanding
Unsurprisingly, Google fosters a consistently impressive company culture through its employee engagement opportunities. One unexpected way it cultivates its consistently high level of performance is requiring teams to become familiar with each other on personal, intimate levels. According the New York Times, it succeeds in generating a solid bond of trust, understanding, and empathy through these more informal, personal, and team-building moments. It makes sense too, because "the behaviors that create psychological safety — conversational turn-taking and empathy — are part of the same unwritten rules we often turn to, as individuals, when we need to establish a bond."
Smaller business owners should adopt this team-building mentality in their own company culture as it will create a clear opportunity for more open channels of communication. This openness will ultimately stimulate employee engagement.
Understanding meaningful company culture and employee engagement practices doesn't happen overnight. For many business owners, it's a trial-and-error process that requires a long period of finding out what works and what doesn't. Learning more about best employee engagement practices will save you time and money when you move to improve your company culture. King University's online MBA program can help you start preparing your own employee engagement strategy. The flexibility and convenience of our online learning format will enable you to complete the degree program in as little as 16 months. With six specialization options within the major, you can tailor your degree to fit your needs. It's time to start thinking about how shaping company culture fits into your future.