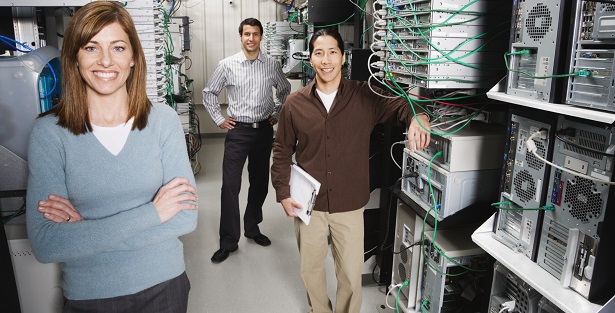 Women are breaking into the information technology field
Women are increasingly under-represented in the STEM fields, specifically in information technology, and despite overall career gains in the workforce, employment for women in IT careers is alarmingly disproportionate to men whether due to a lack of interest or market biases. Data compiled by the United States Department of Commerce shows that women represent nearly half of the total workforce but hold fewer than 25 percent of STEM jobs. Women are also behind in tech leadership and innovation holding only 11 percent of executive technical roles at privately held venture-backed companies and only 5.5 percent of all commercial patents. And, the rate of technology education at the collegiate level has dropped off from just a decade ago. The National Center for Education Statistics reports that the percentage of women with computer science-related collegiate credentials dropped from 32 percent in 2002 to just 21 percent in 2012. There are jobs out there for women in information technology. In fact, all computer occupations are expected to grow by 22 percent through 2020; however, without a viable female workforce, the IT industry will only be able to fill half of its available jobs according to the National Center for Women and Information Technology.
These numbers beg the question, "How do you encourage women to pursue a degree in IT?" One answer could be to provide an accessible and flexible educational alternative for professional women looking to continue or finish their IT degree in order to qualify for these lucrative and plentiful information technology careers. King University offers a 100 percent online information technology degree that gives students the option to focus your degree through concentrations in an effort to meet market demands and targeted career goals.
Women Make Their Mark in IT
Some notable women have already broken the digital glass ceiling and are making waves in information technology. Most often powered by a college degree and determination, the following women are making their mark in this male-dominated field.
Sheryl Sandberg, Chief Operating Officer of Facebook: Sheryl is a heavyweight in the information technology world having served in a variety of executive roles for international corporations, including Google before becoming Facebook's Chief Operating Officer and the first female member of its Board of Directors. She frequently speaks on the gender bias in the tech world and is a bestselling author.
Virginia Rometty, Chief Executive Officer of IBM: Virginia understands the rewards of a job well done. After graduating with a computer science and electrical engineering degree from Northwestern University, Virginia went to work for IBM in 1981. Thirty years later, she is now the company's President and CEO.
Marissa Mayer, Chief Executive Officer of Yahoo!: Marissa came to the helm of the struggling Internet company in 2012 and has already begun to turn Yahoo!'s ship around with stock prices reportedly worth double since Marissa's appointment. Before taking on the lead role at Yahoo!, Marissa was an integral part of Google's engineering team becoming the company's first women engineer and leading many of the company's greatest product lines, including Google Search, Google News, Google Images, Gmail and more.
Susan Wojcicki, Sr. Vice President of Google: Do you ever wonder where Google got its start? The answer is in Susan Wojcicki's garage. Susan began her career with the Internet giant and now serves as its Sr. Vice President currently overseeing its mobile advertising campaigns.
Meg Whitman, Chief Operating Officer of Hewlett-Packard: Meg Whitman's resume reads like a who's who in international conglomerates having previously worked for Proctor and Gamble, Walt Disney and Company and Hasbro. Meg built eBay into the ecommerce powerhouse that it is today growing the company from a 30 employee and $4 million in revenue company to a 15,000 employees and $8 billion in revenue giant. Meg is now the COO of Hewlett-Packard.
Brian Lee, Engineer at Instagram: Brian Lee is a name on the rise in the world of women and IT. Brian has become the first female engineer at Instagram äóñ an emerging photo sharing social network. Brian's story is all the more interesting because she discovered her passion for computer science while working for a small start-up firm. She did not have any previous computer experience but studied how-to books to help build her company's website. This learning experience sparked an interest in coding, which then lead to internships with Internet heavy hitters, including Google, Facebook and Yahoo! She later earned her master's degree in computer science.
Data shows an uphill battle for women in information technology. However, women who possess a willingness to learn and a determination to succeed are privy to wide open doors of opportunity. Information technology careers can be lucrative and job numbers show them to be in high demand. Earn an online information technology degree from King University to start a new career path in IT.