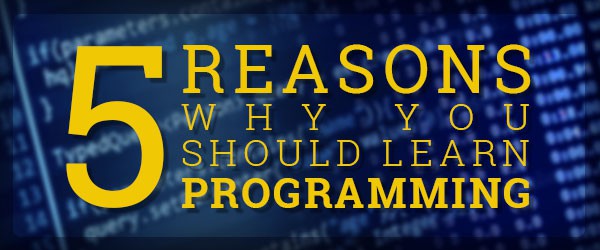 Being tech-savvy is becoming an unspoken requirement for employers who are looking to hire well-rounded professionals. Especially if you are interested in fields like information technology (IT), learning to program is a great way to stand out from the competition and get the job you want. According to a recent article in The Wall Street Journal, "Programming teaches logic, higher-level math and learning concepts that make you smarter and more useful no matter what." The same report connects learning to program with getting hired, citing one coding course that boasts 95 percent job placement within three months after completion. Here are some more reasons why you should learn programming as part of your online education.
Increased career opportunities: Perhaps the most important reason to learn to program is that doing so will qualify you for a wider variety of jobs. The Bureau of Labor Statistics projects a 22 percent increase in demand for jobs related to programming, which is double the average national growth rate for all occupations. Learning to program will make you more employable in the IT workplace as companies are looking for candidates who have a comprehensive IT skill set. And programming is becoming a more and more standard requirement for many information technology jobs, whether or not it makes up a big part of your day-to-day responsibilities.
A competitive advantage: Because programming and coding are both becoming a critical part of operations for all types of businesses, you're more likely to get hired if you have these skills. Though demand for tech-based jobs is higher than ever and on the rise, it still helps to stand out among other candidates for the same position. Most IT jobs require both a knowledge of business processes and the ability to code, so you need to have a strong background in both areas, not just one or the other.
Versatility and flexibility in the workplace: As an IT professional, you will be working closely with software developers and web designers. To communicate effectively and operate efficiently, understanding the programming process will enable you to do your job better. Even though you may not be using programming skills every day, having a background in this key tech area can make you an asset to your company's IT department.
Entrepreneurship and starting a business: If starting your own business is something you are interested in, knowing the basics of programming and coding is essential. In general, it's easier to start a company if you have this skill set. You'll be able to execute ideas yourself without having to pay additional employees, as well as understand the work that programmers do once you are in a position to hire them. Programming skills also let you fine-tune the technology that your business uses and create online sales channels right away.
The language of the modern business world: Lastly, learning to program will help you stay relevant in all types of industries. And in today's tech-driven society, the more computer skills you have, the easier it will be to get the job you want. Because businesses rely so heavily on web-based processes and services, learning the science and theory behind how those things work is essential for effective work in information technology.
IT at King University
If you are considering a career in a tech-based field like IT, choosing an online degree program with a programming component is a good way to get started. At King University, we offer a Bachelor of Science in Information Technology, and give you the chance to specialize your degree by adding a concentration in programming.
A bachelor's degree in information technology is a valuable credential if you are interested in management or administrative roles within the IT department of businesses.
The online IT degree prepares you for a variety of technical career paths that require business skills as well as superior computer skills. A bachelor's degree in information technology is a valuable credential if you are interested in management or administrative roles within the IT department of businesses. You'll learn real-world tech skills like IT plan development, technology research methods, policy consultation and more. Throughout the course of the program, you'll also create a portfolio to show future employers what you know.
Keep up with the demands of the modern business world by earning an online IT degree from King University. Learn more about our program and get started today.