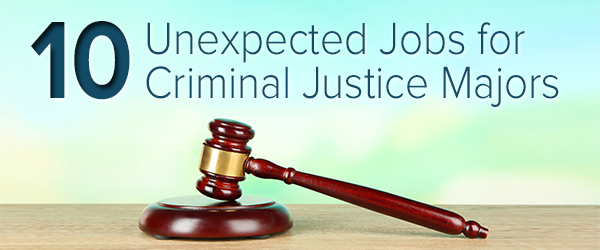 It's common knowledge that most people who graduate with a degree in criminal justice become police officers or deputy sheriffs. But a criminal justice degree opens up more doors than you may think. You can use a Bachelor of Science in Criminal Justice to pursue any of the alternative jobs for criminal justice majors covered here. All salary information comes from Glassdoor and the Bureau of Labor Statistics.
Victim advocate: These professionals work for district attorneys, courts, and probation departments. Most choose a specialization, like working with children or substance abusers. Their specific responsibilities vary, but most spend a lot of time in court. They work to console and support victims during testimony and other court proceedings. They can also work in hospitals as a service for victims of tragedy like rape or abuse. The average salary for victim advocates is $43,000.
Private investigator: These professionals work for attorneys and private individuals to solve crimes. Most job responsibilities are similar to that of police officers. They write reports, conduct interviews and make recommendations regarding further investigation. The average salary for private investigators is $46,000 annually.
Parole officer: These criminal justice professionals work with offenders who have been released from jail and who have parole time. It is the goal of parole officers to help offenders rejoin society. They do this by scheduling appointments to meet with clients, providing them with information and resources such as job training and substance abuse counseling. The average salary for parole officers is about $48,000.
Probation officer: Probation officers are also known as community supervision officers in some states. Their job responsibilities include supervising offenders who have been put on probation instead of given jail time. These professionals ensure offenders are not dangerous to their communities and help them with rehabilitation. A major aspect of work as a probation officer is keeping reports of their clients' treatment plans and progress. The average salary for probation officers is about $48,000.
Forensic scientist: The branch of science related to forensics includes professions involved in science for the purpose of upholding the law. Many forensic scientists are employed by the court system and law enforcement, but some are self-employed as well. Forensic scientists play an important role at crime scenes, collecting evidence and cataloging it for use in solving cases. These professionals may also testify in court. You'll need a science background to pursue this type of criminal justice career; pursuing a minor in biology or chemistry is a good idea. Salary for forensic scientists is about $53,000 per year.
Arson investigator: This career combines public service, science and criminal justice. Arson investigators analyze crimes related to fire, or arson. This career does require additional training, but a criminal justice degree is a great place to start. Arson investigator jobs are highly competitive because there are limited openings, but it is an exciting career that makes a real difference. Average salary for these criminal justice professionals is $54,000.
Blood spatter analyst: This career is considered a specialty within forensic science. Blood spatter analysts examine the pattern, distribution, and location of bloodstains to determine how acts of violence occurred and identify suspects. Like other careers related to forensic science, a science background is valuable. Adding a minor in biology, chemistry, or physics is one way to meet this requirement. The average salary for this type of professional is about $55,000.
Counterfeit investigator: One responsibility of the United States Secret Service is to investigate counterfeit currency. In this role, they investigate manufacturing operations and individuals who are suspected of counterfeiting activity. Counterfeit investigators also write arrests and search warrants, make arrests and conduct surveillance. The average salary for these professionals is $65,000.
Intelligence analyst: Over the past two decades, the need for trained intelligence professionals in America has skyrocketed. A growing concern for national security has led to a 300 percent increase in the hiring of intelligence analysts at the Federal Bureau of Investigation (FBI). Professionals in this role have a variety of responsibilities, including analyzing and gathering data, as well as distributing information about national security, domestic and international crime. The average salary for intelligence analysts is $76,000 annually.
United States marshal: These criminal justice professionals are the law enforcement branch of the United States Federal Courts. Marshals transport inmates to and from court, as well as providing security in the courts themselves. They also collect information about fugitive movements and use them to investigate locations and make arrests. Marshals earn about $100,000 annually.
Criminal Justice at King University
No matter which career path you ultimately choose, it all starts with a bachelor's degree. The online criminal justice program at King University teaches you valuable skills you can apply to a variety of jobs after graduation. From strategic thinking to criminal justice, King University's program gives you the quality criminal justice education you need to succeed.