The True Value of a Liberal Arts Education
posted August 17th, 2015 by Tricia Hussung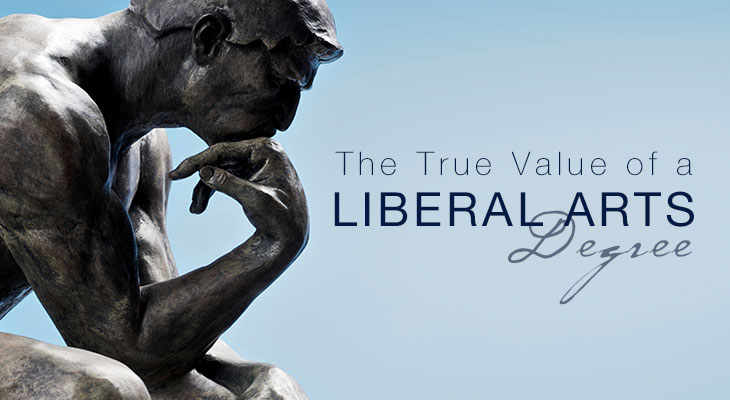 From media coverage to White House initiatives, the push for education in the STEM fields is evident. Recent data seems to back up the idea that career-ready degrees in science, technology, engineering and math are favorable: Engineering is far and away the most in-demand career path for new college graduates.
This trend leaves many students asking if there is value in an education rooted in the liberal arts. When recent research is taken into consideration, liberal arts graduates are actually uniquely well-suited for the modern job market. Employers identify skills traditionally associated with the liberal arts (communication, creative thinking and problem-solving) as the most valuable assets new hires can bring to the table.
According to a September 2014 report by the National Association of Colleges and Employers (NACE), "College seniors who applied for a full-time job and received at least one offer increased by 2 percent in 2014 to nearly 48 percent, thanks to stronger-than-expected job placement for liberal arts degree graduates." Edwin Koc, director of research, public policy and legislative affairs at NACE, told U.S. News & World Report that "liberal arts improved pretty much across the board."
Encompassing the humanities, arts and social sciences, the term "liberal arts" refers to what some consider general education. When students choose a liberal arts major, they are uniquely prepared for today's economic, technological and international climates. Dan Preston, vice president of enrollment services at Linfield College in Oregon, believes the liberal arts are as relevant today as they ever were. "Our workplaces are becoming more complex and globally interconnected, and that means employers are looking for college graduates who understand the larger picture. Employers require people who have the creativity to solve challenging problems, people who can communicate clearly … These are the skills students gain from a liberal arts education," Preston said. This is true for virtually any major within the liberal arts, because such programs are designed to ensure students cultivate in-depth knowledge of a particular subject as well as develop a variety of skills that can be directly applied to numerous career settings.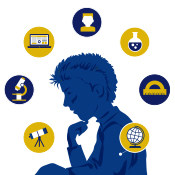 A Comprehensive Education   
Employers believe applied skills such as creativity and teamwork trump basic knowledge and skills — even mathematics, a survey conducted by four organizations including the Society for Human Resource Management found. For example, Boston-based litigation consulting firm Charles River Associates hires "almost exclusively from liberal arts schools," Vice President Monica Noether said. Val DiFebo, CEO of a national advertising agency, said the creativity and critical thinking skills associated with liberal arts majors set them apart. Perhaps this is why 80 percent of employers surveyed in January 2013 agreed that "all students should acquire broad knowledge in the liberal arts and sciences."
The liberal arts cover a broad spectrum of subjects, so students aren't as limited in terms of career paths as their pre-professional counterparts. Jaclyn Freeland, an admissions counselor at Wells College in upstate New York, thinks that a liberal arts education teaches students skills that will never be obsolete. "The wide range of experiences and opportunities that are central to the liberal arts give students the tools necessary not only to compete, but to excel in their careers," Freeland said. Karen Abigail Williams, director of admission at Eugene Lang College of Liberal Arts in New York City, added the following: "This professional exposure and global awareness may actually make liberal arts majors more competitive than students who simply completed a series of prescribed courses without taking the opportunity to explore their interests beyond the classroom."
Real-world Benefits
The Association of American Colleges and Universities (AAC&U) released a groundbreaking report last year analyzing long-term career path and salary data as an answer to the short-term studies fueling the assertion that liberal arts graduates are disproportionately unemployed or underemployed, according to an article from Inside Higher Ed. The report, How Liberal Arts and Sciences Majors Fare in Employment, analyzes data from the 2010-2011 U.S. Census Bureau American Community Survey. This data provides answers to those who would question the value of a liberal arts degree.
In general, the report compares earning trajectories and career paths for liberal arts majors with those for STEM students. AAC&U President Carol Geary Schneider says the report counters misleading statements made by commentators and policymakers. "As the findings in this report demonstrate, majoring in a liberal arts field can and does lead to successful and remunerative careers in a wide array of professions," she explains. Report authors Debra Humphreys and Patrick Kelly note that "The liberal arts and sciences play a major role in sustaining the social and economic fabric of our society … Whatever undergraduate major they may choose, students who pursue their major within the context of a broad liberal arts education substantially increase their likelihood of achieving long-term professional success."
Earning Potential
In the foreword to the report, Schneider makes it clear that its findings are significant. "[They] speak directly to alarmist concerns that graduates who majored in humanities or social science fields are unemployed and unemployable. Those concerns are unfounded and should be put to rest," she explains. Key findings, as outlined in the press release concerning the report's publication, include:
Liberal arts majors close earning gaps and earn more than professional majors at peak earning ages. Workers ages 56-60 who majored in the humanities or social sciences as undergraduates earn, on average, $2,000 more annually than those who majored in professional or pre-professional fields as undergraduates.
Unemployment rates are low for liberal arts graduates and decline over time. The unemployment rate for recent liberal arts graduates is 5.2 percent. The unemployment rate for mature workers with liberal arts degrees (those ages 41-50) is much lower, at 3.5 percent. This is just .04 percent higher than the rates for those with a professional or pre-professional degree.
Many liberal arts and social sciences majors also attain graduate degrees and experience significant earning boosts when they do. More than 9.6 million individuals hold a baccalaureate degree in a humanities or social sciences field, and nearly 4 million of these individuals (about 40 percent) also hold a graduate or professional degree. These graduates with advanced degrees experience, on average, a yearly boost in earnings of nearly $20,000.
College graduates in all fields see their salaries increase significantly over time. The median earnings of engineering graduates are consistently higher than the earnings of all other degree holders, but college graduates in all fields (including the liberal arts) see their salaries increase over time.
When this data is considered in the context of the debate surrounding the value of a liberal arts degree, its findings are clear: Liberal arts degrees like those available at King University continue to be valuable, and graduates of these degree programs find long-term career success.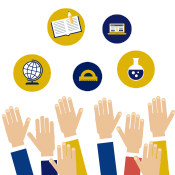 Liberal Arts Degrees at King University
The online arts and sciences programs at King University are the ideal foundation for a variety of careers. Learn more about how a liberal arts degree at King can help you meet your goals.