Take Control of Your Future
An attainable way to achieve your goals.
Current circumstances shouldn't deter you from pursuing your goals. Our state-of-the-art online degree programs help you get ahead in one of the most flexible and affordable ways possible. At King University, you'll choose when, where, and how fast you learn while studying in an academically rigorous setting that integrates Christian faith, scholarship, service, and professional advancement.
Why Choose King University Online?
Accelerated Programs
Most courses follow an accelerated five-week format, and students can complete major coursework in as little as 16 months.
A Generous Transfer Policy
Reduce the time and cost of your degree by bringing up to 76 credits into your undergraduate program or six credits into your graduate program.
Study Anytime, Anywhere
Learn 100% online on any connected device at any pace. You can get started right away with multiple start dates and year-round enrollment.
Affordability
Benefit from one of the lowest tuition rates in the region and available state grants — 98% of students receive financial assistance.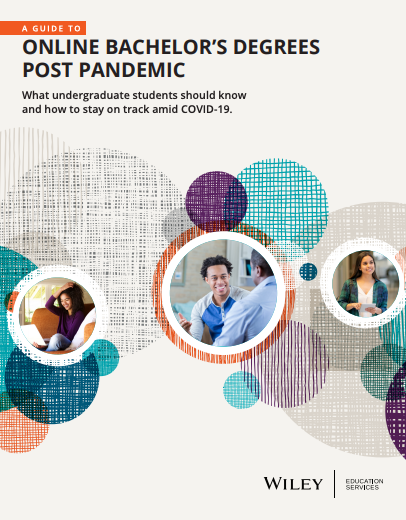 A Guide to Online Bachelor's Degrees Post Pandemic: What undergraduate students should know and how to stay on track amid COVID-19
For months, the world has been learning how to deal with the impacts of COVID-19. The pandemic has made a significant impact on the world of education, resulting in millions of students shifting from a classroom to a chatroom. The threat the virus has imposed has left many students and their parents unsure of what to do about their education this fall.
Online education may be the safest way for many students to keep their education at the forefront throughout the pandemic. Many students and parents likely have questions about what online education will look like this fall, and some may be worried about online learning quality. It's important to know the difference between the sudden change many students encountered this March and a quality online degree program that was designed to be that way.
We at King University strive to make sure you have all the information you need to make decisions about the future of your education confidently. With that in mind, we are offering the following free guide created by Wiley Education Services, a leader in higher education research and online education, in partnership with DegreesOnline.com. This guide addresses the impact of COVID-19 on education and provides insight into online learning, such as the online student experience, myths vs. facts about online education, and the difference between proven online degree programs and emergency online instruction.