B.S. Religious Studies Overview
At King University, the online Bachelor of Science in Religious Studies lays the broad-based groundwork you need to earn a versatile degree for a rewarding career in ministry and service to local and global communities.
In particular, we will prepare you to serve in church and parachurch organizations, and, if you choose, advanced study in seminaries or graduate schools. Combining the study of 21st century Christianity with that of understanding religions of the world and contemporary expressions of faith, our online degree in Religious Studies provides you with an up-to-date examination of faith in the modern era.
The program is intended for individuals who seek an academic and passionate approach to serving the world in the 21st century. The Bible and Religion department upholds and educates students in an intelligent understanding of the Christian Scriptures, a thoughtful approach to theological thinking, and practical experiences in ministering to others.
As a religious studies student, you have opportunities to study in Italy, dig in an archaeological dig and then tour Israel-Palestine and Jordan, serve in local and global endeavors such as in Camden, New Jersey and Kenya, Africa, and minister to local churches in the Appalachian region. Course topics include:
How to Study the Bible: Interpretation
Old and New Testaments: Their Historical Context and Their Relevance for Today
Global Context of Religion: Utilizing Theory and Method to Understand Religion
Philosophy of Religion
Theology and Interpretation of Theology
Koine' Greek and Hebrew languages
The History and Archaeology of the Southern Levant
Missions in the 21st Century
Counseling in a Christian Context
When you graduate, you'll be well prepared to follow any number of exciting career paths. Our graduates are prepared for careers ranging from clergy, service in parachurch organizations, chaplaincy in hospitals, chaplaincy in the U.S. military, humanitarian outreach, teaching, social sciences, law, and more.
Because our online religious studies degree is offered in a fully digital format, you'll be able to attend class without sacrificing work and life commitments. Our courses provide working adults the ultimate flexibility in their education. Major coursework can be completed in 16 months.
The B.S. in Religious Studies Degree is Designed for…
Working adults with some college credit seeking to finish their bachelor's degree
Individuals who want to deepen their understanding of the Christian faith
Those who want to enter theological seminary or graduate schools of religion and philosophy
Courses and Requirements
Our online Religious Studies degree requires 48 semester hours (12 courses) of major coursework. To graduate from King University, students must complete a total of 124 semester hours, which includes a mixture of major courses, general education courses, and additional courses which may come from credit transfers or electives.
Admission Requirements
Students applying for the online religious studies degree program must meet the following requirements:
Minimum cumulative GPA of 2.2 on a 4.0 scale
Students with less than a 2.2 high school GPA may be considered and accepted on a conditional basis provided they are able to demonstrate their plans to succeed in the program.
General Admission Requirements
General requirements for admission to King University include graduation from an accredited or recognized high school, GED, or secondary institution with a minimum of 16 academic units, distributed as follows:
Four units of English
Two units of algebra (Algebra I and II)
One unit of geometry
Two units of foreign language
Two units from history and social studies
One unit of natural science
Four units of other academic electives
Students educated at home should follow the same procedures as any other candidate for the freshman class.
Students should present a high school transcript and documentation, or its equivalent.
How to Apply
Students applying for an online bachelor's degree program must submit the following materials:
A completed online application
An official transcript request form. A scanned copy may be emailed to your Enrollment Counselor.
Have questions about this program or the admissions process? Request information and get connected to one of our knowledgeable enrollment counselors.
Career Outcomes
Graduates of King University's online religious studies program can choose to pursue careers as:
Clergy
Youth Ministers
Chaplains
Teachers
Non-profit Leaders
Parachurch Organizers
Missionaries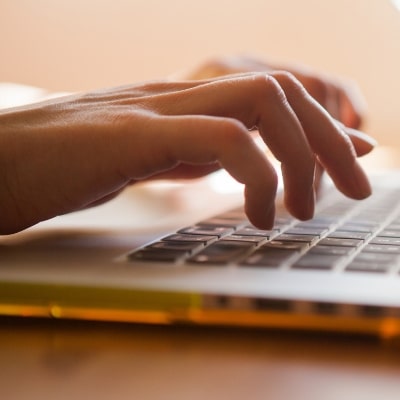 Online Learning
Studying online prepares you for a successful future. Discover a learning format that offers:
Flexibility and Convenience
Personalized Academics
Equal Excellence
Opportunity for Self Insight